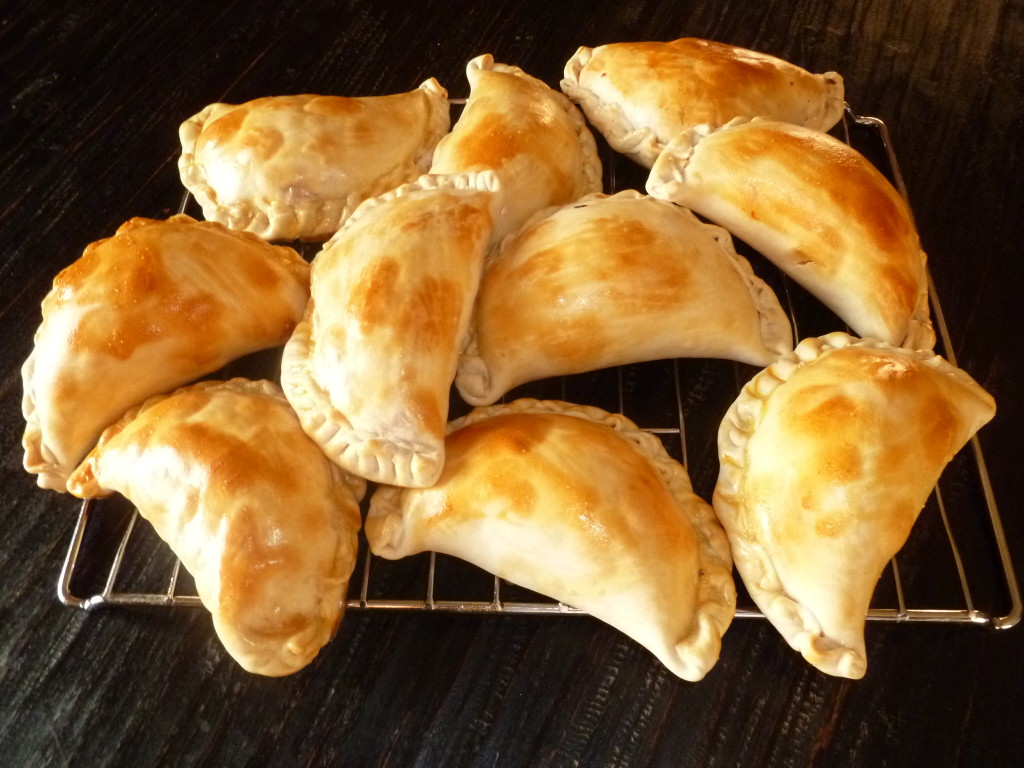 Hace un par de semanas nos visitaron mis amigos uruguayos, Helen y Fernando, que viven en Japón y ya les presenté en la receta del Chijimi. Vinieron acompañados de su hijo Nico, que es un sol. La pasamos divino juntos y no veo la hora de rencontrarnos otra vez.
Ella venía de Uruguay y nos trajo queso provolone parrillero, fuet y huevos de pascua de chocolate. Él nos trajo una cantidad de chucherías japonesas que hemos comido poco a poco para que no se nos acaben. Y es que definitivamente, tenemos gran debilidad por la comida japonesa en esta casa, como ya habrán notado los lectores de este blog. Antes de ir a Uruguay, Helen me había comprado algunos utensilios de cocina japoneses que iré rifando en los sorteos que a cada rato hago en el blog y se agradecen un montón.
En los días que pasaron en casa comimos bastante carne, pues en Japón no es usual comer las cantidades y los cortes que tenemos en América. Fer hizo un asado al carbón para arrasar y Helen preparó estas empanadas de carne en las que terminé metiendo las manos para aprender a hacer el repulgue. Salen 10. Las hicimos con masa congelada. Espero algún día aprender a hacer masa casera.
Ingredientes
1 1/2 lb. de picadillo de res
1/2 pimiento rojo
1/2 cebolla amarilla
1/4 de pimiento verde
1/4 de taza de aceitunas negras
4 huevos hervidos
1 lata de 8 oz de salsa de tomate sin sal
2 cdtas. de orégano seco
Sal
Pimienta
2 pizcas de azúcar
10 masas para empanadas congeladas
Aceite de oliva
Preparación
Pica en cuadritos pequeños los pimientos y la cebolla. Sofríelos en un sartén con 2 cucharadas de aceite de oliva. Agrega la carne y cuando cambien de color, añade el orégano, la salsa de tomate, el azúcar y salpimienta. Tapa el sartén y cocina hasta que se seque la salsa, aproximadamente 5 minutos a fuego medio. Luego deja que se refresque una media hora.
Saca la masa del congelador.
Hierve tres huevos, que te queden duros. Cuando estén frescos, pélalos y córtalos en pedacitos.
Corta las aceitunas en rueditas o cuadritos, como prefieras.
Bate el huevo restante en un cuenco pequeño y en otro cuenco por un poco de agua al tiempo.
Coloca la mitad de las masas en una bandeja grande y bastante plana que sea resistente al horno y precalienta este a 350° F.
Mezcla los huevos hervidos, las aceitunas y la carne. Coloca un par de cucharadas en cada masa, dejando los bordes libres, pues los debes untar de agua para que al doblarlas se pegue la masa y puedas hacer el repulgue -en los tips les dejo una foto con los que hacen en
La Patagonia
, un sitio argentino que queda cerca de mi oficina. Unta y cierra una a la vez. Has lo mismo con las otras 5 masas.
Ya cerradas las empanadas, píntalas con el huevo batido sólo por la parte superior.
Mételas al horno durante media hora o hasta que se doren. Ya saben, cada horno es un mundo.
Ponlas a refrescar sobre una parrilla, pero no te demores mucho en comerlas, que se acaban 😉
Tips
Repulgues tradicionales: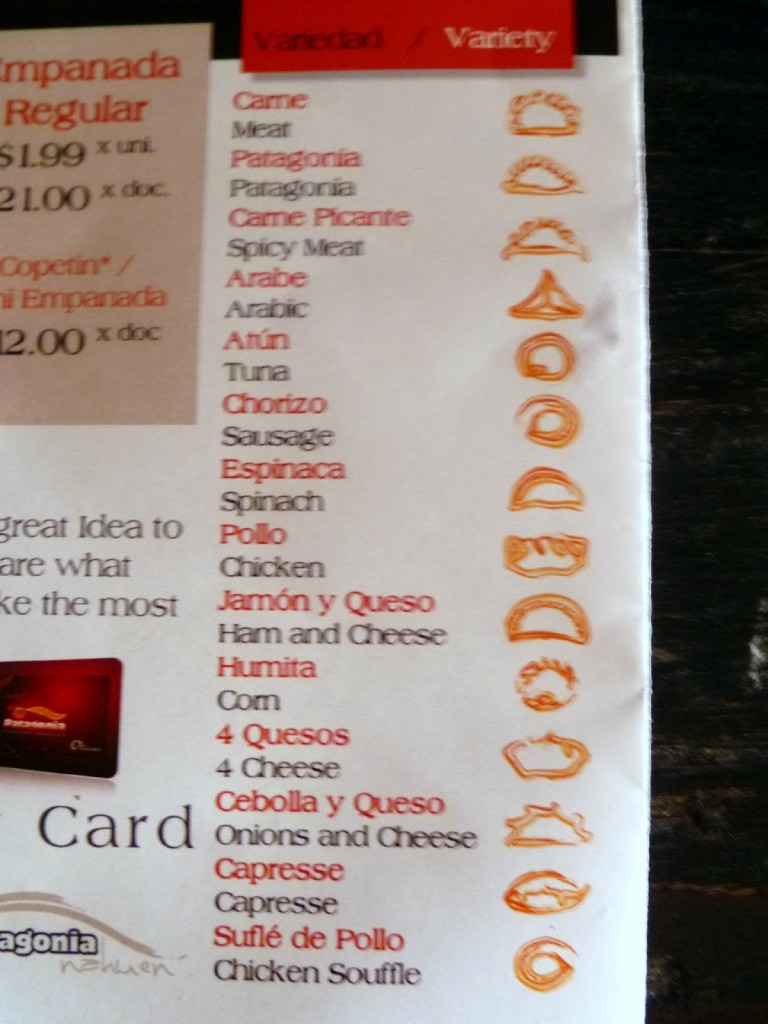 A couple of months ago my Uruguayan friends, Helen and Fernando, who live in Japan, visited us for a few days with their son Nico, who is a cutie. We had delightful time together and cannot wait to see them again. Helen and Nico were making a stop in Miami in their way home to Japan from a visit to their native Uruguay, and brought some delicious barbecue provolone, salami and chocolate Easter eggs. Fernando met them in Miami and brought with him a number of Japanese goodies that we savored slowly, to not run out of them so quickly. In our home we are definitely fond of Japanese food and these gifts are highly appreciated.
In those days they spent with us we ate lots of meat, as it is not customary in Japan to eat the quantities and cuts of beef we do in America. Fer (short for Fernando) made grilled steaks over charcoal and Helen prepared these meat turnovers in which, I ended up sticking my hands into in order to learn how to do repulgue. Repulgue is the technique used to close and seal the turnovers. We used frozen dough for these, but I hope one day to learn how to make them with homemade dough. This recipe yields about 10 turnovers.
Ingredients
1 1/2 lbs. of ground beef
1/2 red pepper
1/2 yellow onion
1/4 green pepper
1/4 cup black olives
4 hard boiled eggs
One 18 oz can of tomato sauce, no salt added
2 tsp dried oregano
Salt
Pepper
2 pinches of sugar
10 frozen dough discs for pastries, thawed
Olive oil
Method
Dice the peppers and onion finely. Heat two tablespoons of olive oil in a skillet and add the peppers and onion and sautee. Add meat and sauté until browned. Add oregano, tomato sauce, sugar, salt and pepper. Cover the skillet and cook until the sauce is dry, about 5 minutes over medium heat. Remove from the heat and let it cool for about half an hour.
Take the dough out of the freezer and let it thaw.
Boil three eggs, until they are hard. Let them cool, peel and chop them into small pieces.
Chop the olives in wheels or dice them, as you prefer.
Beat the remaining egg in a small bowl and set some water at room temperature in another bowl. Place half of the dough discs in a large and flat tray. Make sure the tray is heat resistant and preheat the oven to 350°F.
Mix the chopped boiled eggs, olives and meat. Place a couple of tablespoons of the meat mixture in the middle of each disc, leaving the edges free, as you should lightly dampen the edges with water to make them stick together when folded. (In the picture below you can see several types of repulgue techniques.) Dampen and close the discs, one at a time. Repeat the same procedure for the remaining discs.
Once assembled, brush the discs over with the egg mixture, only on the side facing up.
Put them in the oven for half an hour or until golden (every oven can be different). When done, set them on a rack to cool, but do not take too long to eat them, or you just won't find any left. 😉
P.S. Thanks to Aymara (Tirijala) for the translation.