Ya antes he publicado causas muy parecidas a esta, pero como este mes hicimos el cookout de Perú, no puedo dejar de mencionarlas. He unido dos ingredientes que aparecen en las otras, más no juntos. Además, le puse menos picante y me atreví a usar limón en vez del vinagre de arroz japonés -no nos hizo mal el ácido.
Éramos como 20 y había mucho que probar, así que usé un aro que es como la mitad del otro y la porción es perfecta para servir como tapa. Este plato lleva unos 35 minutos de preparación
Ingredientes
4 libras de papas amarillas
4 cdas. de pasta de ají amarillo peruano
1 lata de 12.5 oz. de pechuga de pollo en agua
1/2 palta (aguacate)
1/2 cebolla morada grande
1 limón
2 cdas. de mayonesa (y más para adornar, opcional)
3 huevos hervidos
Sal
Pimienta blanca
1 taza de aceite vegetal, aproximadamente
8 aceitunas de botija (para adornar)
Preparación
En una cazuela grande, pon a hervir las papas sin sal. Unos 20-25 minutos aproximadamente.
Mientras tanto, pica la cebolla a la juliana, colócala en un cuenco y alíñala con una cucharadita de sal y el jugo del limón.
Pon a hervir los huevos durante 5 minutos. Deben quedar duros. Enfríalos. Pélalos y pícalos a la mitad longitudinalmente, corta estas del mismo modo en 3 pedazos cada una.
Abre la lata de pollo, escúrrela bien. Mezcla la carne con las 2 cucharadas de mayonesa japonesa y una pizca de pimienta.
Pica la masa de las aceitunas a tu gusto, deshaciéndote de las semillas.
Cuando estén las papas, escúrrelas y ponlas en un cuenco en el que puedas preparar un puré, adicionando el jugo del limón de las cebollas, la pasta de ají amarillo, sal a gusto y bastante aceite. El aceite se lo debes poner poco a poco y tanto como para que el puré quede "hecho una mantequillita". Si puedes amasarlo un poco con las manos, mejor.
Mezcla las cebollas con el pollo y pica en dos la mitad del aguacate y de ahí en lascas de centímetro y medio de ancho.
Coloca el aro sobre el plato en el que vas a servir la causa, pon una capa de puré de papas; una aguacate dejando la parte verde hacia afuera -que toque el borde del molde-; otra capa de papa, una de pollo con cebolla y termina con otra de papa. Saca el aro con cuidado y adorna el pastel que te queda con más mayonesa, el huevo y los pedacitos de aceituna.
Tips
Yo uso siempre el pollo de lata porque se me hace muy cómodo, pero pueden usar pollo hervido bien desmenuzado, camarones, tuna, pulpo, casi que lo que quieran.
Si no encuentran papitas amarillas usen las Golden.
Para adornar la causa con mayonesa, si no tienes una que sea squeezable, echa un poco en un Ziploc y le abres un huequito en una punta al nylon para usarlo a modo de manga pastelera.
La receta fue publicada originalmente en 
TCO
(Travel Curious Often). Pasen por allá a planificar su próximo viaje.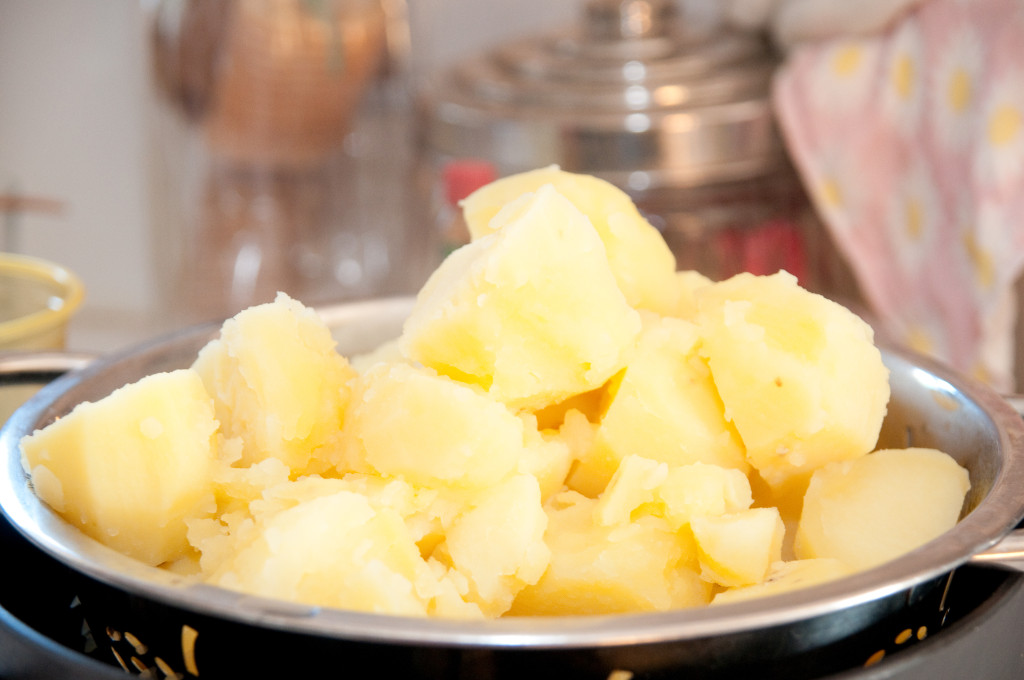 Many Peruvian dishes use potatoes, after all, there are over 7,000 varieties in Peru. Causa Limeña is one of the most popular of the Peruvian potato dishes. This version also features chicken.
Ingredients
2 pounds small yellow potatoes (Small Peruvian potatoes are preferable, but large yellow potatoes work just as well. Leave the skins on for extra vitamins.)
4 tbs. lime juice
1 cup shredded, cooked chicken or canned chicken breast
½ red onion, julienned
3 tbs. mayonnaise
½ cup vegetable oil
Salt
White pepper
2 boiled eggs, to garnish
8 black botija olives, to garnish
3 tbs. ají amarillo (Most grocery stores carry this yellow chili paste. You can also order it from Amazon)
Method
Boil the potatoes in salted water until tender, about half an hour. Meanwhile boil the eggs, they must be hard, so they should boil for about 5 minutes.
Put the onion in a bowl with the lime juice. In a second bowl mix the chicken with the mayonnaise and a pinch of fresh ground white pepper.
When the potatoes are ready, mash them in a big bowl. Add the ají paste, and half of the oil, until everything is well combined. Add the lime juice from the onions, and the rest of the oil. Mix well.
Mix the chicken with the onions. Place a small ring mold on the plate. Spoon a layer of the mashed potatoes into the ring. Cut the avocado in slices and lay on the first layer of potatoes. Spread a second layer of mashed potatoes, and then layer with the chicken. Cover with a final layer of potatoes.
Pull the ring off the potato mixture, and garnish with slices of hard boiled eggs and/or black olives.
Variations
4 personal portions can be made from this recipe using a small ring mold, but a spring-form pan works well to make a single family-style portion. You can also use a casserole dish, but be sure to reverse the avocado and chicken layers, so the avocado will be on the bottom when you flip the dish to unmold the Causa.
For an extra-spicy Causa, add another tablespoon of ají amarillo to the mashed potatoes.