Scroll down for the recipe in English.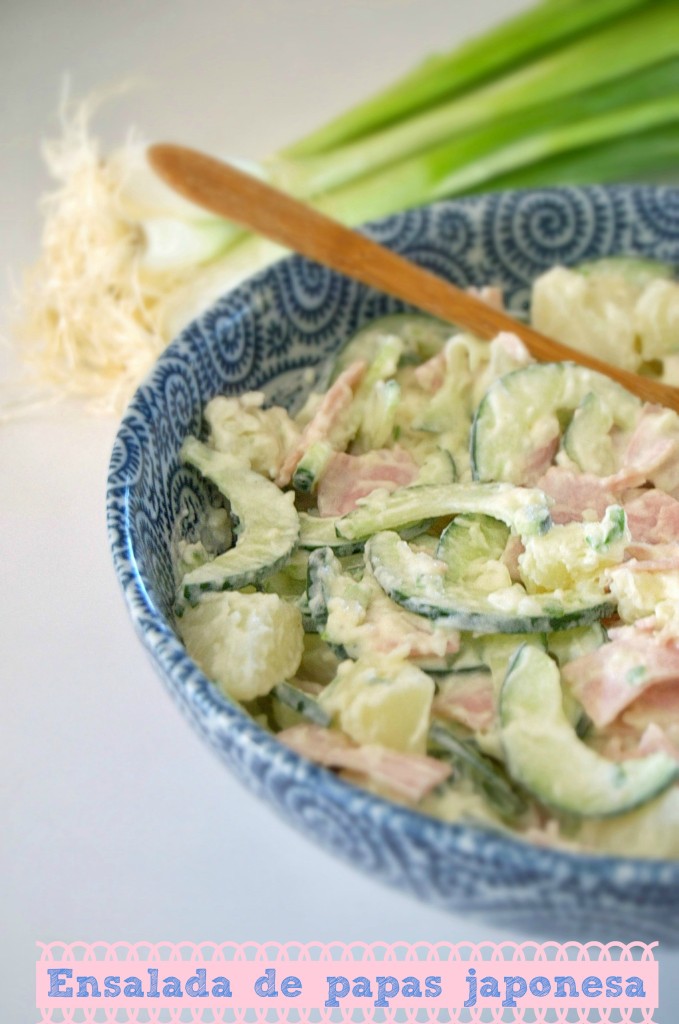 Para esta receta japonesa seguro casi todos tendrás los ingredientes en casa. En Japón tienen muchas maneras de preparar la ensalada de papas, pero este es el modo tradicional. Tiene algunos puntos en común con la ensaladilla fría o la ensaladilla rusa. Espero que se atrevan a probarla.
Yo la hice con mayonesa japonesa, pues desde que la probé se convirtió en mi favorita. Y cuando no tengo, uso la peruana o la húngara, que son casi igual de sabrosas. Pero pueden usar la que deseen. Lamentablemente, las tres que he mencionado casi siempre sólo se consiguen en mercados especializados en comidas regionales.
Un día leí que los japoneses viajaban con su pomo de mayonesa, pero no he averiguado si es cierto. Según este libro, la probaron por primera vez en el siglo XIX, cuando el país se abrió al comercio internacional después de dos siglos y medio de aislamiento; y no fue hasta 1925 que comenzaron a producirla bajo la marca Kewpie, que hasta hoy se mantiene y es la que domina el mercado.
La clave de esta receta es aplastar un poco las papas para que quede cremosa la ensalada, en contraste con los pepinos crujientes. Da para 4 y se prepara en 15-20 minutos, aunque debes dejarla reposar al menos un cuarto de hora para que los sabores se mezclen mejor.
Ingredientes
1 lb. de papas
1 oz de jamón en lascas
1/2 pepino libanés o inglés
3 oz. de mayonesa japonesa
1/4 cdta. de mostaza japonesa
1 cda. de vinagre de arroz
1 par de gotas de aceite de sésamo
1 cebollino, finamente picado
1 ramito de perejil italiano (la receta original lleva 1 hoja de
mitsuba
) + unas hojitas para adornar
Pimienta negra recién molida
Sal
Pon a hervir agua. Corta la papa en cubitos de 2 centímetros y adiciónalos al agua hirviendo. Cocínalos 8-10 minutos, hasta que estén blanditos. Escúrrelos y enjuágalos hasta que se refresquen. Vuélvelos a escurrir. Pásalos a un cuenco y aplástalos un poco con un tenedor.
Mientras tanto, corta el jamón en tiras de 3 centímetros de largo y el pepino a la mitad (a lo largo) y luego en  rodajas bien finitas. Si tienes una mandolina, mejor; y está usando pepino "normal" quítale las semillas primero.
En un cuenco pequeño, combina la mayonesa con la mostaza, el vinagre, el aceite de sésamo, el cebollino y el perejil bien picadito. Salpimienta.
Mezcla la salsa con las papas, el jamón y el pepino y déjala reposar 15 minutos antes de servirla. Adorna con las hojitas de perejil o mitsuba.
Tips
La mayonesa japonesa está casi siempre disponible en cualquier mercado asiático.
La mostaza viene en tubos como la pasta de wasabi. Junto al vinagre de arroz y el aceite de sésamo es usual encontrarla en casi todos los grandes supermercados de Estados Unidos.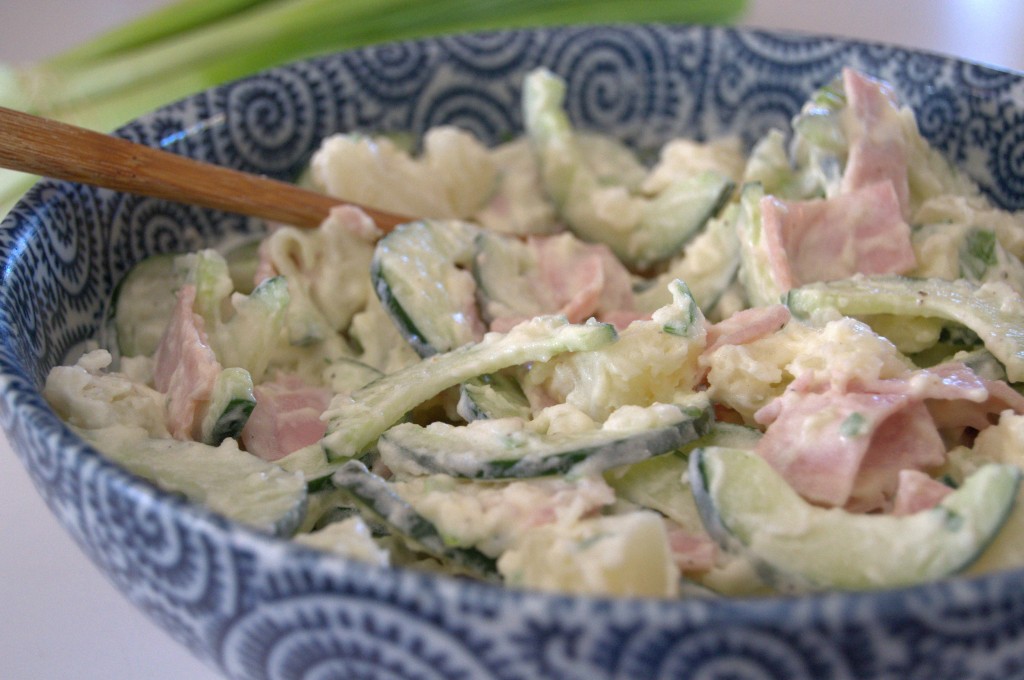 This is a very easy Japanese recipe, using ingredients that almost everyone knows and often has at home. Hope you dare to try it.
I made it with Japanese mayonnaise, because is my favorite one. I also recommend Peruvian and Hungarian mayo, which are almost as tasty. But you can use the one you wish, either from the supermarket or homemade.
I read somewhere that the Japanese always travel with bottles of their mayonnaise, but I have not asked any of my Japanese friends if it's true. According that article, mayonnaise was introduce to Japan in the nineteenth century, when the country opened to international trade after two and a half centuries of isolation, and it was not until 1925 that they began to produce it under the brand Kewpie , which to this day remains and is the one dominating market.
The key to this recipe is to crush up a bit the potatoes to make the salad creamy, contrasting with the crunchy texture of cucumbers. Serves 4 and is prepared in 15-20 minutes, but you should let it rest at least a quarter of an hour to allow flavors to develop.
Ingredients
1 pound potatoes
1 ounce ham
1/2 Lebanese or English cucumber
3 oz Japanese mayonnaise
1/4 tsp. Japanese mustard
1 tbsp. rice vinegar
1 two drops of sesame oil
1 scallion, finely chopped
1 bunch Italian parsley (the original recipe calls for 1 sheet of mitsuba) chopped + a sprig for garnish
Freshly ground white pepper
Salt
Method
Cut the potatoes into 2 inches cubes and add them to boiling water. Cook 8-10 minutes, until tender. Drain and rinse them until they cool off. Then, drain them one last time. Place them into a bowl and crush them slightly with a fork.
Meanwhile, cut the ham into 3 inches long strips and cucumber in half, lengthwise, and then into mandoline thin slices. You can use regular cucumber and remove the seeds.
In a small bowl, combine mayonnaise with mustard, vinegar, sesame oil, chives, parsley, salt and pepper.
Mix the sauce with potatoes, ham and cucumber and let stand 15 minutes before serving. Garnish with mitsuba or parsley leaves.
Tips
Japanese mayonnaise is almost always available at any Asian market.
Mustard comes in tubes like the ones used for wasabi paste. Along with the rice vinegar and sesame oil is usually found in nearly every major U.S. supermarkets.