Scroll down for the English version.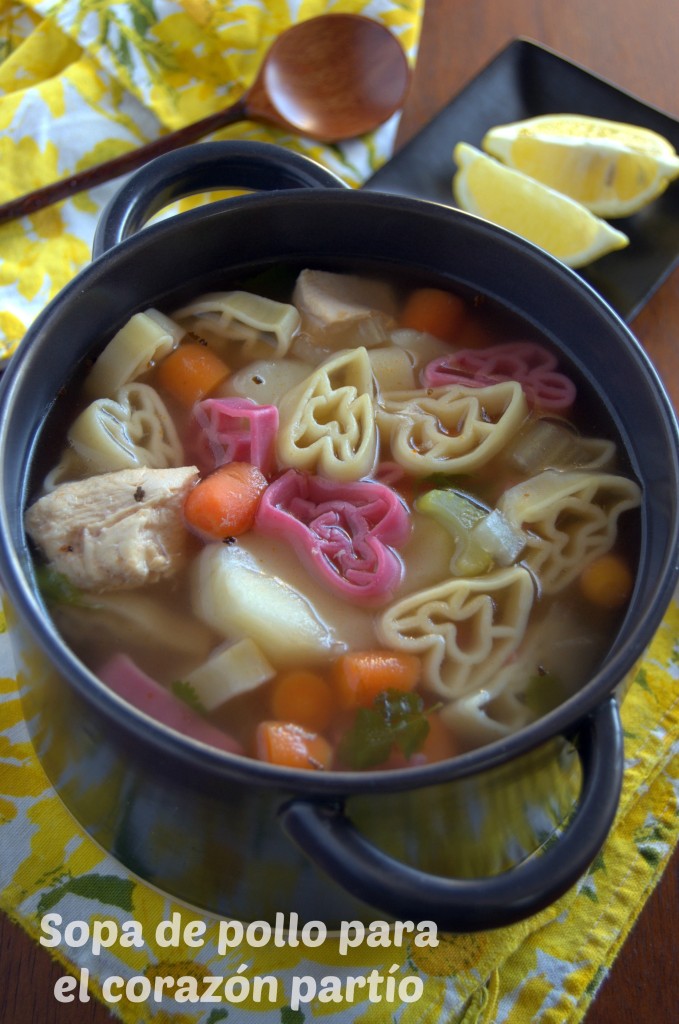 La semana pasada se ha anunciado la venta de la empresa en la que he trabajado por casi 20 años. Hace rato sabíamos que esto podía suceder en cualquier momento, pero no por eso ha dejado de romperme el corazón la noticia. Para darme consuelo he preparado esta sopa de pollo rapidita, llena de corazones, que simbolizan el apoyo y el cariño que me han brindado en estos días mis clientes y amigos. Espero que el cambio sea para bien y también que ninguno de ustedes esté pasando por un mal momento.
En Cuba solemos ponerle fideos a la sopa de pollo y todos sabemos que los caldos quedan siempre mejor si la carne que usas para hacerlos está pegada a un hueso, pero esa ya sería otra receta. Hoy vamos con esta sopa express y saludable, para levantar los ánimos. Da para 6 y está lista en 45 minutos.
Igredientes
1 pechuga de pollo, cortada en cubos de 1 pulgada (2.3 cm)
2 papas medianas, en cubos de 1.5 pulgadas (4 cm)
1/2 cebolla, bien picadita
2 palitos de apio, en rueditas
1 taza de zanahorias baby cortadas a la mitad, o 2 zanahorias medianas en ruedas
1 atado de par de ramas de perejil
2 litros de agua
3 cdas de salsa de tomate sin sal
2 tazas (150 g) de pastas en forma de corazón, o la que tengas a mano
1/2 cdta de comino en polvo
1/2 cdta de orégano seco
1 hoja de laurel
Sal
Pimienta
Preparación
Pon agua a hervir y agrega los primeros 6 ingredientes. Cocina durante 20 minutos a fuego medio-alto, hasta que el pollo esté tierno. Aunque estés apurado, no la pongas con el fuego al máximo para que el caldo quede claro. Si  te hace espuma, sácala con un cucharón.
Añade el resto de los ingredientes y salpimienta. Está listo en 10 minutos aproximadamente, dependiendo del tiempo de cocción de la pasta. Retira la hoja de laurel y el atado de perejil antes de servir.
Unas goticas de limón o de picante tipo Tabasco, le vienen de maravilla.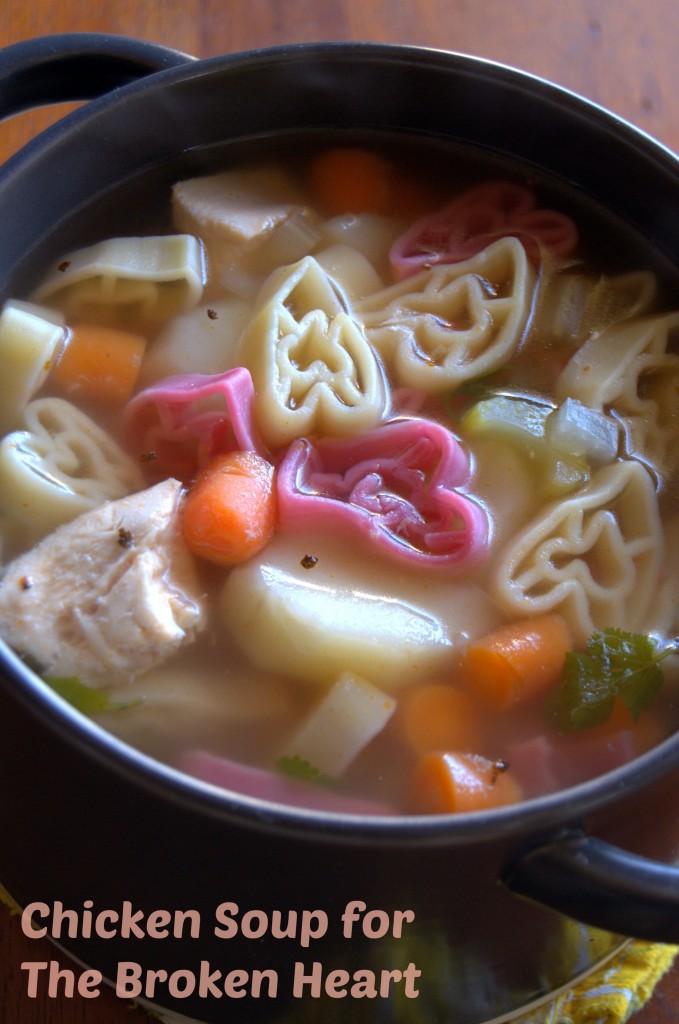 Last week came out the announced of the sale of the company where I've working for almost 20 years. We knew for a while that this could happen at any time, but anyhow, it broke my heart. To give me consolation I have prepared this comforting chicken soup filled with hearts, symbolizing the support and love they my clients and friends have given me these days. Hopefully the change is for the better, and any of you is in the middle of a painful situation.
In Cuba we usually add noddle to the chicken soup, and we all know that the broth comes more flavorful if we use a meat attached to a bone, but that would be a different recipe. Today we're cooking a Express Healthy Chicken Soup, to lift the spirit. It serves 6, and is ready in 45 minutes.
Ingredients
1 chicken breast cut into 1-inch cubes
2 medium potatoes cut into 1.5 inches cubes
1/2 onion, finely chopped
2 stalks celery in slices
1 cup halved baby carrots, or 2 medium carrots on wheels
1 bunch of parsley
2 litres of water
3 tbsp. unsalted tomato sauce
2 cups (150 g) heart-shaped pasta (or the one you have handy)
1/2 tsp ground cumin
1/2 tsp dried oregano
1 bay leaf
Salt
Pepper
Method
Boil the water and add the first 6 ingredients. Cook for 20 minutes, until chicken is tender. Add remaining ingredients, and salt & pepper.
The soup will be ready in about 10 minutes, depending of the cooking time of the pasta. Remove bay leaf and parsley before serving.
Adding a few drops of lemon juice or Tabasco to the soup will make it even better.