This post is part of a compensated campaign in collaboration with Latina Bloggers Connect and Cacique, but the recipe and the opinions are mine. / Este post es parte de una campaña en colaboración con Latina Bloggers Connect y Cacique, pero todas las opinions y la receta son mías.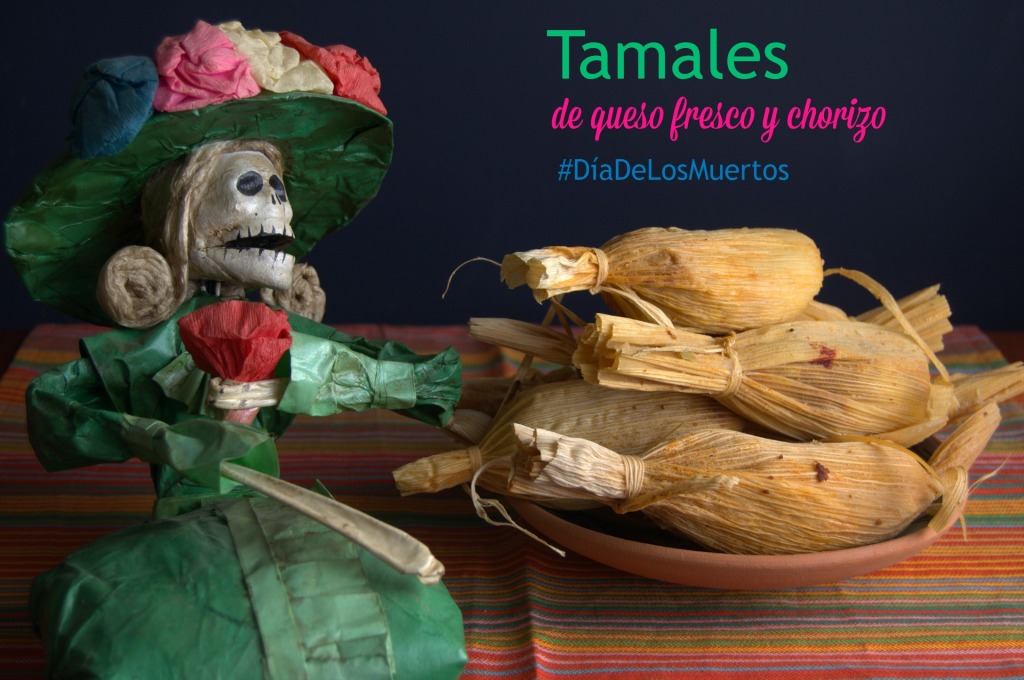 Los tamales son unas de las ofrendas más frecuentes para obsequiar a los seres queridos que ya no están con nosotros en el Día de los muertos. Esta fiesta, que celebra la vida de aquellos es una de las tradiciones más lindas de México; aunque también se celebra en otros países de América Central y en algunas comunidades de Estados Unidos.
La celebración comienza el 1ro. de noviembre y concluye al día siguiente. Los tamales, las enchiladas, el pan de muertos, el tequila, flores, crucifijos, agua y las famosas calaveritas de azúcar, se colocan en un altar junto a fotos de nuestros muertos y objetos que le pertenecieron. También se llevan este tipo de ofrendas a los cementerios y se come y se bebe en el cementerio o en casa junto a nuestros seres queridos, los vivos y los muertos.
Para todos van estos tamales de queso y chorizo al estilo mexicano. La presentación recrea unos que me comí en Texas el año pasado, con pesto, crema y semillas, de los que quedé enamorada. Le puse queso fresco a la masa porque es uno de mis ingredientes favoritos y le da tremenda suavidad a los tamales. Así que no dejen de agregar queso fresco a sus tamalitos.
Cuando fui a comprar los ingredientes me crucé con el chorizo de Cacique, que es un producto que hace poco comenzaron a vender por acá y a última hora decidí agregarlo a los tamales. Ay, es que me encanta juntar chorizo y queso.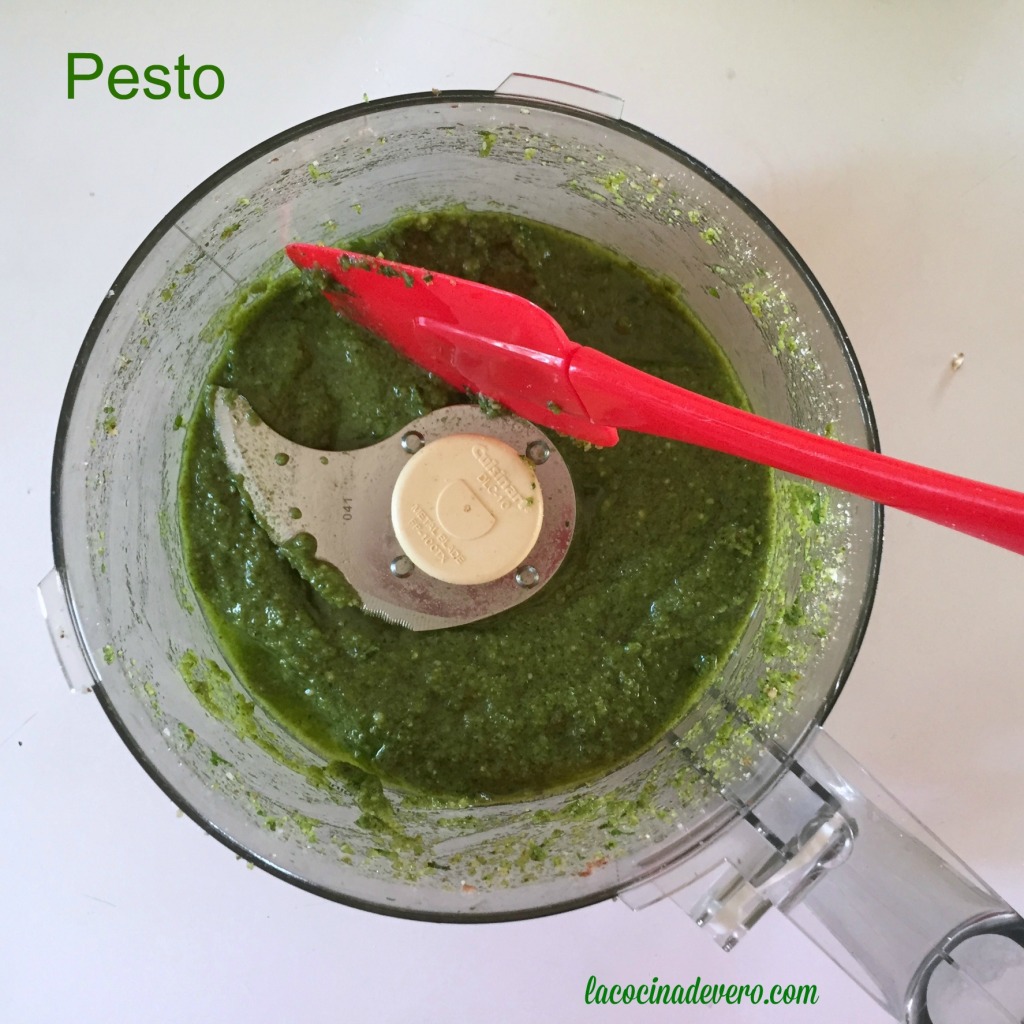 Para el pesto de cilantro:
1/3 de taza de nueces
1 diente de ajo
1 taza de cilantro
1/3 de taza de queso Parmesano
½ taza de aceite de oliva virgen extra
Sal
Pimienta
Para el relleno:
2 cdas de manteca de cerdo
1 cebolla mediana, picadita
½ ají verde, picadito
1 chile ancho remojado con antelación
½ taza de salsa de tomate
1 chorizo Cacique de 10 oz
10 oz de queso blanco Cacique
Para la masa:
250g (8 oz, 1 taza) de manteca de cerdo
500 g (1 lb, 4 tazas) de harina para tamales
½ taza de caldo de pollo
1 cdta de polvos para hornear (tipo Royal)
1 cdta de sal
16-18 hojas de maíz
Para servir:
Pesto del inicio
Crema mexicana Cacique
Nueces picaditas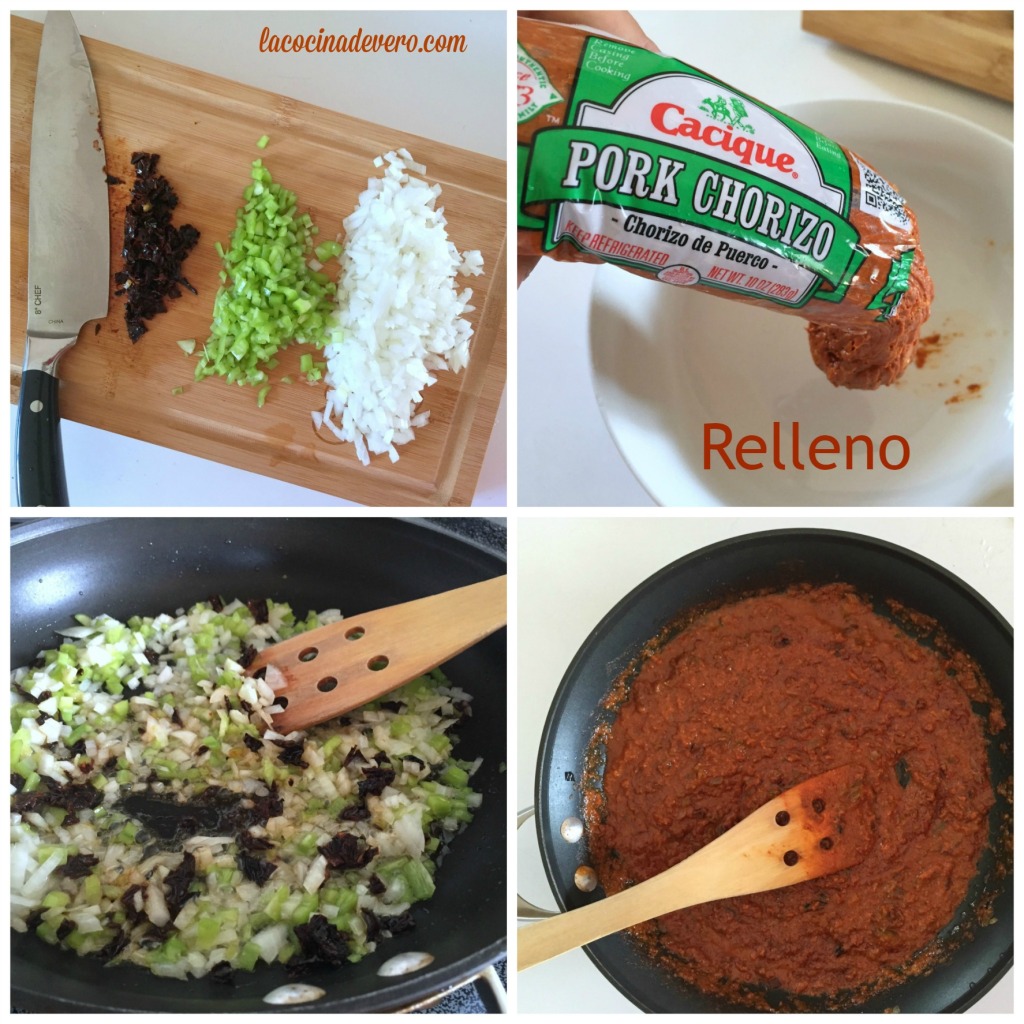 Preparación
Si no encuentras hojas de maíz frescas, puedes comprar secas y ponerlas en remojo en un caldero grande 1 hora antes de armar los tamales.
Mientras tanto, puedes preparar el pesto en el procesador de alimentos. Tritura las nueces, añade el cilantro y el ajo. Sigue triturando. Agrega el queso, una pizca de sal y otra de pimienta, y ve echándole el aceite poquito a poco con el procesador todavía funcionando. Reserva.
Para hacer el relleno, calienta un sartén grande a fuego medio y derrite en este la manteca. Adiciona el ají y la cebolla picaditos. Saltea durante 5 minutos y ponle el chile. Sigue sofriendo un par de minutos más y adiciona la salsa de tomate. Sofríe unos 3 minutos y vierte el chorizo. Mezcla bien todo, baja el fuego a bajo-medio, tapa el sartén y deja que se cocine unos 15 minutos. Reserva.
Cuando tapes el sartén con el relleno, puedes comenzar a hacer la masa para los tamales. Bate la manteca hasta que se ponga esponjosa (yo lo hice en el KitchenAid durante unos 3 minutos a velocidad media). Añade la harina y los polvos para hornear, el caldo de pollo, el queso fresco mexicano y la sal. Sigue batiendo y mezclando durante 5 minutos a velocidad media. Al principio, pasa la espátula para que no se te queden restos en las paredes del bowl. Para comprobar que la masa está lista, has una bolita y ponla en un vaso con agua. Debe flotar.
Pon a hervir bastante agua en una cazuela grande que tenga tapa.
Para armar los tamales, escurre y seca las hojas de maíz. Corta en tiritas un par de ellas para amarrarlos en los bordes. En cada hoja entera, unta un par de cucharadas de masa haciendo una hendidura en medio. Pon una cucharada colmada del relleno en medio y cierra el tamal y amárralo por los extremos como si fuera un caramelo. Si las hojas están pequeñas, usa dos para un tamal, pues deben quedar bien cerrados.
Ponle un poco de sal al agua hirviendo de la cazuela y baja el fuego a medio-alto. Coloca los tamales verticalmente en el agua, tapa la cazuela y cocínalos 50 minutos a 1 hora. La masa debe desprenderse fácilmente de la hoja cuando estén listos.
Para servirlos, corta la hoja de tamal transversalmente y empuja los bordes del tamal para que se abra. Ponle por encima salsa pesto, crema mexicana Cacique y nueces picaditas al gusto.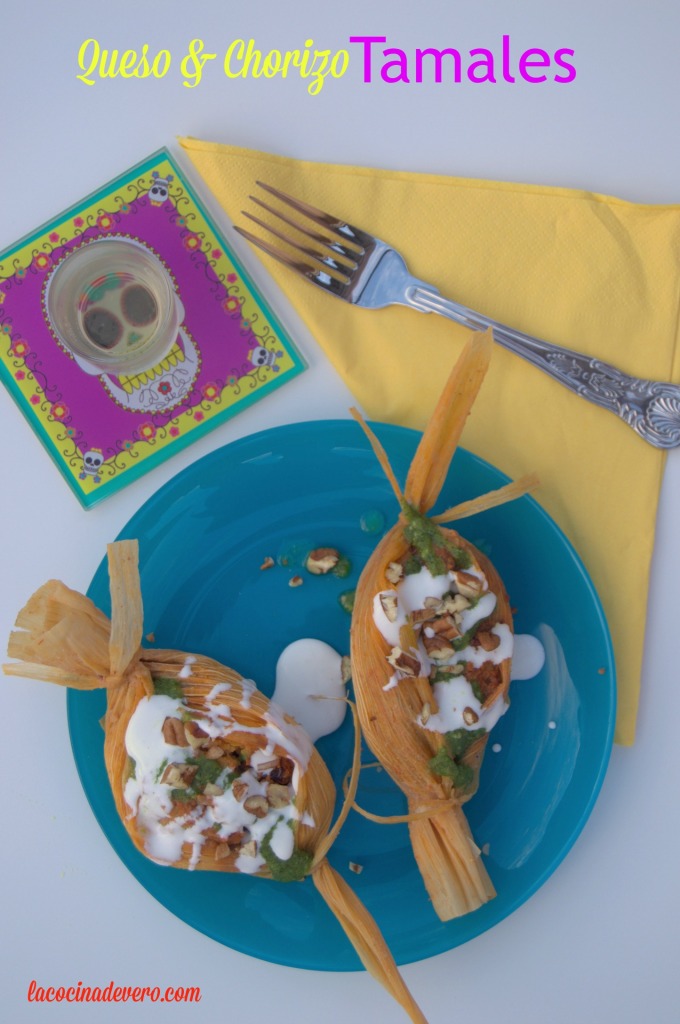 Tamales are one of the most frequent gifts to the loved ones who are no longer with us on the Day of the Dead offerings. This celebration is one of the most beautiful traditions of Mexico; some Central America countries, and in some communities in the United States.
The celebration begins on November 1st and ends the next day. Tamales, enchiladas, tequila, flowers, crucifixes, water, and the famous sugar skulls are placed on an altar with photos of our dead love ones, as well and objects that belonged to them.
Queso fresco and chorizo together is one of my favorite combinations, so I decided to give to my tamales these flavors. The cheese also adds softness to the tamales, so don't forget to add some to yours. The presentation recreates one I ate in Texas last year, with pesto, cream cheese and nuts, which I fall in love with.
For the cilantro pesto:
1/3 cup walnuts
1 clove of garlic
1 cup cilantro
1/3 cup Parmesan cheese
½ cup extra virgin olive oil
Sal
Pepper
For the filling:
2 tbsp. lard
1 medium onion, chopped
½ green pepper, chopped
1 chile ancho, soaked in advance
½ cup tomato sauce
1 10 oz Chorizo Cacique
10 oz queso blanco Cacique
For the dough:
1 cup pork lard
4 cups flour for tamales
½ cup chicken broth
1 tsp baking powder
1 tsp salt
Corn husks 16-18
To serve:
Pesto (ingredients above)
Mexican Crema Cacique
Chopped walnuts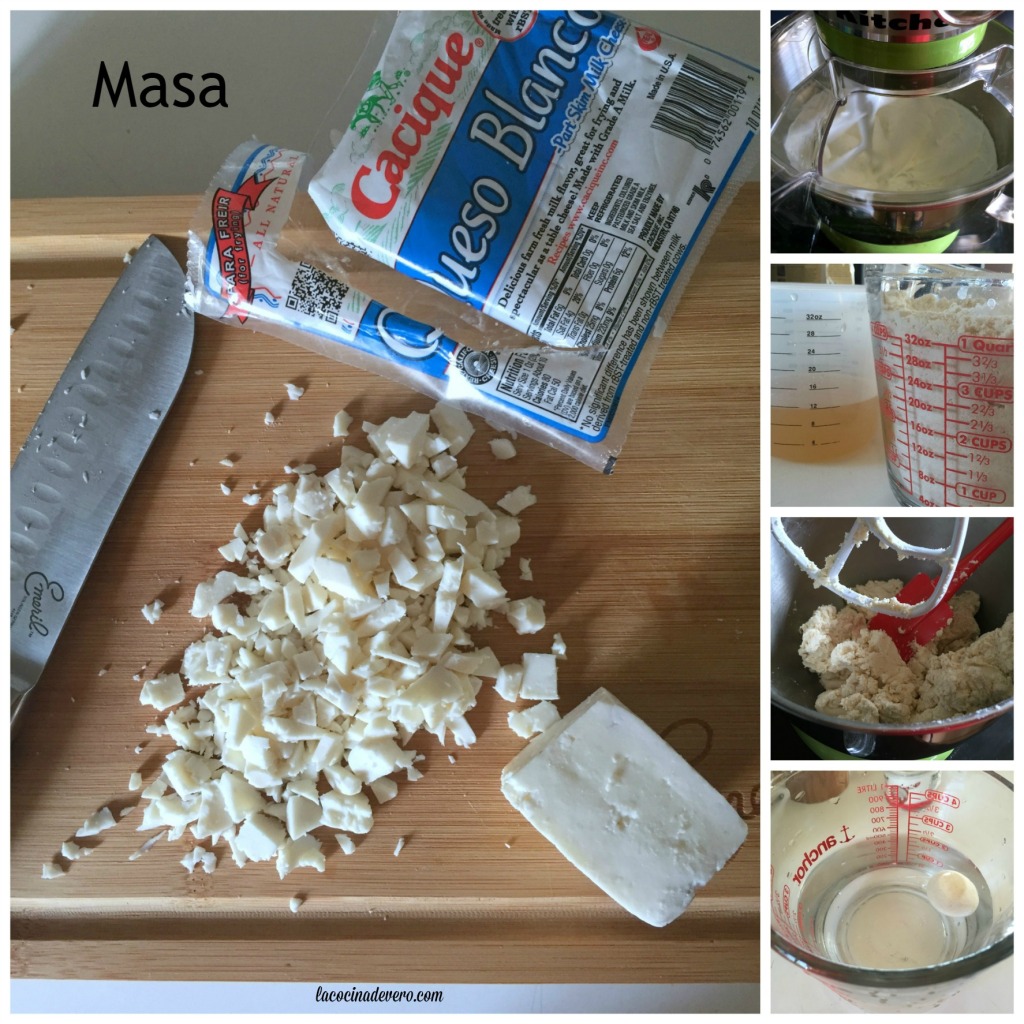 Directions
If you cannot find fresh corn husks, you can buy them dry and soak in a large pot 1 hour before assembling the tamales.
Meanwhile, you can prepare the pesto in the food processor. Grind the walnuts, add cilantro and garlic. Keep grinding. Add cheese, a pinch of salt and a pepper, and the oil pouring slowly with the processor still running. Reserve.
To make the filling, heat a large skillet over medium heat and melt in the lard. Add chilies and chopped onion. Sauté for 5 minutes and add the chili. Continue to sauté a few more minutes and add the tomato sauce. Sauté about 3 minutes and add the chorizo. Mix everything well, reduces heat to medium-low, cover the pan and let it cooks about 15 minutes. Reserve.
To make the dough for tamales, beat lard until it becomes fluffy (I did on the KitchenAid for about 3 minutes on medium speed). Add flour, baking powder, chicken broth, Mexican Cheese and salt. Continue mixing for 5 minutes at medium speed. To verify that the dough is ready, make a small ball and place in a glass of water. It should float.
Boil enough water in a large saucepan with a lid.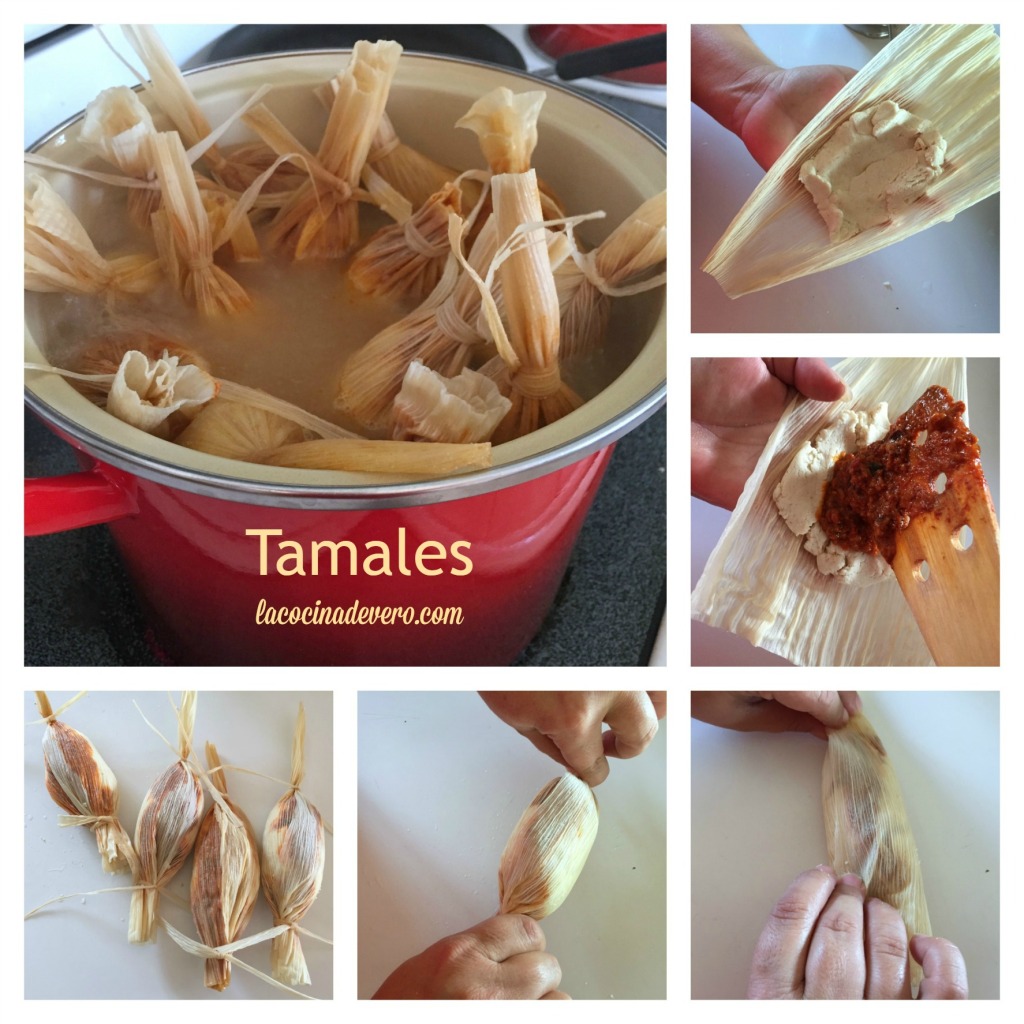 To assemble the tamales, drain and dry the corn husks. Cut into strips a couple of them to tie tamales around the edges. Spread a couple of tablespoons of the dough on a husk, making a slit in the middle. Put a heaping tablespoon of the filling in the middle, close the tamale, and tie the ends like a candy. If the husks are small, use two for tamale, since they must be tightly closed.
Put a little salt to the boiling water pot and reduce heat to medium-high. Place the tamales vertically in the water, cover the pan and cook 50 minutes to 1 hour. The dough should be easily detached from the husks when they are ready.
To serve, cut the husk and pushed the edges tamale. Put over pesto sauce, Mexican crema and chopped walnuts to taste.