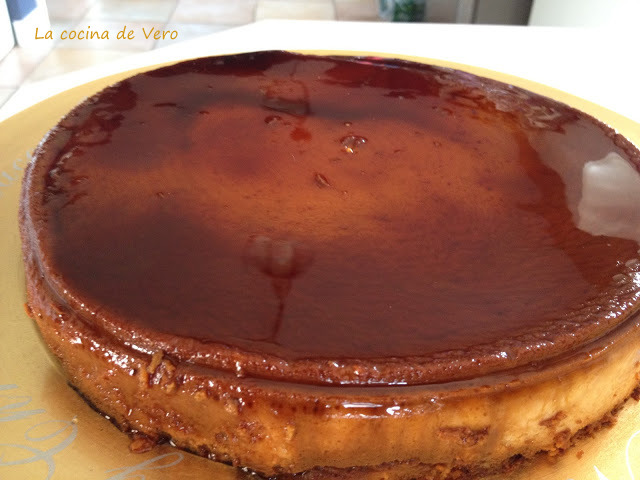 Siempre digo que no soy muy buena con los dulces, pero cuando era chiquita me la pasaba haciendo flanes con mi abuela materna, en Cuba; o panetelas con la novia de mi tío, que hace años es su esposa y me han dado dos primas preciosas.
Hice uno esta semana que me quedó delicioso. El coco y el queso crema unidos, lo hacen muy compacto, casi como una torta. En fin, que he tenido que llevármelo a la oficina para no aumentar cinco libras comiéndomelo de una sentada.
El tiempo de preparación es mínimo, pero tiene que pasar 1 hora al horno. Créanme que vale la pena esperar esa hora y las que debe pasar en el refri enfriándose. Si pueden consolarse con un sólo pedazo, da para 8-10 comensales.
Ingredientes
1/2 taza de azúcar
5 huevos
1 lata de 14oz leche condensada
1 latica de 5 oz de leche evaporada
1 taza de leche
4 oz de queso crema, a temperatura ambiente
1 cdta. de vainilla
1 taza de coco rallado sin azúcar
Preparación
Pon el azúcar en un caldero con el fogón a fuego medio, hasta que llegue a punto caramelo. Baña un molde con este.
Precalienta el horno a 350⁰F.
Bate los huevos, añade las tres leches, el queso crema, el coco y la vainilla. Pasa todo a la batidora, dejándola prendida por dos minutos.
Vierte la mezcla en el molde y coloca este dentro de una bandeja con agua para cocinar al baño maría, destapado, por 1 hora o hasta que le introduzcas un palillo de dientes y salga seco.
Deja que se refresque antes de meterlo en el refrigerador. Enfríalo antes de virar bocabajo el molde sobre un plato o bandeja.
Recipe in English:
I always say I'm not so good doing desserts, but flans are an exception. I learned how to prepare them with my grandma, when I was a little girl. But this one is my own recipe. Its texture is something between the cheesecake and the flan. So scrumptious, I should say to be careful with it, because you will have a hard time trying to stop eating this desert.
Preparation time is less than 10 minutes, but it needs to be cooked for an hour in the oven, and them it has to be cold for at least a couple of hours. I recommend to do cook it the day before. It serves 8-10 people.
Ingredients
1/2 cup sugar
5 eggs
1 14 oz. can of condensed milk
1 5 oz. can of evaporated milk
1 cup milk
4 oz. cream cheese at room temperature
1 tsp. vanilla
1 cup unsweetened shredded coconut
Method
Put the sugar in a pot over medium heat, and let it melt until is brown and becomes caramel, about 8 minutes. Cover the interior of the mold with it.
Preheat oven to 350⁰ F.
Beat the rest of the ingredients in a blender for two minutes.
Pour the mixture into the mold, and place it in a tray with some water. Put into the oven, uncovered, for 1 hour.
Let it refresh before cool it in the refrigerator. Then, turn the mold upside down on a plate or tray.