Scroll down for the English version.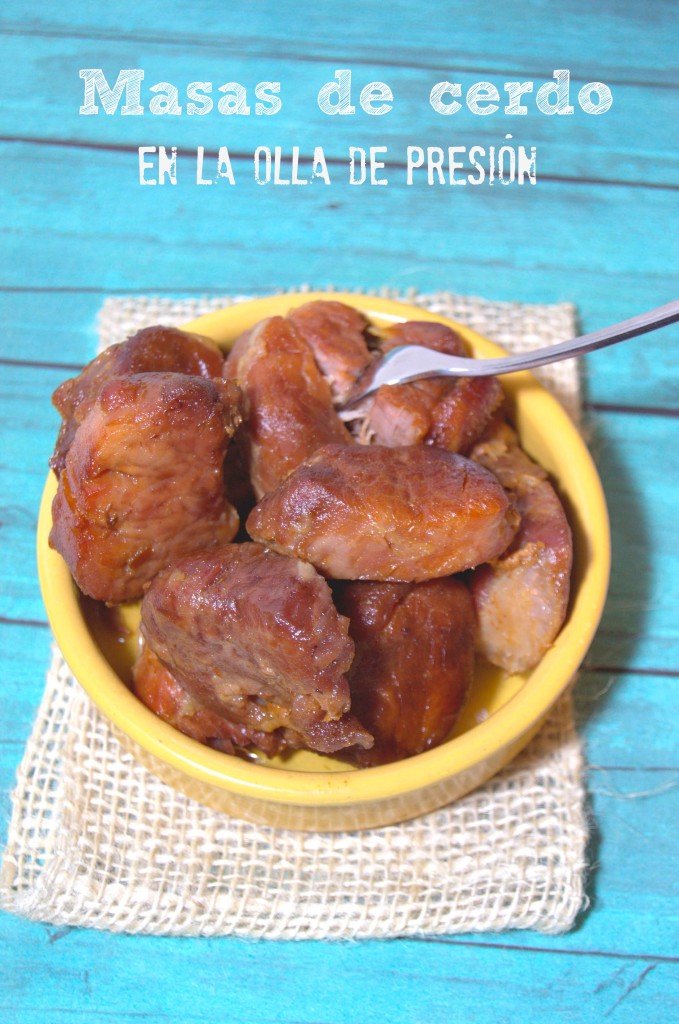 Hace poco mi madre me enseñó un secreto, hacer las masas de cerdo en la olla de presión. Quedan superblanditas y estoy maravillada con el resultado de esta receta. Siempre las hacía fritas en manteca fría hasta que se doraban, pero a veces quedaban demasiado tostadas y duras por dentro. Me han dicho que les ponga agua, que las meta al horno, y no sé cuántas cosas más; pero el método que mejor me ha funcionado es este.
Yo sé que muchos le tienen pánico a la olla de presión, sin embargo hay muchos modelos superseguros, duran bastante, ahorran combustible y resuelven muchísimo los días entre semana para tener lista la comida rápido.
Este es un plato típico de la cocina cubana, que se puede comer de aperitivo o con esta combinación matadora: arroz blanco, frijoles negros, ensalada de tomate y tostones (o maduros fritos). Yo no las hago seguido pero me encantan desde chiquita. Tanto que mi abuelo me decía "postica".
Ingredientes
2 solomillos de cerdo pequeños
Sal
Aproximadamente 1 y 1/2 libra (26 oz) de manteca de cerdo o aceite vegetal
Preparación
Corta los solomillos en rueditas de 1 pulgada de ancho (2.3 cm). Quedan pedazos casi cuadraditos. Sálalos a gusto y ponlos en la olla de presión con grasa que lo tape. Cocínalos a fuego medio-alto. Cuando la olla lleve unos 12 minutos pitando, retírala del fuego y deja que se le vaya la presión.
Coloca otra vez la olla en la candela a la misma intensidad, esta vez destapada, y sigue cocinando las masas de cerdo hasta que se doren, otros 15 minutos. Déjalas reposar media hora antes de servirlas.
También suelen servirse con ruedas de cebolla salteadas por encima. Da para 4.
Tips
Si haces más carne de cerdo, probablemente tengas que darle 15 minutos de presión.
Puedes conservar la carne frita en la grasa, sin necesidad de meterla en el refrigerador y dura bastante tiempo. Es el método que usaban los campesinos cubanos cuando no tenían refrigerador.
Not long ago my mother taught me how to make the must tender Cuban pork chunks of the world. The secret to have them is to cook them in the pressure cooker. I am amazed. Always made them in cold lard until golden, but sometimes they came too toasted and hard inside. I was told to cook them with water, baked them, and some other tips, but the method I will share with you today is the one that has worked best for me.
I know that many of you are afraid of pressure cookers, however I must say in their defense that there are many super safe models in the market, they last long, save energy, and are a great help to have the weekday meals ready in very short time.
Masitas de puerco (pork chunks) is one of the most representative dishes in Cuban cuisine. You can eat them as an appetizer or as a main dish with this killer combination: white rice, black beans, tomato salad and fried plantains.
Ingredients
2 small pork tenderloins
Salt
Approximately 1 1/ 2 pounds lard or vegetable oil
Method
Cut the tenderloins on 1 inch chunks. Add some salt to the meat and place it in the pressure cooker with enough oil to cover it. Cook over medium-high heat. Let the pressure cooker beep for about 12 minutes, remove from heat and wait until the pressure is release.
Place the pot over the fire at the same intensity, this time uncovered, and continue cooking for another 15 minutes, until browned. Let stand half an hour before serving.
It is also served with sautéed onion rings on top. Serves 4.
Tips
If you cook more meat, you probably need to increase the pressure time to 15-18 minutes.
You can keep the fried meat in the lard, without putting it in the fridge and it lasts a long time. It is the method used by the Cuban farmers back in those days when they had no refrigerator or every Cuban nowadays, when there is meat at home, but no electricity.