Scroll down for the English version.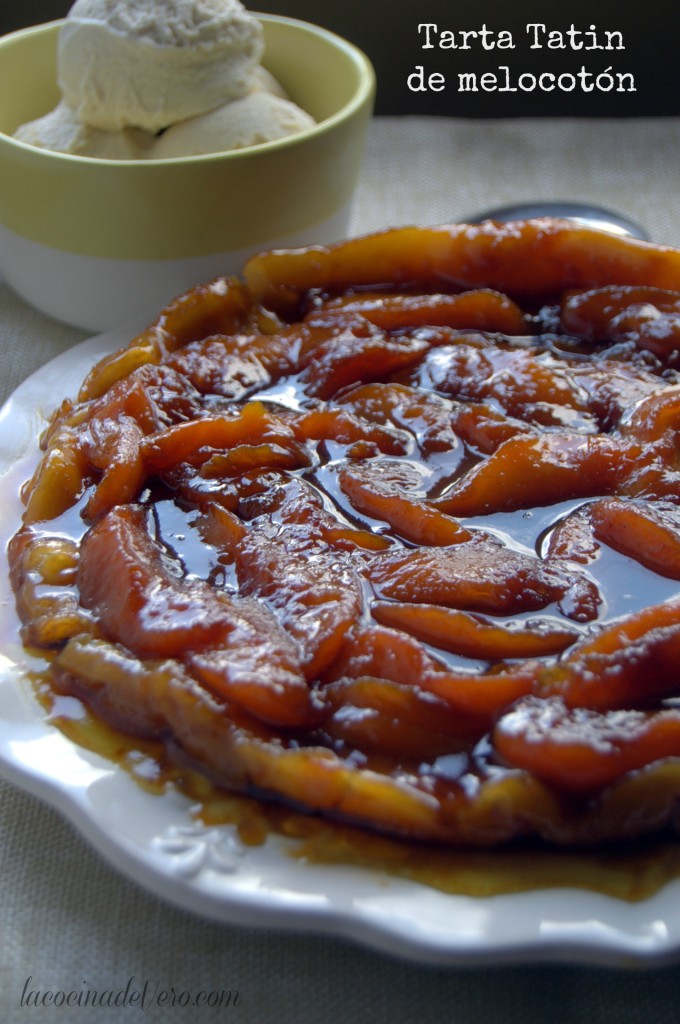 Hace rato que quería hacer una tarta tatin y retratarla para compartir la receta, pero siempre que la hacía me agarraba la noche y ya no tenía la luz adecuada o se acababa antes de hacer la foto. De hecho, de esta tarta tatin de melocotones quise hacer una foto de una cuña con el helado encima, pero todos estaban pendientes de que no se enfriara antes de comerla para comerla y que el helado se le derritiera encima. Y bueno, cedí. Fue un éxito rotundo. Según mi mamá, de lo más rico que se ha comido en su vida.
Este tipo de tarta también la puedes hacer con peras, manzanas, kakis y otras frutas. Los melocotones están en temporada ahora y me encantan, así que aproveché que estaban a buen precio.
La masa se puede hacer en casa, pero hay unas semihojaldradas en el mercado que me gustan bastante. Bien las compro en un mercado argentino o uso la de Pillsbury (vienen 2 en una caja).
Para hacerla, usé el mismo sartén de hierro que usé el otro día para el pan de maíz de kéfir . Puedes usar el que tengas a mano, siempre y cuando sea resistente al horno.
Esta es una receta de origen francés y cuentan que, como muchos otros platos en el mundo, surgió por error para luego convertirse en un clásico.
Ingredientes
1 masa semihojaldrada para pie lista para hornear
4-5 melocotones, dependiendo del tamaño
1 barrita (1/2 taza, 8 cdas.) de mantequilla
1 taza de azúcar
Preparación
Saca la masa del congelador para que se vaya descongelando.
Calienta el sartén a fuego medio y añade el azúcar. Baja el fuego a bajo-medio y haz un caramelo, moviendo el sartén con fuerza a cada rato para que el azúcar no se queme. En 10 minutos debe estar listo. Añade la mantequilla para hacer una salsa tofee y cuando se derrita, retira el sartén del fuego.
En esos 10 minutos que demora el azúcar en caramelizar, pela los melocotones y córtalos en 6-8 tajadas, dependiendo de su tamaño. No deben quedar muy finitas. Cuando retires el sartén del fuego, ya los tendrás picados y puedes colocarlos en esa salsa tofee, rellenando todo el fondo. Aunque te parezca mucho, no dejes de colocar todos los melocotones porque luego se reducen un poco.
Regresa el sartén al fogón y tápalo. Cocina los melocotones sin moverlos durante 8-10 minutos a fuego bajo-medio. Retira otra vez el sartén del fogón.
Mientras se cocinan los melocotones, precalienta el horno a 375°F (190°C).
Desenrolla la masa con cuidado y colócala sobre el sartén. Te va a sobrar un poco de masa por los lados y la vas a meter entre el sartén y los melocotones con ayuda de una espátula. No te preocupes si no queda muy linda, que luego la tarta se vira al revés, como ves en la foto.
Hornea la tarta durante 30 minutos. La masa se pondrá dorada y subirá un poquito. Una vez listo, pon el sartén sobre una rejilla. Deja reposar la tarta unos 30-45 minutos. Luego vírala sobre un plato, como si fuera una tortilla, con mucho cuidado.
Sirve tibia, acompañada de helado de vainilla.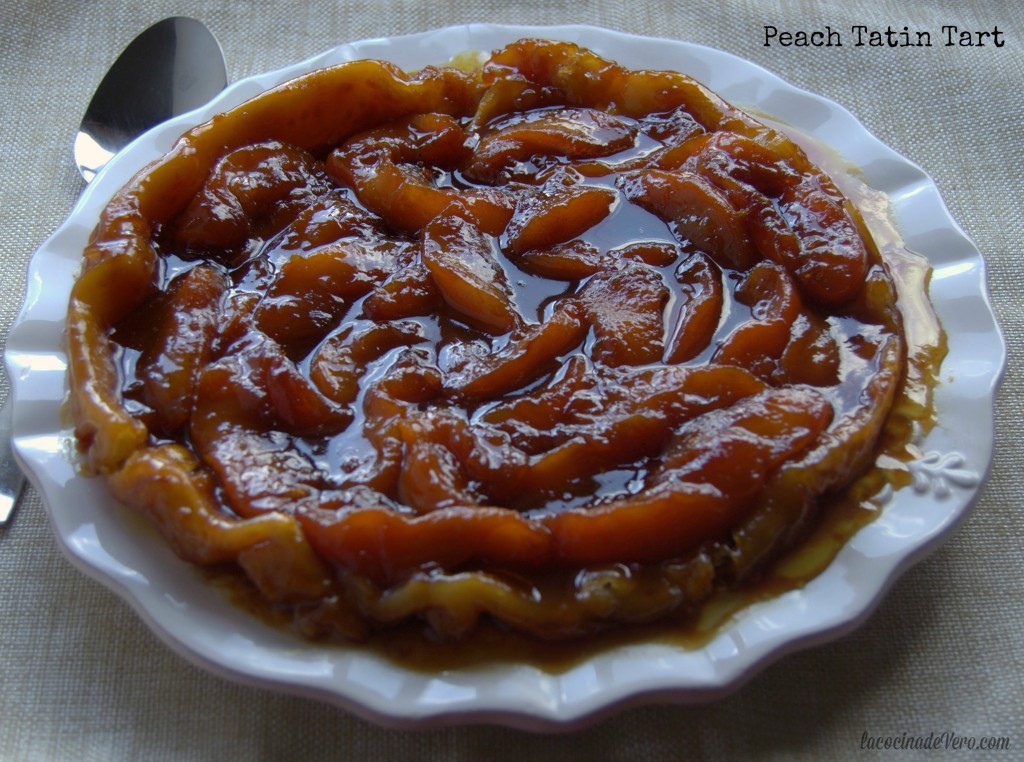 The Peach Tatin Tart you're looking at was a huge success last Sunday at home. According to my mom, it was one of the best desserts she had ever.
This is a recipe of French origin, and like many other dishes in the world was a result of a mistake, and then became a classic. I can be prepared with pears, apples, persimmons, and other fruits. Peaches are now in season, so enjoy the good prices while they last.
The pie crust can be made at home, but I either use one I buy at my favorite Argentine grocery store or use Pillsbury.
To make it, I used the same iron skillet that I used the other day for the kefir corn bread. You can use the one you have on hand, but has to be ovenproof.
Ingredients
1ready-to-bake pie crust
4-5 peaches, depending on the size
1 stick (1/2 cup, 8 tbsp.) of butter
1 cup sugar
Directions
Take the pie crust out of the freezer.
Heat the skillet over medium heat and add the sugar. Lower heat to low-medium and melt the sugar, swirling the pan once in a while so the sugar does not burn. In 10 minutes it should be ready. Add the butter to make a toffee sauce, and when melted, remove the pan from the heat.
In those 10 minutes it takes to caramelize the sugar, peel the peaches and cut into 6-8 slices, depending on their size. As you remove the pan from the heat, the peaches will be chopped and you can place them on the toffee sauce, filling the entire bottom of the pan. Although they can seem like too much, be sure to place every piece, because they will reduce slightly. Return the pan to the stove and cover. Cook the peaches without moving for 8-10 minutes on low-medium heat. Remove the skillet from the stove.
While the peaches are cooking, preheat oven to 375°F (190°C).
Unroll dough and place it carefully over the pan. You will have some extra dough on the sides; fold it between the pan and peaches with a spatula. Do not worry if it doesn't look good, because
the tart will be inverted later, as shown in the picture.
Bake for 30 minutes. The dough will rise a little, and get golden. Once ready, put the pan on a wire rack. Let the tart rest for 30-45 minutes; then carefully invert it on a plate, like a tortilla de patatas.
Serve warm, accompanied with vanilla ice cream.