Scroll down for the English version.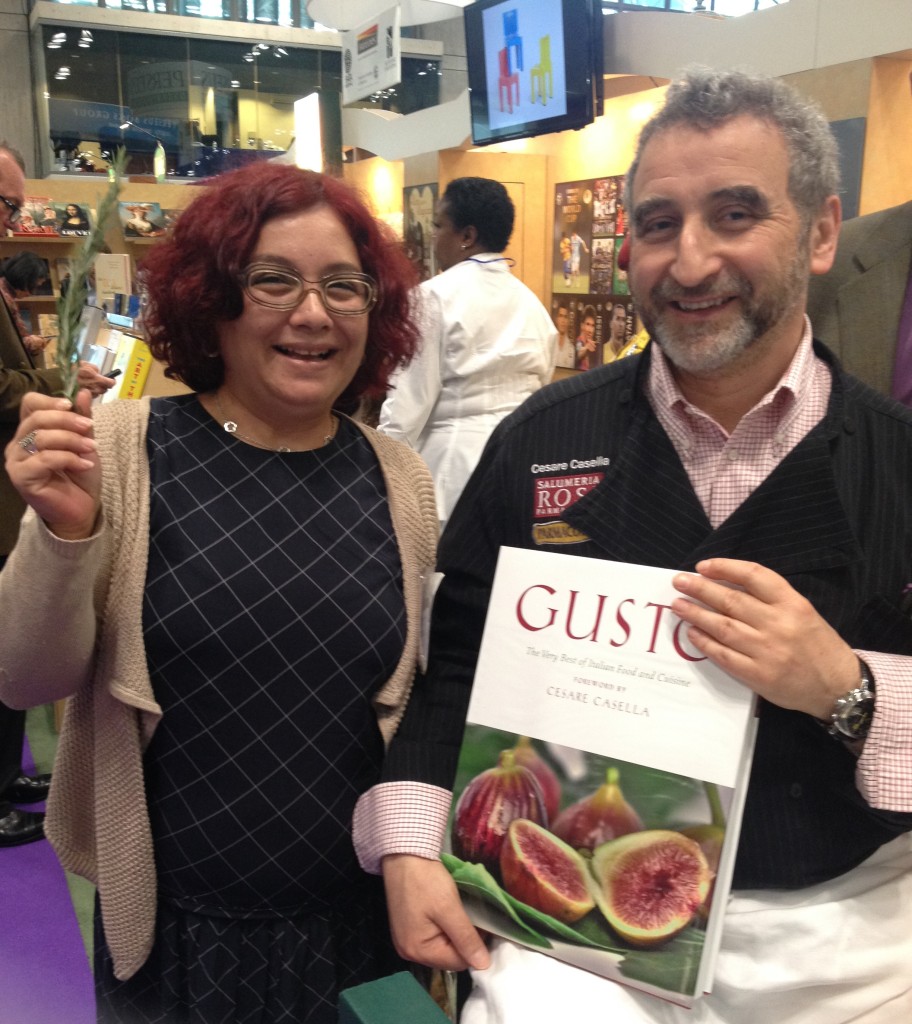 Cuando fui a Nueva York a principios de junio tuve la dicha de tropezarme con Gusto y su autor, Cesare Casella en la feria a la que asistía. Agradezco mucho a Abbeville Publishing Group por enviarme un ejemplar firmado por el autor de esta enciclopedia de la cocina italiana, con más de 4,000 fotos y casi 400 páginas, que es un lujo tener entre las manos. Bueno, tampoco es que lo pueda sostener mucho en ellas, es un libro enorme. Pesa 8 libras y mide 11 X 14 ½ pulgadas.
Gusto, más que un libro de recetas, es una celebración de la cocina italiana y una guía de su esencia, región por región, ingrediente por ingrediente, plato por plato. Miren que tengo libros de cocina y unos cuantos de comida italiana entre ellos, pero ninguno como este. Se los recomiendo muchísimo no sólo para hacer ricos y auténticos platos italianos en casa, sino para llegar a conocer profundamente la historia y la procedencia de cada uno de ellos. Muchos por aquí saben que andaba por Italia y gracias a este libro no me perdí los esenciales de la comida de la Campania, que era la zona que estaba visitando.
Y en Italia todo nos sabe mucho mejor. Creo que se debe a la frescura de los ingredientes, algo que para Cesare es fundamental. Y lleva razón, nunca imaginé el olor y el sabor que puede llegar a tener una pequeña hoja de perejil hasta probar una por si sola en San Antonio de Padua en mi viaje anterior.
Cada capítulo de Gusto tiene una introducción a un ingrediente determinado que nos explica cómo se usa en la comida italiana y su origen, sus características y variedades. Además nos da pistas para aprender a identificar cuándo están frescos, nos enseña cómo limpiarlos y cortarlos en casa, con qué otros ingredientes puede ir bien e incluye recetas, casi siempre sencillas.
Por ejemplo, el primer capítulo es sobre las pastas y va explicando todas sus variedades y cuáles son típicas de qué región. Te enseña cómo hacer pasta casera, da tips para cocinarla e incluye varias recetas. Continúa con los diferentes tipos de arroz y cereales para desembocar en los diferentes tipos de harina, esa gran aliada de la comida italiana que es la base de sus deliciosos panes, la pizza, la pasta y la polenta. Le siguen los pescados de agua salada y agua dulce, los mariscos y los crustáceos, con instrucciones para limpiarlos, características de cada uno y recetas intercaladas. Luego vienen las los diferentes tipos de carnes con gráficos que muestran sus cortes y la parte del animal de que proviene cada uno, cómo cocinarlas, para qué platos se recomiendan, cómo se usan en la preparación de embutidos. Y así sucesivamente cada tipo de aves, huevos, panes, vegetales, quesos, pizzas, frutas, hierbas, aceites, especias, semillas, legumbres, chocolate, café, galletas, postres, helados y vinos. Cada ingrediente tiene su receta y el colorido de las fotos e ilustraciones es sensacional.
Si quieres conocer de verdad la comida italiana, este libro no puede faltarte.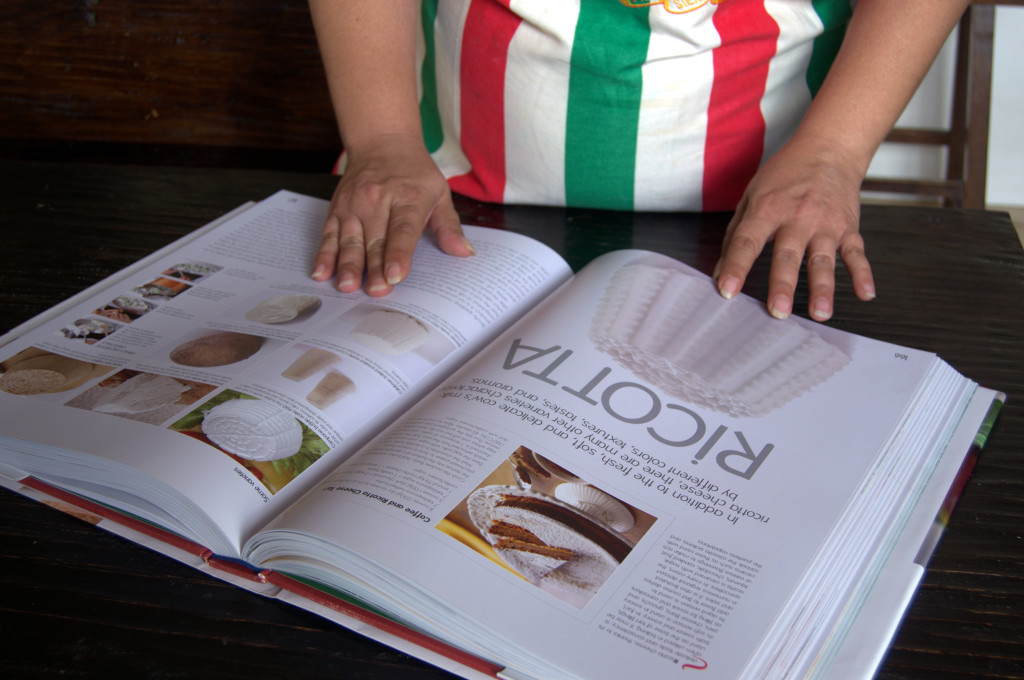 When I went to New York in early June I had the good fortune to find on my way Gusto and its author, Cesare Casella at the conference that I attended. I am grateful to Abbeville Publishing Group for sending me a signed copy of this encyclopedia of Italian cooking, with over 4,000 photos and nearly 400 pages; it is a luxury to have in his hands. Well, not that I can hold it for more than a minute without putting into the table or the counter. It is a huge book that weighs 8 pounds and measures 11 X 14 ½ inches.
Gusto, more than a cookbook, it is a celebration of Italian cuisine and a guide to its essence, region by region, ingredient by ingredient, course by course. I have a lot of cookbooks and a few dedicated to Italian food among them, but none like this one. I recommend it very much not only to prepare scrumptious and authentic Italian dishes at home, but to get to deeply know the history and origin of each. This helps me a lot on my recent trip to Italia, so I didn't miss the essentials of Campania's cuisine.
Everything is so good there. A simple plate of spaghetti and sauce taste very different. I think that's because the freshness of the ingredients, which is fundamental to Cesare. And he's right; I never imagined the smell and taste a small piece of parsley can have until I try one by itself in Padua on my first trip to Italy.
Each chapter of Gusto has an introduction to an ingredient that explains how it is used in Italian dishes and its origin, characteristics and varieties. Also gives us clues to learn to identify when they are fresh, teaches us how to clean them and cut them in house, with which other ingredients can go well, and includes simple recipes.
For example, the first chapter is about pasta and will explain all varieties and which are typical of what region of Italy. It teaches you how to make homemade pasta, gives you tips for cooking it and includes several recipes. Continue with the different types of rice and cereals it leads to different types of flour, that great ally of Italian food which is the basis of their delicious breads, pizza, pasta and polenta. Following are the salt-water and fresh-water fishes, shellfish and crustaceans, with instructions for cleaning, and recipes. Then there are the different types of meat with charts showing cuts and animal part where they come from, how you cook them, what courses are they good for, how they are used in the preparation of sausages. And so on each kind of poultry, eggs, breads, vegetables, cheeses, pizzas, fruit, herbs, oils, spices, seeds, legumes, chocolate, coffee, cookies, desserts, ice cream and wine. Each ingredient has its own recipe and colorful photos and illustrations are sensational.
If you really want to get to know the secrets of Italian cuisine, this book is a most have.