Scroll down for the English version.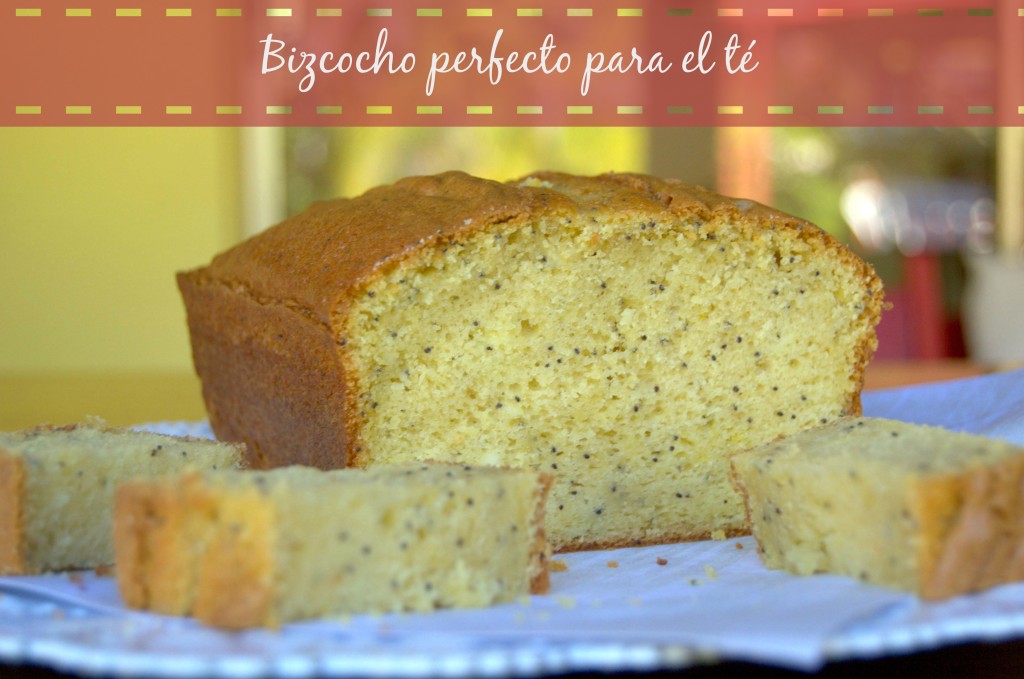 ¿Qué tal un bizcocho y una fiesta de té para celebrar el Día Internacional de la mujer este 8 de marzo?
Nada como la cháchara entre amigas. Siempre viene bien y puede curarlo todo en este mundo. He preparado este bizcocho para una reunión virtual con mis amigas bloguero-cocineras y ya me veo ya con ellas, sentadas en la terraza disfrutando juntas de este dulce.
Mi inspiración ha sido mi amiga Lola, que siempre está usando las cajitas de bizcochos para preparar unos dulces riquísimos. En Estados Unidos una de las marcas más populares de estos dulces es Duncan Hines, con la que ya he preparado el flancocho y la panetela con flan, que no es lo mismo aunque suene que sí. Si no vives en Estados Unidos, seguramente en tu país venden esta u otra marca de mezcla para cakes y puedes adaptarla usando esta receta. También puedes usar tu receta tradicional de cake.
Este bizcocho se prepara en 5 minutos y lleva una hora en el horno. Da 10-12 raciones.
Ingredientes
1 caja de Classic Yellow cake de Duncan Hines
Según la caja, vas a necesitar:
3 huevos
1/3 de taza de aceite vegetal
1 taza de agua
Mi aporte:
La ralladura de 1 limón
1 cda de semillas de amapola
3 oz (90 g aprox.) de queso crema tipo Philadelphia a temperatura ambiente
1/2 cucharada de mantequilla sin sal
Preparación
Como media hora antes de comenzar, saca el queso crema del refrigerador.
Precalienta el horno a 350°F (180°C). Unta el molde con la mantequilla.
Prepara la mezcla del bizcocho según las instrucciones de la caja. Agrega la ralladura de limón, las semillas y el queso. Mezcla bien con la masa y viértela en el molde.
Yo usé un molde de loaf grande, de los que se usan para el pan y como es tan alto, he tenido que hornear bastante el bizcocho, pero con un molde bajito y más ancho, seguro lleva mucho menos tiempo en el horno.
Hornea durante 1 hora. Para comprobar que está listo, introduce un palillo de dientes en el centro y este debe salir limpio. Luego apaga el horno y déjalo dentro otros 10 minutos. Coloca el molde sobre una parrilla y deja que se refresque unos 10-15 minutos antes de desmoldar.
Queda muy suave y esponjoso.
Ya puedes poner a calentar el agua para el té.
Tips
Recuerda, cuando estés horneando un bizcocho, que no debes abrir el horno en los primeros 20 minutos.
Puedes hacerlo con ralladura de naranja en lugar de ralladura de limón.
Y miren lo que han preparado mis amigas:
– Clara – Dominican Cookbook: Arroz con leche y coco brûlée.
– Layla – Las recetas de Laylita: Humitas.
– Pilar – Confieso que cocino: Empanaditas de pangora a la parmesana.
– Pilar – En mi cocina hoy: Torta de amapolas.
– Rosilet – Sugg-r and Some Salt: Ceviche de lubina con granada.
¡Feliz día de la mujer a todas las lectoras! El mundo no sería igual sin nuestra fuerza, verdad?
How about a tea party to celebrate International Women's Day on March 8? I know this not a date of too much celebration in the US, but I'm a latina, and we always celebrate it on our countries.
Anyhow, this cake is perfect for chatting with your amigas or to start your day with a cup of coffee. I'm just imagining now at my patio, enjoying a piece of it with my foodie-bloggers friends, chatting and fixing this world.
This cake serves 10 to 12 portions, is prepared in 5 minutes, and takes about an hour in the oven.
Ingredients
1 box of Classic Yellow cake from Duncan Hines
According to the box, you'll need:
3 eggs
1/3 cup vegetable oil
1 cup water
My contribution:
Zest of 1 lemon
1 tbsp poppy seeds
3 oz Philadelphia type cream cheese at room temperature
1/2 tablespoon unsalted butter
Method
Preheat oven to 350°F (180°C). Butter the loaf pan.
Prepare cake mix according to package directions. Add lemon zest, seeds and cheese. Mix well and pour the dough into the pan.
I used a large loaf pan, which is very high, so I had to bake the cake for an hour, but if you use a cake pan it takes less time in the oven.
Bake for 1 hour. To verify that it is ready, insert a toothpick in the center. It should come out clean. After turning off the oven, leave it inside 10 minutes. Place the pan on a baking rack and let it cool 10-15 minutes before unmolding.
Now it's time to heat the water for tea.
Tips
Remember, when you're baking a cake, you should not open the oven within the first 20 minutes.
You can substitute the lemon zest with orange zest.