Scroll down for the English version.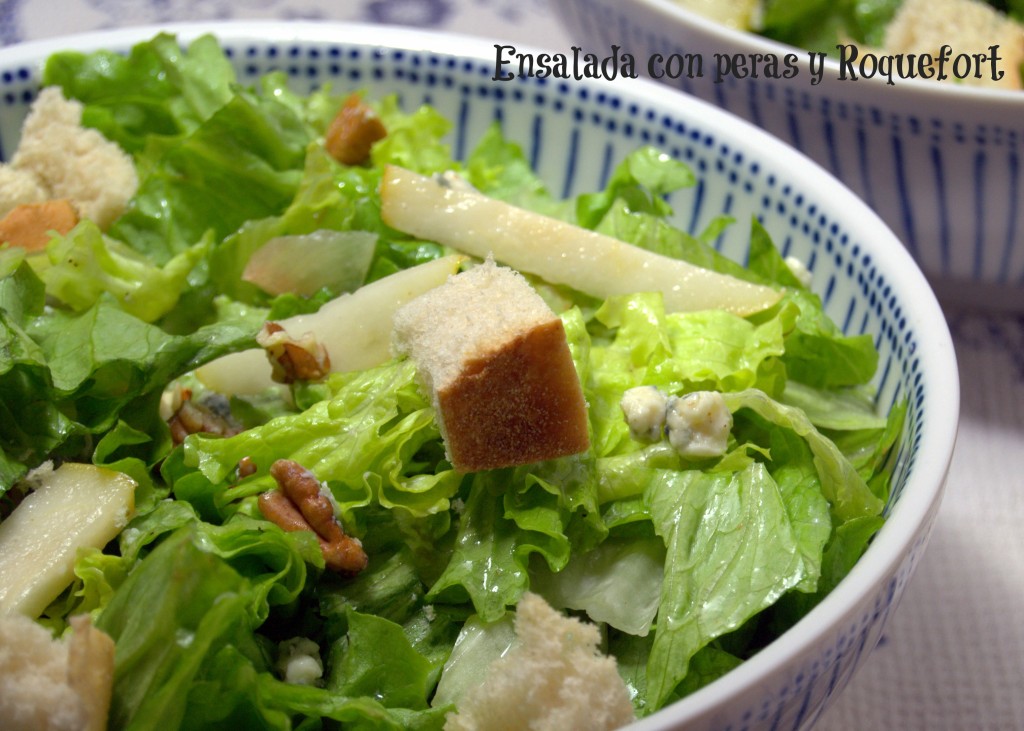 Desde la semana pasada, en casa comenzamos a comer ensaladas todas las noches entre semana. Mi esposo está hecho un experto y cada día cuando llego del trabajo, ya tiene todo listo para mezclar y terminamos de cenar temprano. Esta ensalada con peras y Roquefort es una de las que hizo la semana pasada. Pocos ingredientes y mucho sabor. La combinación es fabulosa y si no quieren un plato tan saludable, pueden probarla en esta tarta.
Da para 3.
Ingredientes
3 rebanadas de pan de molde
3 oz de Roquefort desmoronado
1 pera grande bien madura
1 lechuga
3 cdas de nueces tostadas, picaditas
Para el aderezo:
1/3 de taza de aceite de oliva virgen extra
1 cdta de jugo de limón
Sal y pimienta a gusto
Preparación
Precalienta el horno a 350°F (180°C) y mientras corta el pan en cubitos de 1 pulgada (2.3 cm). Coloca el pan en una bandeja de hacer galletas y tuéstalo en el horno unos 5 minutos. Resérvalo.
Lava bien la lechuga y córtala en tiras. Pica la pera a la mitad y córtala en rueditas finas.
Bate los ingredientes del aderezo hasta que emulsione el aceite. Un par de minutos con un batidor de mano o un tenedor.
Sirve la lechuga en platos individuales con el resto de los ingredientes encima y que cada uno se sirva el aderezo a gusto. O puedes prepararla en un cuenco grande con todo menos el pan y luego servir.
Fresca, saludable y rápida. Espero la disfruten mucho.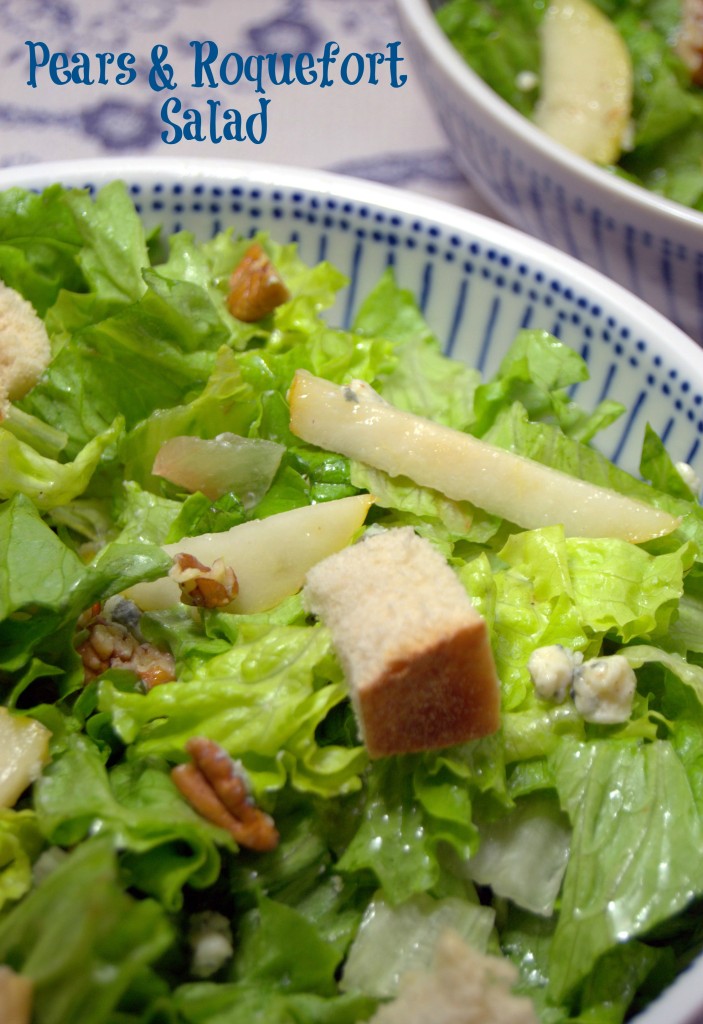 Since last week, we started eating salads for dinner on weekdays. My husband is the one preparing them, and every day when I get home, he has everything ready to mix.
This salad with pears and Roquefort is already a favorite at home, few ingredients and great flavor. Serves 3.
Ingredients
3 slices of bread
3 ounces crumbled Roquefort
1 large ripe pear
1 head of lettuce
3 tbsp toasted walnuts, chopped
For the dressing:
1/3 cup extra virgin olive oil
1 tsp lemon juice
Salt and pepper to taste
Method
Preheat oven to 350°F. Cut the bread into 1-inch cubes. Place bread on a cookie sheet in the oven until golden, about 5 minutes.
Thoroughly wash the lettuce and cut into strips. Chop the pear in half and cut into thin slices.
Whisk the ingredients of the dressing until the oil emulsifies.
Serve lettuce on individual plates with the remaining ingredients and top, and the dressing on the side so everyone can serve it to taste.
I hope you enjoy this fresh, healthy and quick recipe.