This shop has been compensated by Collective Bias, Inc. and its advertiser. All opinions are mine alone./ Este es un artículo patrocinado por Collective Bias y sus clientes, pero todas las opiniones son mías.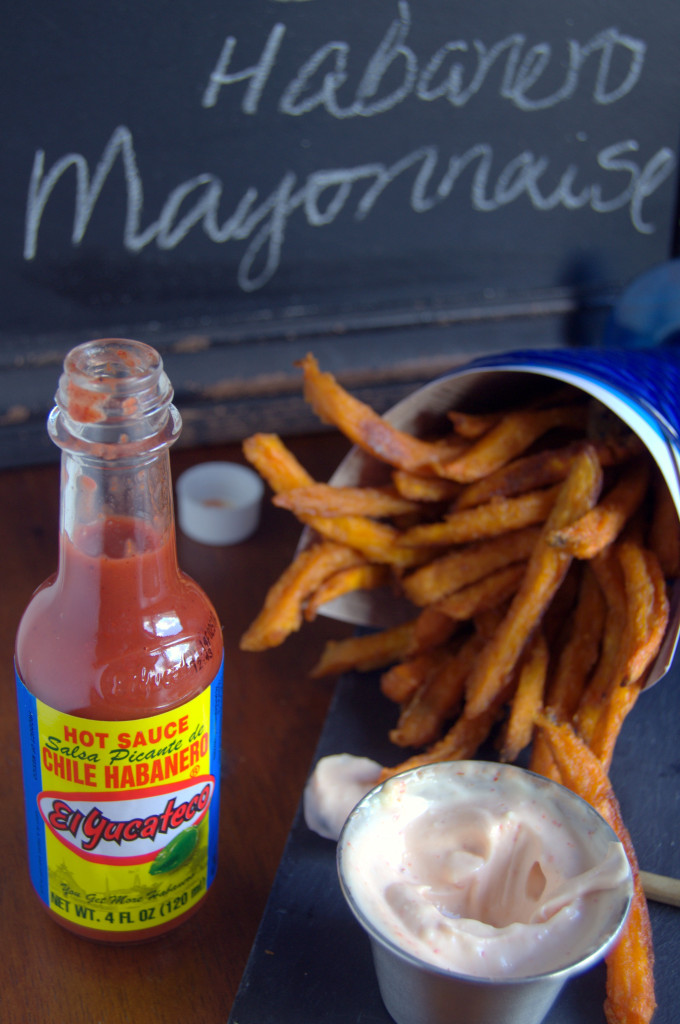 There are two or three brands of mayonnaise on the market that I like a lot, but nothing like a homemade mayonnaise. Are you agreed? Well, then you will love this mayonnaise with Habanero hot sauce. It goes well with everything, salads, tostadas, sandwiches, and of course French fries.
Have you eaten French fries with mayonnaise? Oh my God, they are soooo good. Sometimes I add a little ketchup to mayonnaise and sometimes I just dip the fries into the mayo. It was something I tasted for the first time in Europe and since then, I always have the French fries like that.
Hay dos o tres marcas de mayonesa en el Mercado que me gustan mucho, pero nada como una mayonesa casera. ¿Les gustan más a ustedes también? ¿Sí? Pues entonces les va encantar esta mayonesa con salsa roja de chile habanero, que va bien con todo, ensaladas, tostadas, sándwiches y por supuesto con papas o boniatos fritos.
¿Han comido papas fritas con mayonesa? Son mi perdición. A veces le pongo un poco de kétchup a la mayonesa y a veces así solita. Fue algo que probé por primera vez en Europa y desde entonces casi siempre las como así. Allá raras veces se come con kétchup.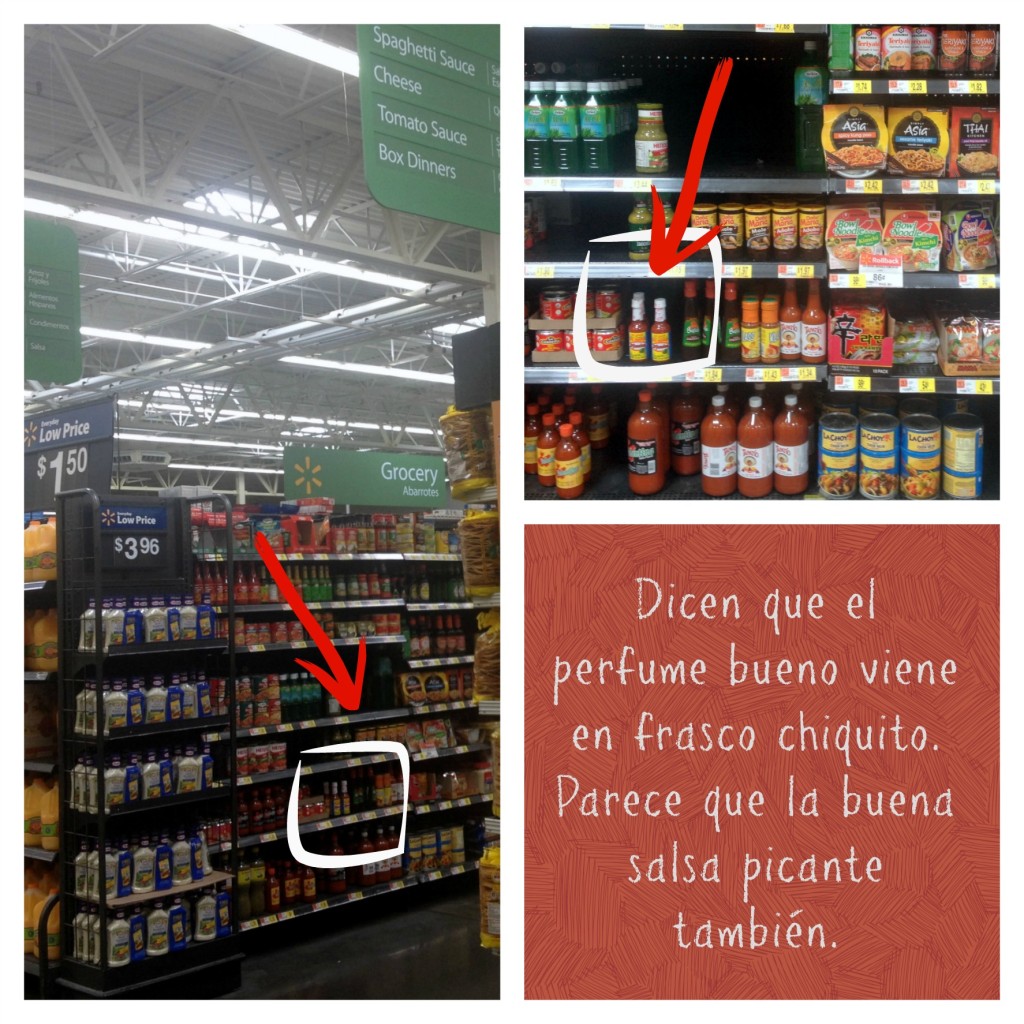 To try this mayonnaise, that I prepared using El Yucateco Red Habanero Sauce I bought at Walmart a few days ago, I decided to bake some sweet potatoes fries. They are sweeter that potatoes, so I assumed the contrast would be interesting. I wasn't wrong, the combination is superb and I hope you will try it and like it as much as we did.
In addition to this sauce, El Yucateco has the Green Habanero Sauce, the XXXtra Kutbil-ik Hot Sauce and the Black Label Reserve. I want (and I will) to try them all because their price is great, and at home we love to add a little spice to almost everything we eat.
Habanero chile is one of the hottest on earth, but this sauce has an authentic, natural taste that makes me want to eat it alone. It will give to your meals a delicious touch. If you are someone who really likes spicy maybe you think you should add more sauce to this mayonnaise, but you must try it first. You can always add more sauce to the mayonnaise when ready.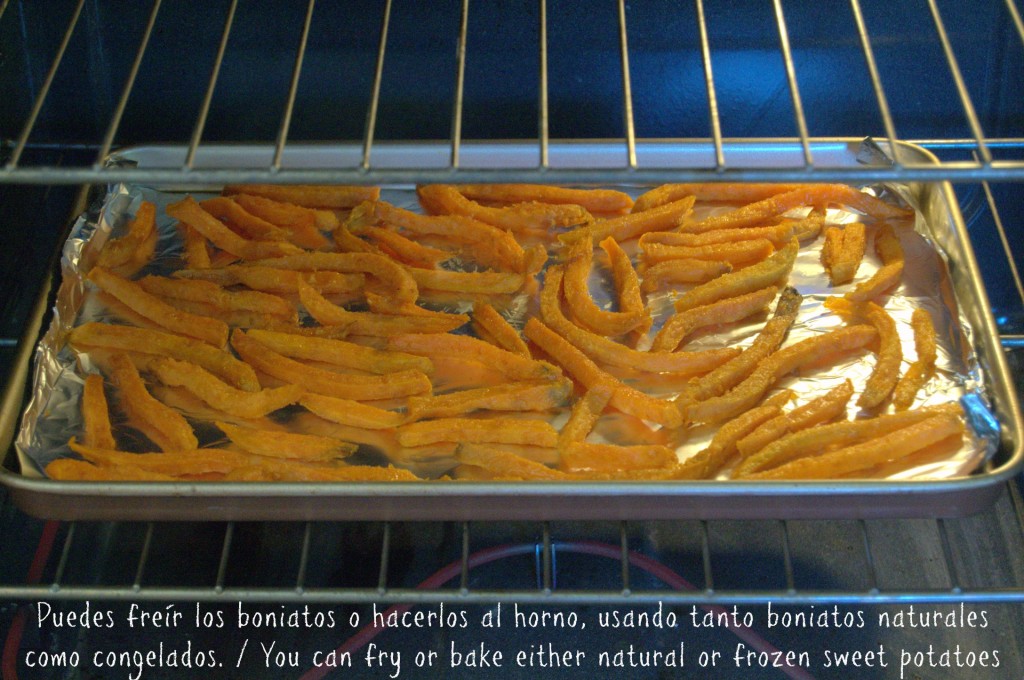 Para probar esta mayonesa, que preparé usando Salsa roja El Yucateco de chile habanero que compré en Walmart hace unos días, me latían más unos boniatos que unas papas fritas, pues son dulcecitos y supuse que el contraste debía ser interesante. No me equivoqué, la combinación es magnífica y espero se animen a probarla.
Además de esta salsa, El Yucateco tiene la Salsa Verde de Habanero, la XXXtra Hot Kutbil-ik Sauce y la Black Label Reserve. Quiero probarlas todas y lo haré porque tienen muy buen precio, en casa nos encanta ponerle a todo un poco de picante y estaríamos felices con una botellita de cada una.
La salsa picante de chile habanero pica bastante. El chile habanero es de los más picantes que existe, pero esta salsa tiene un sabor auténtico y natural que hasta me dan ganas de comerla sola y que le dará un toque final delicioso a tus comidas. Si eres de los que le gusta mucho el picante a lo mejor te parece poca la cantidad de salsa que le puse a la mayonesa. No se le siente tanto al principio pero luego sale a flote para deleite de nuestros paladares. Siempre pueden ponerle más salsa cuando la mayonesa esté lista.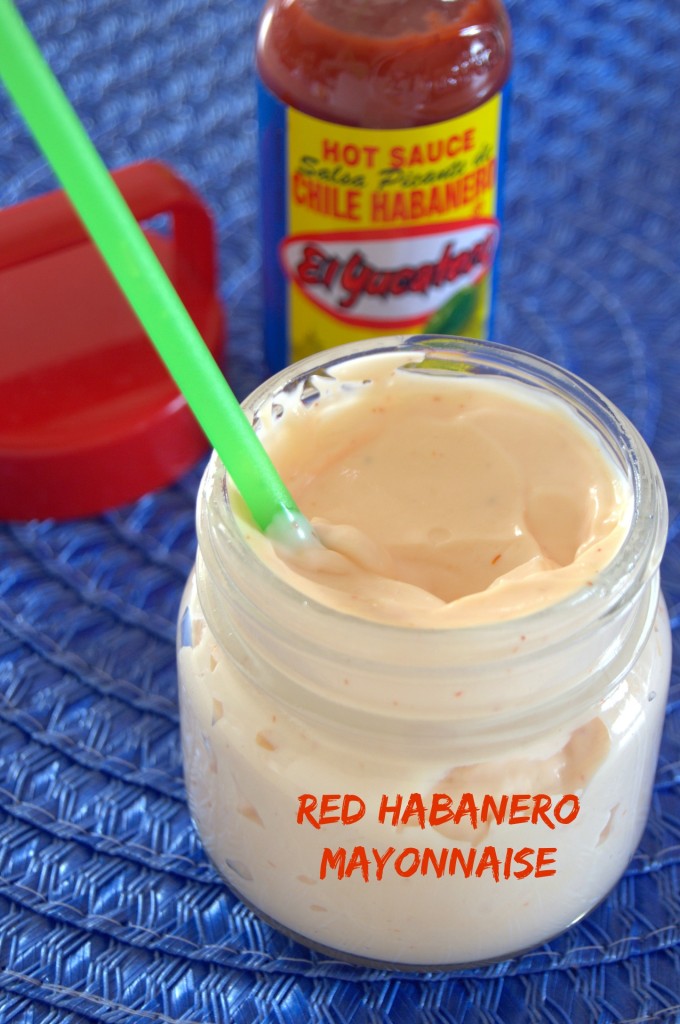 Ingredientes
1 cdta de El Yucateco Red Habanero Sauce
1 huevo mediano a temperatura ambiente
¼ cdta de sal
2 cdtas de agua
1 cda de jugo de lima
¾ de aceite de canola
Preparación
Pon en la batidora todos los ingredientes menos el aceite y bátelos 5-10 segundos. Con la batidora prendida, comienza a echar en ella el aceite poco a poco, en un hilito constante, hasta que la mayonesa cuaje. Ponla a enfriar al menos media hora antes de servir con estos crujientes boniatos al horno.
Consejos a la hora de preparar mayonesa casera:
1 – Tener siempre aceite canola en casa. Puede que no tengas mayonesa a mano, pero si de pronto necesitas para alguna receta, puedes hacer tu propia mayonesa en unos minutos.
Usa huevos a temperatura ambiente. Si estás apurada, el mejor modo de lograr que el huevo esté a temperatura ambiente rápidamente es rompiéndolo y poniendo su contenido en un cuenco.
2 – Una vez hecha la mayonesa, ponla en el refri para que se endurezca y tome la textura adecuada.
3 – Cuidado. En verano tenemos que tener cuidado de dejar la mayonesa casera o algún alimento preparado con ella al calor. Si vas a usarla, trata de mantener la comida dentro de la casa con el aire acondicionado puesto.
Pueden ver otras recetas con las salsas El Yucateco aquí.
Ingredients
1 teaspoon of El Yucateco Red Habanero Sauce
1 medium egg at room temperature
¼ teaspoon salt
2 teaspoon water
1 tablespoon lime juice
¾ cup of Canola oil
Directions
Pour all ingredients except the oil in a blender and mix for 5-10 seconds. With the blender on, start adding the oil though the feed tube slowly, in a steady very thin stream, until the mayonnaise thicken. Bring to cool at least half an hour before serving.
And now is time to add your #SauceOn some crispy sweet potatoes fries.
Tips for homemade mayonnaise:
1 – Always have Canola oil at home. You don't have to buy mayo, and if you suddenly need some for a recipe, you can make your own mayonnaise in minutes.
2 – Use eggs at room temperature. If you're in a hurry, the best way to ensure that the egg is at room temperature rapidly is breaking it and putting its contents into a bowl.
3 – Once the mayonnaise is ready, put it in the fridge so it will have right texture.
4 – Be careful. In summer we have to be careful to let the homemade mayonnaise or any food prepared with it on the heat of the patio or the picnic. If you're going to use it, try to keep the food in the house with the air conditioning on.
Find more El Yucateco recipes here.
Gracias a #CollectiveBias hemos probado esta salsa que se queda en casa desde ya. / Thanks to Collective Bias for opening the doors to us to this new sauce full of flavor.