Scroll down for the English version.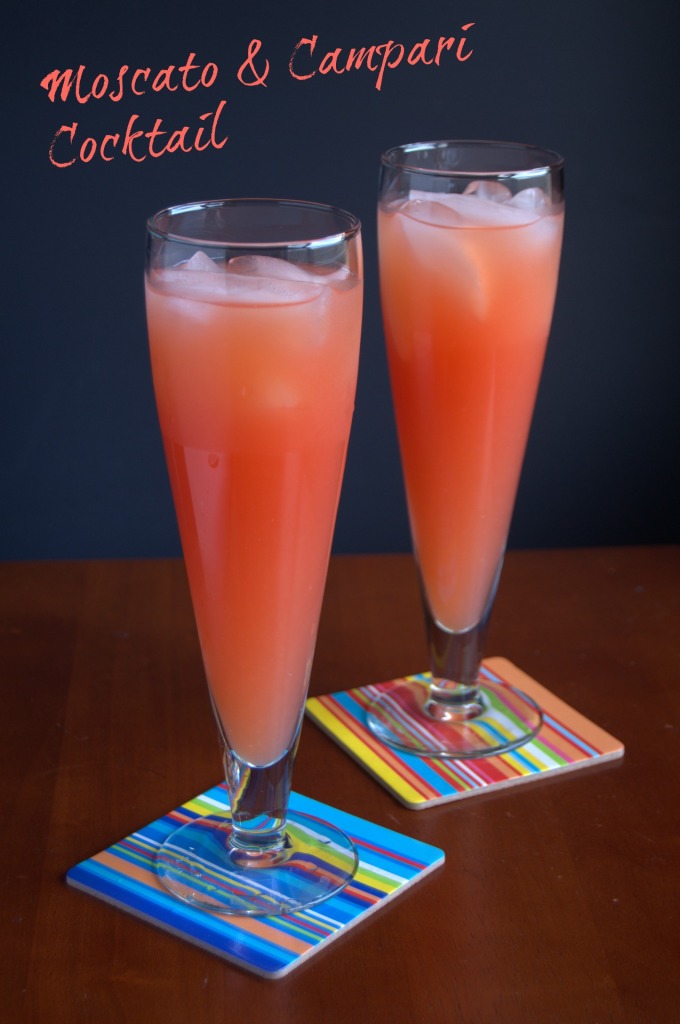 Me enamorado de este cóctel de Moscato y Campari inspirado en un trago de Francis Mallmann que vi en un mensaje que recibí de la revista Food & Wine con una recopilación de tragos con Campari.
Desde hace más de un año que me dio por hace Negroni, tenía un poco de Campari en el fondo del bar y se me cruzó en el camino la botella justo unos días antes de recibir el mensaje del que les hablaba, así que me imprimí unas tres recetas de la lista para preparar uno o varios de los cocteles en una celebración que tendríamos en casa.
Me decidí por uno de ellos. La receta original llevaba Riesling en lugar de Moscato, pero no lo encontré en la tienda de licores cuando pasé a comprar lo que necesitaba para la fiesta y así surgió este cóctel que les traigo hoy, super-refrescante, suave y delicioso.
El día de la fiesta lo serví en vasos pequeños y rindió muchísimo. Le encantó a los que lo probaron y a mi esposo y a mí nos ha gustado tanto que cuando lo hice para tirar la foto del post, él me pidió que usara unos vasos más grandes y agarré estos que acababa de comprar en Ikea y estaban recién lavados.
Les recomiendo usar un Moscato dulce y enfriar con anterioridad el jugo y el vino o prepararlo dos horas antes de que comience la fiesta, para que esté bien frío.
Ingredientes
3 3/4 tazas de Moscato
2 1/4 tazas de jugo de naranja (yo usé Tropicana)
1 taza de Campari
Preparación
Mezclar los ingredientes en una jarra grande y enfriar. Poner hielo en los vasos y servirlo a gusto.
________________________________________________________________________________
I felt in love this Moscato and Campari cocktail inspired by a drink of Francis Mallmann I saw on a compilation of drinks with Campari from Food & Wine magazine.
For over a year I had a bit of Campari in a bottle the back of the bar and it just came to my attention a few days before receiving the message from F&W, so I printed out three recipes from the list to prepare one or more of the cocktails in a party I was having at home two weekends ago.
The original recipe called for Riesling instead of Moscato, but couldn't find it in the liquor store when I went to buy what I needed for the party, and so, this super-refreshing, smooth and delicious cocktail was born.
The day of the party we had it in small glasses and it last until the end. Those who tried it loved it, and my husband and I liked so much that when I was ready to shoot the photo for this post, he asked me to use bigger glasses, and I grabbed these we had just bought at Ikea that were handy and clean, listening our conversation.
I recommend using a sweet Moscato and cool the juice and wine before, or mix the ingredients two hours before your party start, so it gets very cold.
Ingredients
3 3/4 cups Moscato
2 1/4 cups orange juice (I used Tropicana )
1 cup Campari
Directions
Mix the ingredients in a large pitcher and chill. Put plenty ice in the glasses, pour the mix over the ice, and serve.