This shop has been compensated by Collective Bias, Inc. and its advertiser, but all opinions are mine. / Este artículo es parte de una campaña pagada de Collective Bias y su cliente, pero las opiniones son todas mías.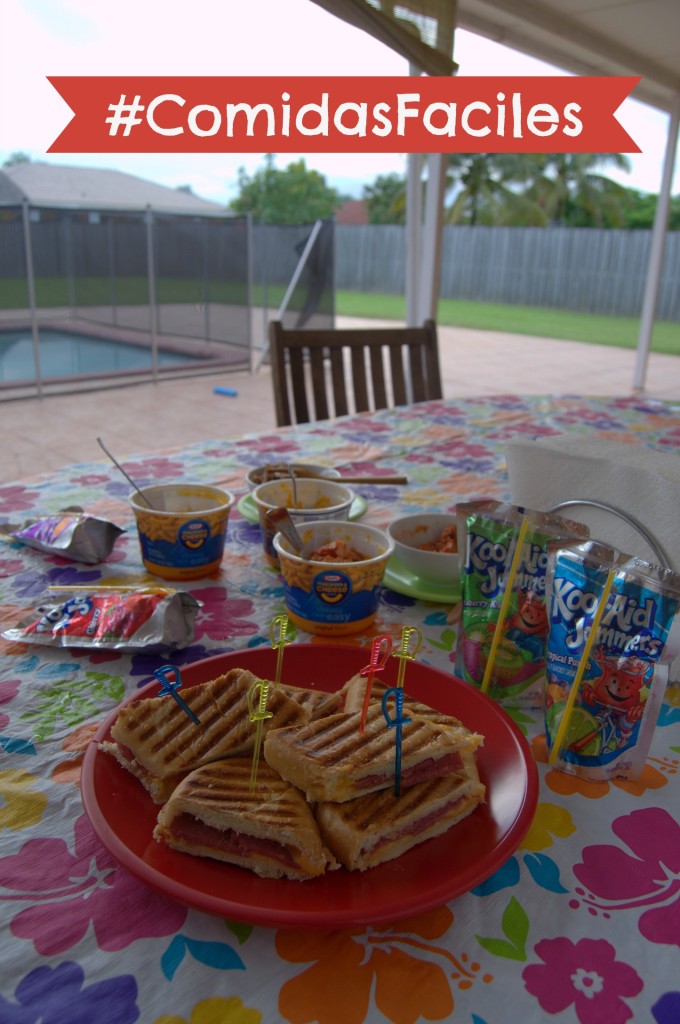 Last Sunday, after the soccer final game we were so hungry and so in need of comfort food. Luckily we are always prepared at home and had some quick easy meals on hand.
El domingo, después de ese final del campeonato de fútbol, necesitábamos una comida rica para consolarnos, pero nadie quería complicarse en la cocina. Por suerte teníamos a mano comidas fáciles de hacer y entre todos hicimos una cena-merienda rapidito.
Before the game we went to the airport to take a friend I met in 2007 through my blog on Cuban issues, but had never seen in person, and I finally visited us this weekend. It was more like a reunion. I felt like I met him in person already. That's something magic we can enjoy these days thanks to the social networks, right? Returning from the airport, we stopped at Doral to go to Sam's Club, where I'm a member, and bought Kool Aid Jammers, Kraft Singles, and Kraft Macaroni & Cheese Cups, to take advantage of the discounts on Sam's Club Instant Savings Booklet this month, since they will expire on July 20th.
Kool Aid Jammers had $1.50 off for a value of $5.03. They are made with real fruit juice, 100% daily value of Vitamin C.
KRAFT American Singles were also $5.03 after $1.75 off. Did you know they are always made with real milk, individually wrapped, have No artificial preservatives or flavors, and also are an excellent source of calcium?
KRAFT Easy Mac Cups, a box of 12, are discounted $2 off for a value of $7.68. They are really good hot meal on the go.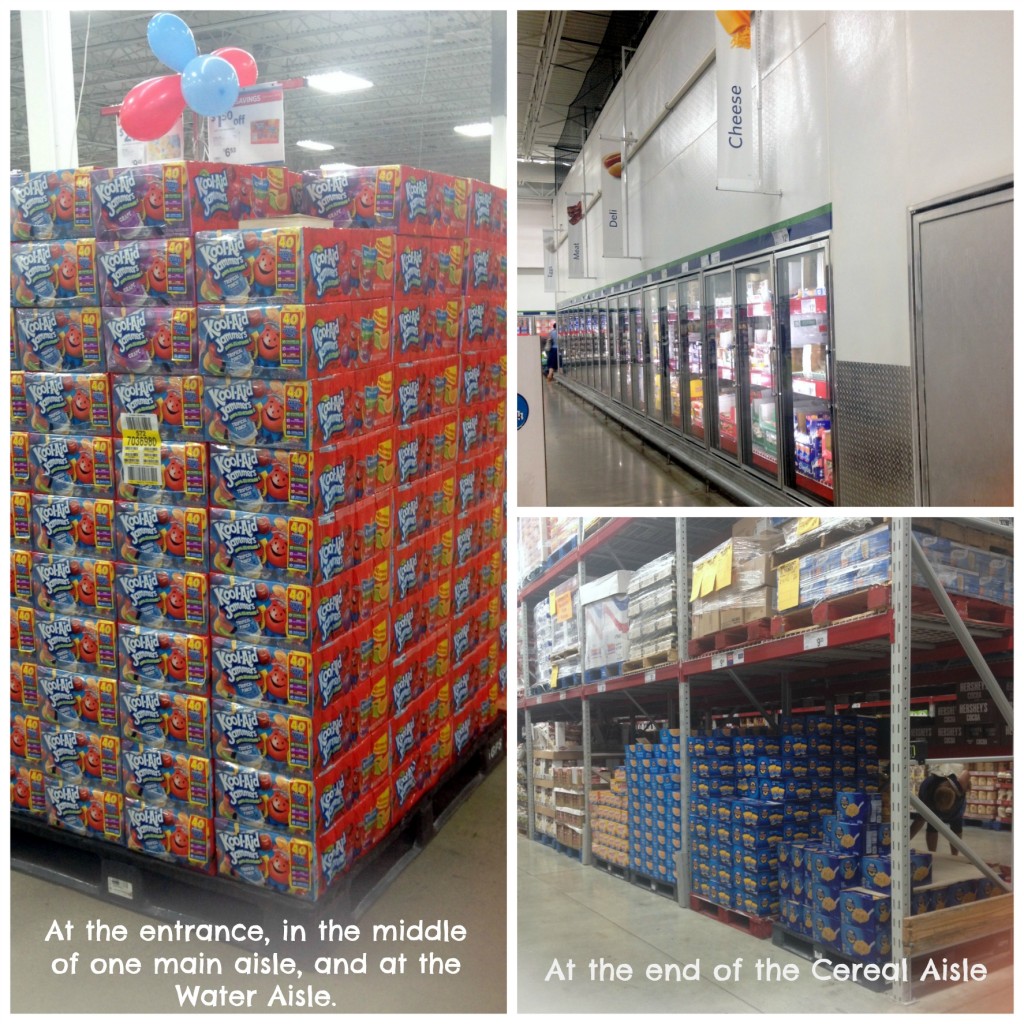 Antes del juego fuimos a llevar al aeropuerto a un amigo que conocí en 2007 a través de mi blog sobre temas cubanos, pero que nunca había visto en persona y finalmente me visitó este fin de semana. Me dio mucho placer conocerlo y a la vez era como un reencuentro. Es algo mágico que podemos disfrutar en estos tiempos que corren, gracias a las redes sociales, verdad? Regresando del aeropuerto, pasamos por el Doral y paramos en Sam's Club, donde tengo membresía, y compramos Kool Aid Jammers, Kraft Singles, and Kraft Macaroni & Cheese Cups, aprovechando que estaban en el libro de descuentos de este mes, que vence el día 20, a un precio especial.
Los Kool Aid Jammers, que están hechos con fruta de verdad y contienen bastante vitamina C tenían $1.50 de descuento y salían en $5.03; los quesitos KRAFT American Singles, que vienen empacados individualmente, no contienen preservantes ni sabores artificiales, y al estar hecho con leche real son tan cremosos y aportan tanto calcio a nuestro organismo, quedaban también a $5.03 después de $1.75 de descuento. El paquete de 12 cuencos desechables de KRAFT Easy Mac Cups, tan fáciles de preparar y con cero fregar luego, sólo costaba $7.68, pues en estos días tienen $2.00 de descuento.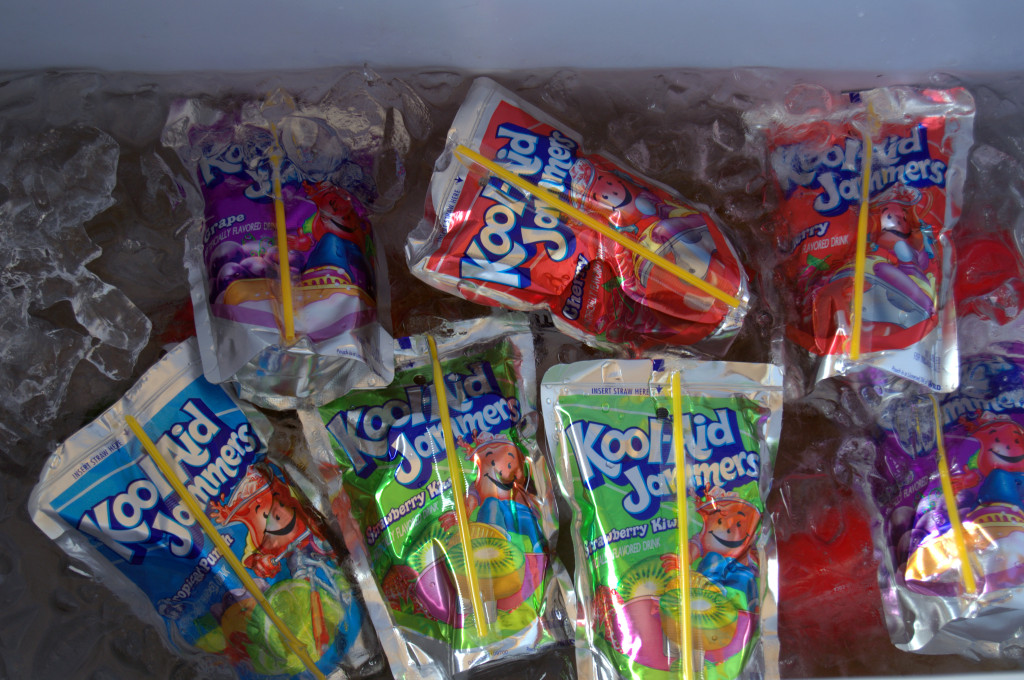 En total ahorramos $5.25 pero mi intención era dejarlos para los días entre semana y contar con comida rica y rápida que preparar en las tardes del verano y así poder disfrutar de la piscina cuando llego del trabajo. Sin embargo, fue una suerte que mi esposo pusiera a enfriar los jugos cuando llegamos, pues al terminar el partido estaban perfectos para acompañar los macarrones y unos sándwiches.
Los sándwiches los hice en mi prensa para Panini. Abrí un baguette, le puse Kraft Singles, unas ruedas de salami y unos pepinillos en curtido. Luego lo corté en pequeños bocadillos y listo en 5 minutos.
Los cuencos de Mac & Cheese los hice en el microondas siguiendo las instrucciones del paquete y luego le adicionamos tuna con salsa de tomate de lata a temperatura ambiente al mío y al de mi esposo. Nos encantó. Mi primo, que no come pescado, se los comió con un poco de puerco asado del sábado que calentamos en un sartén con mojo y ruedas de cebolla. También quedó encantado. Estaban listos en 10 minutos.
Fue una suerte contar con estas #ComidasFaciles pues después nos dimos un chapuzón en la piscina para relajar las tensiones del juego y al poco rato comenzó a llover y se fue la luz en casa como hasta las 10 de la noche. Gracias una vez más #MyColectiva.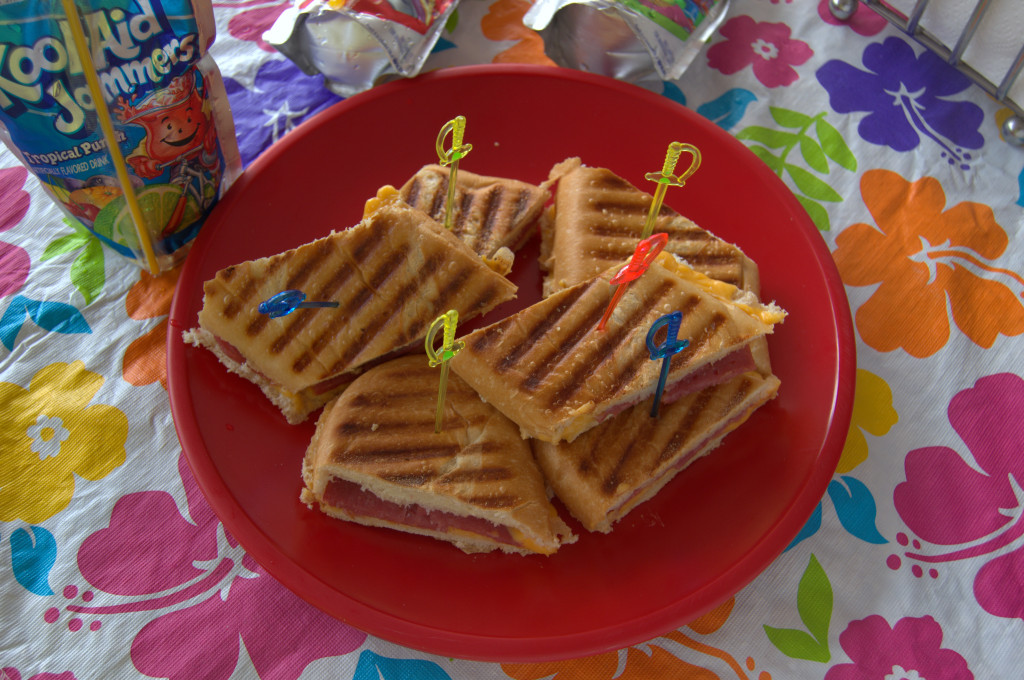 In total we saved $5.25. My intention was to save this food for weekdays, so we can have delicious easy meals to prepare on Summer's afternoon and have time to enjoy the pool while is hot. However, it was fortunate that my husband put the juice into the cooler when we arrived, because they were perfect after the game to enjoy with Mac Cups and sandwiches.
To make the sandwiches, we just added sliced salami, some pickles and Kraft Singles to a baguette and pressed it on our Panini Maker. When it was ready, I cut the bread into small sandwiches. That was it. 5 minutes.
After that, I made the Mac Cups on the microwave as said on the package instructions, and we added some canned tuna with tomato sauce at room temperature on top to give them some extra flavor. The result was spectacular. You can also use leftover meat. My cousin doesn't eat fish, so he had his cup with roasted pork from Saturday, which I heated on a pan with mojo and onions, and he adored it. Another 10 minutes.
We were very lucky to have these quick meals, so we had some time at the pool to ease tensions after the game. A half of hour later started raining and the electricity went down until 10:00 PM. Thanks again #ColectiveBias!