Scroll down for the English version.
Estas tostadas francesas con arándanos (Blueberries French Toasts) no te las puedes perder. La receta da para 4, pero es difícil comerse sólo 2 cada uno. El toque ácido de la fruta combinado con el dulzor de la mermelada y del sirope da un contraste divino a este plato que puedes servir de desayuno o de postre. Te invito a disfrutarlo este fin de semana con tu familia. Aprovecha que los arándanos están a buen precio, pues es su temporada.
Me encantan los arándanos tal cual, en mermeladas, helado, smoothies o cualquier dulce. Hay que tener en cuenta que aportan a nuestro organismo muchos antioxidantes y además es bueno comerlos cuando se tiene problemas con las vías urinarias.
El mejor modo de lavar estas frutas es sumergirlas en agua, escurrirlas y secarlas luego con cuidado usando un papel toalla.
Vamos a la receta. Y repito, no se la pueden perder.
Ingredientes
8 rebanadas de pan de molde (usé pan de avena de Pepperidge Farm)
1 taza de leche
2 huevos extra grandes
2 cdas. de azúcar moreno
½ cdta. de canela en polvo
1 cdta. de extracto de vainilla
¼ cdta. de sal
2 cdas de mantequilla sin sal
4 cdas. de mermelada de arándanos (mira mi preferida aquí)
2 cdas. de sirope de arce y más para que cada cual le coloque a gusto en su plato
Azúcar glas a gusto para adornar
Arándanos frescos para poner encima
Preparación
Mezcla la leche con los huevos, el azúcar, la canela, la vainilla y la sal en un cuenco amplio y remoja las tostadas en la mezcla unos 10 segundos por cada lado. Ve colocándolas en un plato, una sobre otra.
Coloca la mermelada en una cazuela pequeña con 2 cucharadas de agua y mezcla bien. Cocina a fuego medio unos 5-7 minutos, hasta que se diluya completamente. Retíralo del fuego, añade el sirope de arce y vuelve a mezclar bien. Reserva.
Mientras tanto, calienta un sartén grande o comal a fuego medio y úntalo con la mitad de la mantequilla, derritiéndola. Cocina 4 rebanadas de pan 3-4 minutos por un lado y 2-3 minutos por el otro, hasta que se doren. Unta otra vez el sartén con mantequilla y cocina las otras 4 rebanadas. Ve poniéndolas en platos individuales según estén listas.
Para cada plato, coloca dos tostadas y en medio de ellas un par de cucharadas de mermelada. Espolvoréalas con azúcar glas y ponle por encima arándanos frescos al gusto. En medio de la mesa, puedes poner sirope de arce tibio extra por si alguien gusta ponerle otro poco a las tostadas.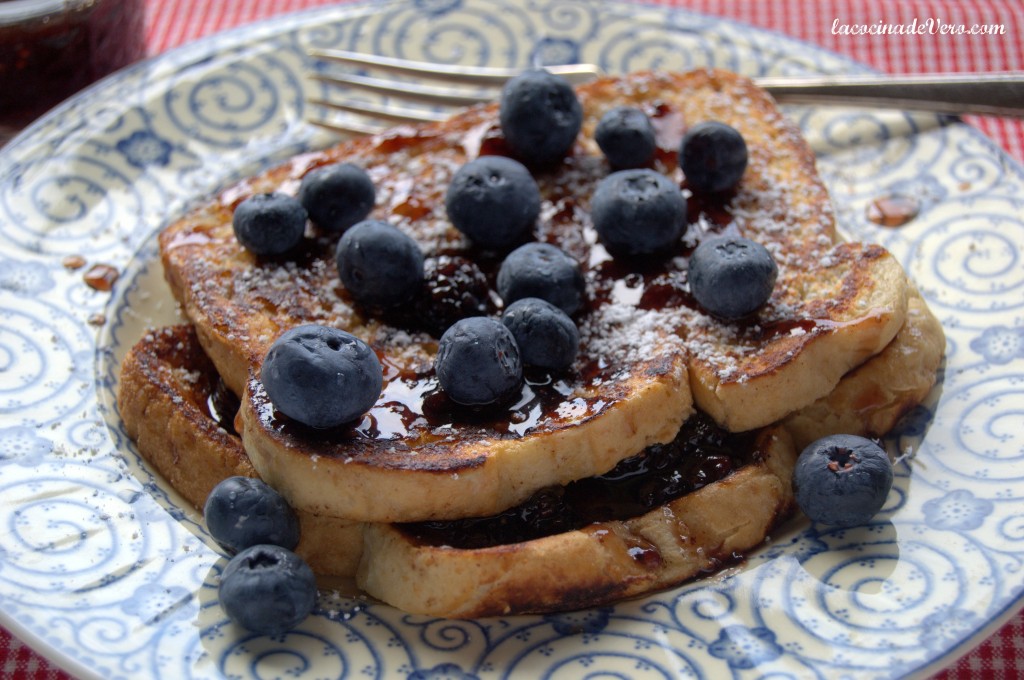 I love blueberries in every way, just the fruit, on ice-cream, smoothies, preserves, and of course on pancakes and French toasts.
Please, don't miss this recipe. You can serve it as breakfast or as a dessert this weekend. Now the blueberries are very cheap, since they are on their season.
Consider that blueberries are a great source of antioxidants, and also that even this recipe is supposed to serve 4, may be everyone on the table will ask for more.
Ingredients
8 slices of bread (I used Pepperidge Oatmeal)
1 cup of milk
2 extra-large eggs
2 tablespoons of brown sugar
½ teaspoon of ground cinnamon
1 teaspoon of vanilla extract
¼ teaspoon of salt
2 tablespoons of unsalted butter
4 tablespoons of blueberries' or a mix of berries preserve
2 tablespoons of maple syrup + more to serve (just in case someone wants more)
Confectioner's sugar for garnish
Fresh blueberries for garnish
Directions
In a large bowl, whisk together milk, eggs, sugar, cinnamon, vanilla, and salt. Soak each piece of bread on it for 10 seconds each side, and transfer them to a plate.
Whisk the preserve with 2 tablespoons of water in a small saucepan. Cook for 5-7 minutes until thinned. Put it away from the stove, add the maple syrup, and whisk again.
In the meanwhile, heat a griddle over medium heat. Add half of the butter to it, and when melted, cook 4 toasts, 3-4 minutes one side, and 2-3 minutes the other, until golden. Repeat with the rest of the butter and the toast. Transfer 2 toasts to 4 individual plates.
Spread some preserve with syrup between the pair of toasts on each plate. Sprinkle with confectioner's sugar to taste, and add some fresh blueberries over the toasts.
¿Are you ready to enjoy this beauty?