Scroll down for the English version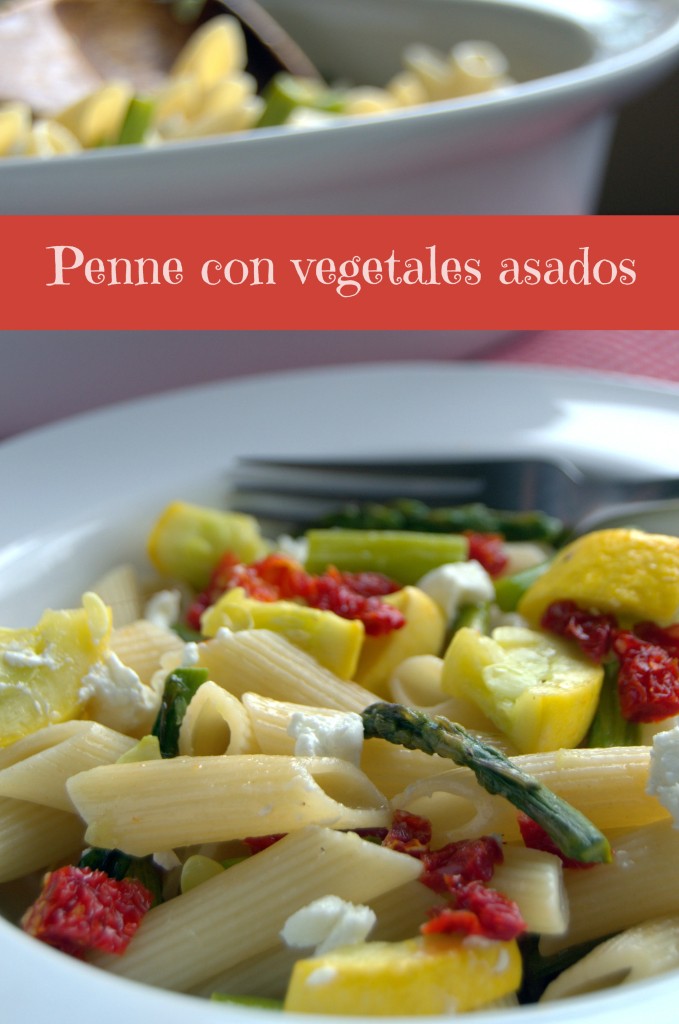 Que rico ha sido tener un fin de semana largo. El viernes disfruté tanto almorzar en casa con mi esposo. Lo hacemos todos los fines de semana, pero no sé por qué lo siente uno tan especial uno de esos días que podría haber sido de trabajo, sin embargo, estamos en casita. Preparé esta receta vegetariana de penne con vegetales al horno en menos de media hora y hasta nos quedó para guardar dos pozuelos y al día siguiente repetir, así que da para 4 raciones.
Los espárragos ahora están en temporada y a muy buen precio y los tomates secos son de un mercadito argentino que los prepara de maravilla. Yo estaba por los sabores suaves este mediodía, pero si al final le ponen perejil picadito y queso parmesano a este plato, les quedará aún más sabroso.
Ingredientes
400 g de penne
1 racimo de espárragos (8-10 unidades)
1 calabacín amarillo
10 mitades de tomates secos
4 cdas de aceite de oliva virgen extra
1/2 taza de queso de cabra desmoronado
Sal
Pimienta
Preparación
Precalienta el horno a 400°F (200°C).
Pon los tomates secos en remojo.
Pela ligeramente los espárragos y elimina la parte de abajo dura del tallo. Córtalos en pedazos de 1 pulgada (2.3 cm). Pica el calabacín a la mitad transversalmente y luego en rueditas. Ponles un poquito de sal y 2 cucharadas de aceite y colócalos en una bandeja resistente al horno. Hornéalos 15 minutos.
Mientras tanto, calienta el agua para las pastas y cocínalas según las instrucciones del paquete. Cuando ya casi estén, corta el tomate en pedacitos chiquitos.
Escurre bien la pasta y ponla en una fuente. Añade los vegetales, los tomates secos, el resto del aceite, la mitad del queso y pimienta a gusto. Remueve para homogeneizar la mezcla. Adórnalo con el resto del queso, ya sea en la fuente o en cada plato.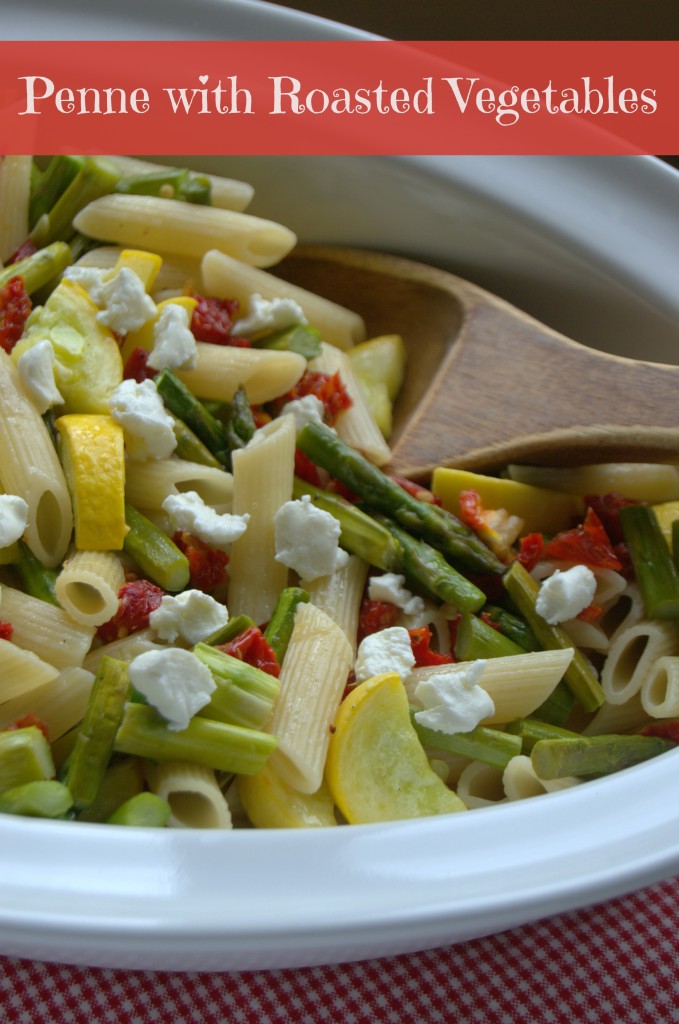 It has been so nice to have a long weekend. I hope you enjoy Easter with your friends and family.
Last Friday I decided to spend the whole day at home doing nothing, but we have to eat. So I made this simple and delicious dish with season vegetables and enjoy a wonderful lunch with my husband in total calm. It felt so special to be having lunch together in a weekday.
This recipe is ready in less than 30 minutes, and serves 4. You can add a couple of spoons of chopped parsley and Parmesan cheese at the end to make still better. It is great for a MeatLessMonday or any weekday dinner.
Ingredients
400g penne
1 bunch asparagus (8-10 units)
1 yellow squash
10 sun-dried tomato halves
4 tbsp extra virgin olive oil
1/2 cup crumbled goat cheese
Salt
Pepper
Method
Preheat oven to 400°F.
Soak the sun-dried tomatoes.
Slightly peel the asparagus and eliminates the hard part of the stem. Cut them into 1 inch pieces. Chop the zucchini in half crosswise and then in 1/4 inch semi-wheels. Toss them with salt and 2 tablespoons oil. Place on an oven resistant tray. Bake 15 minutes.
Meanwhile, heat the water for pasta and cook it according to package directions. When they are almost ready, cut the tomato into small pieces.
Drain the pasta well and place it in a bowl. Toss the pasta with the vegetables, sun-dried tomatoes, the remaining oil, half the cheese and pepper to taste. Garnish with remaining cheese.