Scroll down fot the English version.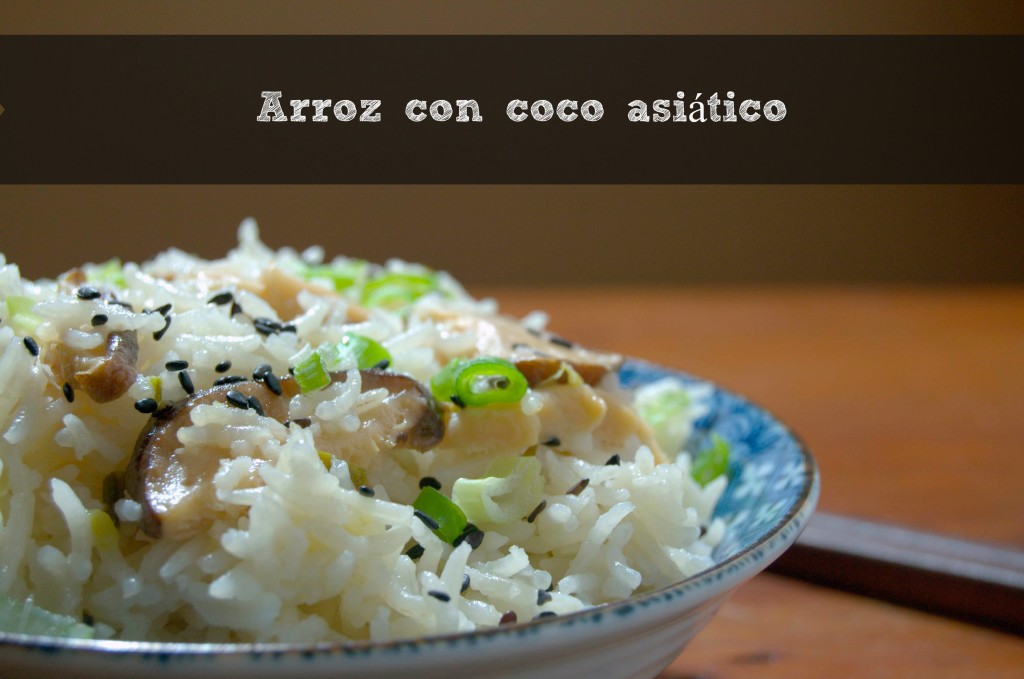 Hace rato tenía marcada esta receta de arroz con leche de coco en el libro Imperdibles, de la chilena Martita Serani. La mezcla de ingredientes me pareció divina. Lleva además jengibre, hongos shiitake y cebollinos. Es ideal para acompañar el pollo a la barbacoa o un filete de pescado con sal de curry, aunque me encantó también comerlo sólo. Tiene un sabor muy ligero y confieso que es un poco difícil no servirse dos veces.
Los hongos shiitake se pueden conseguir en Whole Foods o en los mercados asiáticos. Como no voy tanto a ninguno de los dos lugares porque no quedan cerca de casa, siempre tengo en la despensa un paquete con estos hongos secos; ya que se ponen en remojo media hora antes de cocinarlos y tienen un sabor muy semejante a los frescos. El arroz basmati se puede comprar en casi todos los mercados y en las grandes superficies como Cotsco y Sam's.
Este plato está listo en menos de media hora y da para 5-6 raciones. Le hice unos pequeños cambios a la receta en el modo de cocinarlo y le puse más caldo y menos leche de coco que en la original.
Ingredientes
2 tazas de arroz basmati o un arroz de grano largo
2 cdas de mantequilla sin sal
1 1/2 latas de 400 ml (600 ml en total) de leche de coco
1 lata de 10.5 oz de caldo de pollo (usé una de Campbell's baja en sodio, puedes usar caldo de pollo natural)
3 cebollinos, lo blanco y lo verde
1 cdta de jengibre fresco rallado
1 taza de hongos shiitake secos rebanados o 6-7 hongos frescos rebanados
1 cda de semillas de sésamo negro
Sal
Preparación
Pon los hongos secos, que suelen vender ya rebanados, en remojo en agua tibia media hora antes de comenzar la receta.
Mientras, puedes ir calentando el caldo de pollo mezclado con la leche, rallar el jengibre y cortar los cebollinos en rueditas. Reserva un poco de la parte verde de los cebollinos para adornar.
Ya hidratados los hongos, escúrrelos y sécalos con cuidado. Derrite la mantequilla en una cazuela mediana a fuego medio. Añade los cebollinos, los hongos y el jengibre y saltea un par de minutos. Agrega el arroz y cocínalo otros dos minutos, removiendo constantemente, hasta que se vea transparente. Vierte la leche con el caldo caliente en la cazuela, ponle sal a gusto (yo le puse 1 cucharadita) y cuando hierva tápalo. Cocina a fuego medio-alto durante unos 5 minutos aproximadamente, hasta que se seque. Baja el fuego al mínimo y cocina unos 8-10 minutos, hasta que esté tierno el arroz.
Sírvelo adornado con los cebollinos que habías reservado y las semillas de sésamo.
Tips
Para versión vegetariana, usa caldo vegetal.
Con esta receta comienza el ciclo de recetas para la Cuaresma que seguimos el año pasado. Te invito a visitar a mis amigas y a probar sus recetas, así como a seguir nuestro tablero de Pinterest.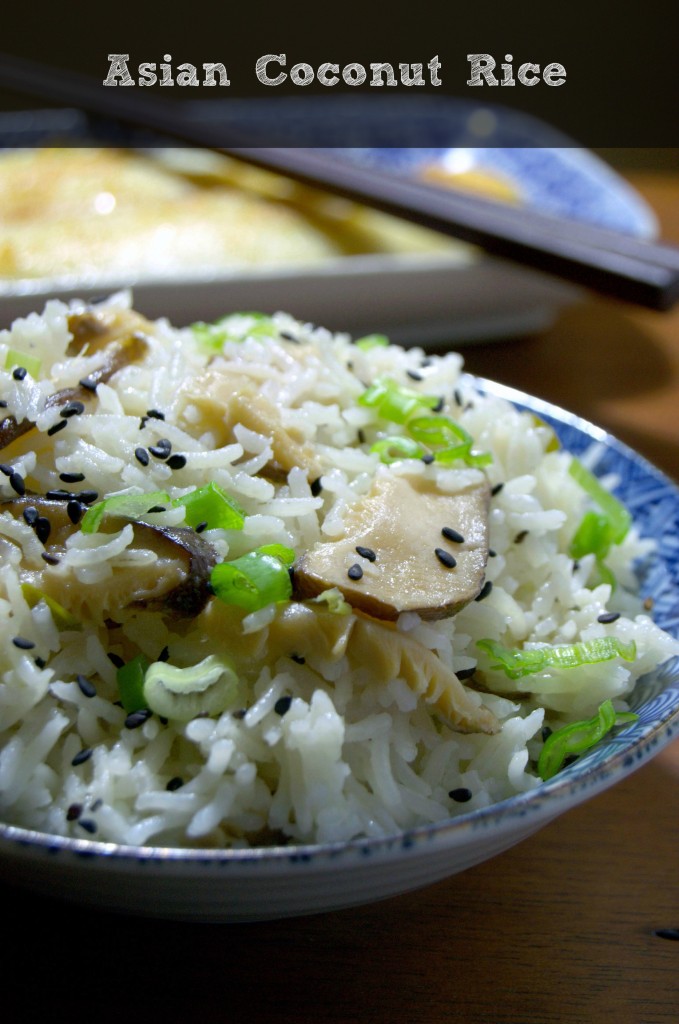 I found this recipe a while ago on a book by Chilean author Martita Serani called Imperdibles (the ones you can't miss). I fall in love with the blend of ingredients: coconut milk, ginger, shiitake mushrooms and scallions. It was ideal to try with my pollo a la barbacoa (recipe in Spanish) or just with a fish fillet cooked with curry salt. The result is great. It has a very light and at the same time, rich taste. You can even have it by itself, and I admit it's a little difficult not to serve yourself twice.
I made a few changes to the recipe on the cooking mode and times, and I used more broth and less coconut milk than in the original.
This dish is ready in less than half an hour and serve 5-6.
Ingredients
2 cups basmati rice or long grain rice
2 tablespoons unsalted butter
1 ½ cans of 400 ml (600 ml in total) coconut milk
10.5 oz chicken broth (I used a can of Campbell's low sodium; you can also use natural chicken broth)
3 scallions, white and green parts
1 tsp grated fresh ginger
1 cup dried shiitake mushrooms, sliced (or 6-7 sliced fresh)
1 tbsp black sesame seeds
Salt
Method
Before starting the recipe, soak the dried mushrooms in warm water for a half of hour.
Meanwhile, you can warm the chicken broth mixed with the coconut milk in a saucepan, grate the ginger, and chop the scallions. Reserve a couple of spoons of the green part of scallions for garnish.
Once the mushrooms are hydrated, drain and dry them carefully.
Melt butter in a medium pot over medium heat. Add the scallions, mushrooms and ginger and sauté for a couple of minutes. Add the rice and cook another two minutes, stirring constantly, until it looks translucent. Pour the hot milk with the broth into the pot. Add salt to taste (I added 1 teaspoon) and cover it when it boils. Cook over medium-high heat for about 5 minutes, until water is absorbed. Then simmer 8-10 minutes, until rice is tender.
Garnish with the black sesame seeds and the reserved scallions.
Tips
For a vegetarian version, use vegetable broth.