Scroll down for the English version.
Adoro los encurtidos japoneses (tsukemono). Es una de las cosas que más como cuando ando por Japón y que trato de traerme siempre de allá o de cualquier lugar donde los encuentre, pues no los venden mucho en los mercaditos asiáticos de Miami. Sin embargo, lo que casi siempre tienen a la venta aquí es una botella con la solución que se usa para prepararlos, pero es tan cara que decidí probar suerte y preparar mi propia mezcla en casa. Es tan fácil.
Uno de mis tsukemono preferidos, por su color y su sabor es el de berenjenas. A veces los hacen con unas enanas que son un verdadero regalo para la vista. Hacer el encurtido con col morada, me lo ha recordado. ¿Verdad que es maravilloso el color que adquiere? Alegra cualquier plato y es ideal para servir con unos tacos de pescado (la receta pronto) o con unas salchichas con pan. Se prepara en pocos minutos y luego sólo tienes que esperar una hora para comerlo.
Con esta receta obtendrás alrededor de dos tazas de col encurtida.
Ingredientes
1/4 de col morada
3/4 de taza de vinagre de arroz japonés
1/3 de taza de azúcar glas
1 cdta de sal
Preparación
Pon a hervir todo menos la col en una cazuelita a fuego medio hasta que se disuelva el azúcar, unos 5-7 minutos.
Mientras, pica la col bien finita y luego corta las tiras a la mitad. Colócala en un cuenco de cristal o cerámica.
Cuando el líquido esté listo, viértelo sobre la col. Deja que se refresque unos 5 minutos y menéalo un poco para que la col se vaya asentando. Guárdalo en el refri al menos una hora antes de consumirlo.
Tips
En Miami puedes encontrar el vinagre de arroz japonés en casi todos los mercados, como Publix, Winn-Dixie y Whole Foods. Puedes sustituirlo por vinagre blanco.
¿Cuál es tu encurtido favorito?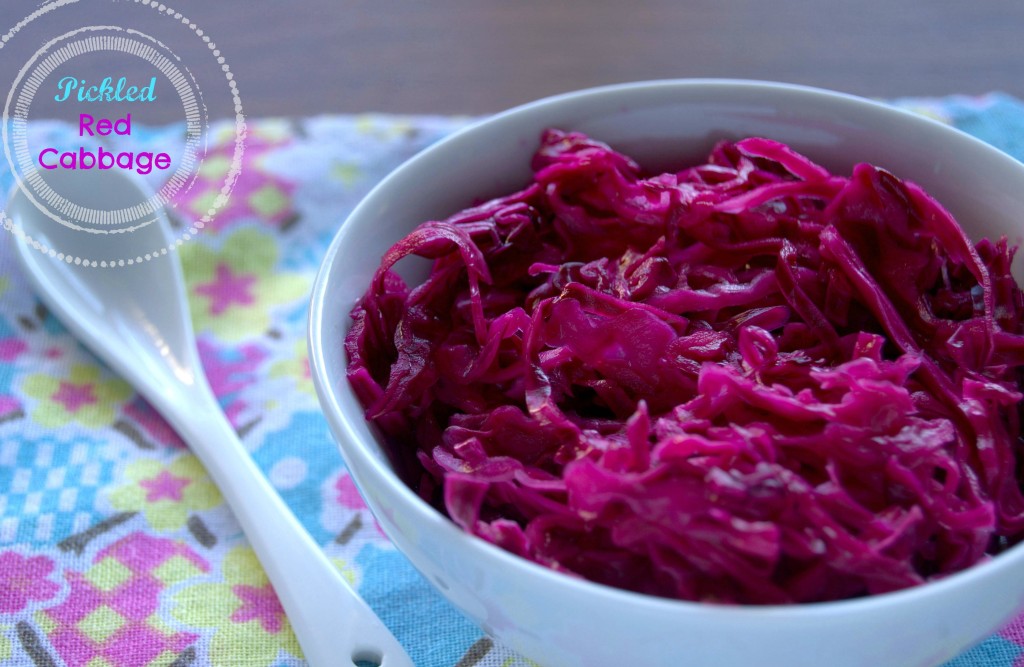 I love Japanese pickles (tsukemono). It's one of the things I eat more when I'm in Japan, and I always find the way to bring some with me, since they are not easy to find in Asian grocery stores in Miami. However, I found a couple of times that they sale the vinegar solution to prepare them, but it's so expensive, that I decided to try my own at home. It's so easy.
One of my favorite tsukemono , because of its color and taste, is the one made of eggplant s. To prepare this pickled with red cabbage, has reminded me its beauty. Isn't this color delightful? It will make any dish very attractive. I love it with fish tacos (recipe coming soon) or sausages.
With this recipe you get about two cups of pickled cabbage. It will take only a few minutes to prepare, and then you just have to wait an hour to eat it.
Ingredients
1/4 red cabbage
3/4 cup Japanese rice vinegar
1/3 cup powdered sugar
1 tsp salt
Method
Boil everything except the cabbage in a casserole over medium heat until sugar is dissolved, about 5-7 minutes.
Meanwhile, chop the cabbage very thin. Place it in a glass or ceramic bowl.
When the solution is ready, pour it over the cabbage. Let it cool for 5 minutes, moving a bit to make the liquid cover all the cabbage. Keep it in the fridge at least an hour before eating.
Tips
In Miami you can find Japanese rice vinegar at Publix, Winn-Dixie, and Whole Foods. It can be substituted with white vinegar.