Este post está patrocinado por Collective Bias y Quaker, pero la receta y todas las opiniones son mías./ This post is sponsored by Collective Bias and Quaker, but the recipe and all opinions are mine. #LoveMyCereal #QuakerUp #CollectiveBias
Ya hoy vuelvo a la oficina y a mi rutina de meriendas entre las comidas, que si me faltan pongo el grito en el cielo. Siempre me llevo de la casa frutas, yogurt, chocolates, semillas varias o barritas. Así que cuando Collective Bias me pidió que usara los cereales de Quaker para preparar una receta, no me lo pensé dos veces y mezclé varios de esos ingredientes para hacer mis propias barritas de Quaker Life, un cereal riquísimo que descubrí e Walmart gracias a este encargo. No es muy dulce y su tostado es muy ligero. Me lo comería hasta sólo.
Aproveché y usé los poquitos de muchas cositas que me quedaban de las fiestas, todo comprado en Walmart también: dátiles, malvaviscos, pistachos y las ricas naranjitas que me encantan desde chiquita y le han dado tremendo colorido.
Today I go back to the office and my snacks between meals are back to. I always bring to work fruits, yogurt, chocolate, nuts or bars from home. So when Collective Bias asked me to use Quaker cereals to prepare a recipe, I did not think twice and mixed several of these ingredients to make at home this Quaker Life Cereal Bars. I put on them a little bit of everything I got at Walmart during the Holidays: dates, marshmallows, pistachios and naranjitas. The cereal can be found at Walmart too.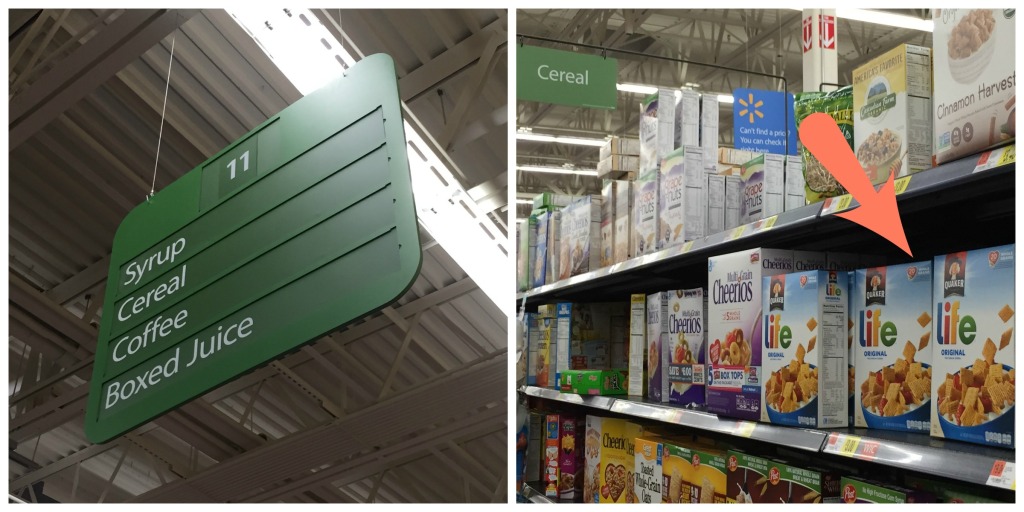 Las naranjitas son un gusto que comparto con mi mami, una de esas golosinas "antiguas" a las que ahora los niños no le hacen mucho caso, pero como nosotras las comíamos en Cuba y luego desaparecieron, nos pusimos muy felices de encontrarlas en Miami y a cada rato nos damos el gusto de comernos un paquetico.
Estas barritas tienen diferentes texturas y sabores, las naranjitas y los malvaviscos son la parte más suave y también la más dulce, junto a los dátiles, que es lo más dulce de todo, pero otro de esos ingredientes que me corren por las venas, de tanta nostalgia que sentían por ellos mis abuelos cuando también desaparecieron de nuestra mesa en la isla. Los pistachos y el cereal son el lado tostado y medio salado. El chocolate blanco une todo esto y al ponerle un yogurt, deja de ser tan dulce y le da suavidad tanto a las barritas en sí como al sabor en general.
Lo mejor de todo es que esta maravilla se prepara en 10 minutos y no lleva horno ni nada. Sólo necesitas un molde de los que se usan para brownies de 8×8 pulgadas (20.5 cm) y papel encerado. El molde puede ser de metal o de vidrio.
Naranjitas are a pleasure that I share with my mom, one of those "old" goodies children do not pay much attention to now; but, as we ate them in Cuba when I was little, we´re always happy to find them in Miami.
These bars have different textures and flavors, naranjitas and marshmallows are the softest part and also the sweetest, along with the dates, which are very sweet. Pistachios and Quaker cereal are crunchy, and they are somehow the salty part of these bars. White chocolate embraces all these ingredients, and adding yogurt to it, gives softness to both, sticks itself and its flavors.
Best of all is that bars are prepared in 10 minutes and are oven free. You just need a mold like the one used to make brownies (8×8 inches) and parchment paper.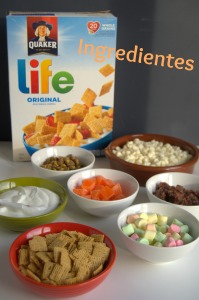 Ingredientes
Mantequilla, aceite vegetal o aceite en spray para engrasar el molde
12 oz (340g) de chocolate blanco para postres
1/3 de taza de yogurt
1 taza de Quaker® Life
1/3 taza de dátiles, picaditos y sin hueso
1/2 taza de naranjitas, cortadas en tres
1/2 taza de malvaviscos pequeños, si son de colores mejor
1/2 taza de pistachos pelados
Ingredients
Butter, vegetable oil or cooking spray oil to grease the mold
12 oz (340g) white chocolate dessert
1/3 cup yogurt
1 cup Quaker® Life
1/3 cup dates, pitted and chopped
1/2 cup naranjitas, cut in three pieces
1/2 cup mini marshmallows, better if different colors
1/2 cup shelled pistachios
Preparación
Engrasa el molde y cubre su interior con papel encerado, dejando un par de pulgadas de papel hacia arriba para luego sacar fácilmente la barra.
Corta el chocolate en pedazos de ser necesario y colócalo en una cazuela mediana a fuego medio. Cuando comience a derretirse, remuévelo con una espátula. Estará listo en unos 7 u 8 minutos. También puedes derretirlo en el microondas en intervalos de 30 segundos y removiendo cada vez que pares.
Una vez derretido el chocolate, añade el yogurt y bate constantemente con la espátula para que no se formen grumos. En 1 minuto tendrás una mezcla homogénea. Agrega entonces el resto de los ingredientes, mézclalos y distribúyelos bien. Vierte en el molde empapelado y acomódalo con la espátula para que quede parejo arriba. Dale un par de golpes al molde contra la meseta o encimera para que no quede aire en medio de esta gran barra.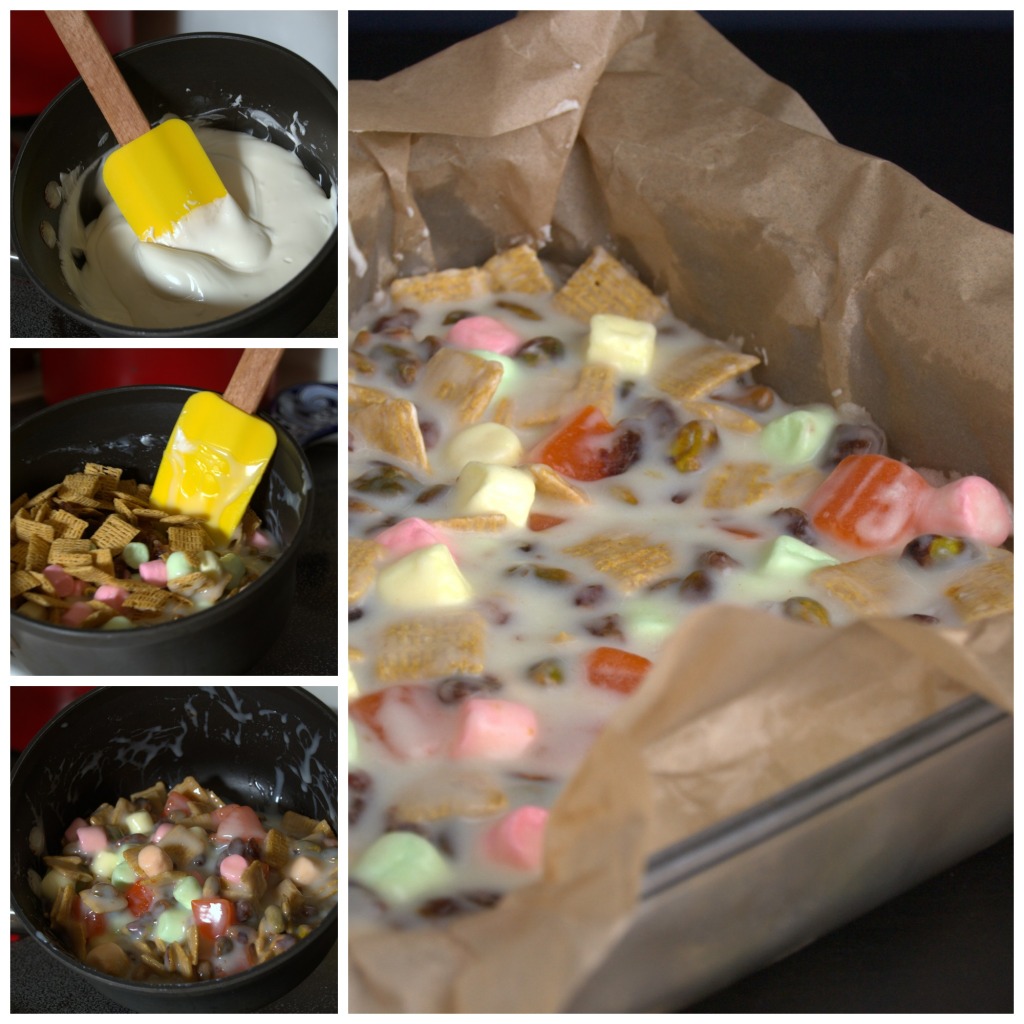 Pon el molde en el refrigerador al menos 2 horas o de un día para otro. Una vez solidificado, retira el papel con la barra del molde y córtala en barritas del tamaño que prefieras. A mí me salieron 12. Colócalas en un recipiente con tapa y guárdalas en el refrigerador otra vez. Duran hasta 1 semana.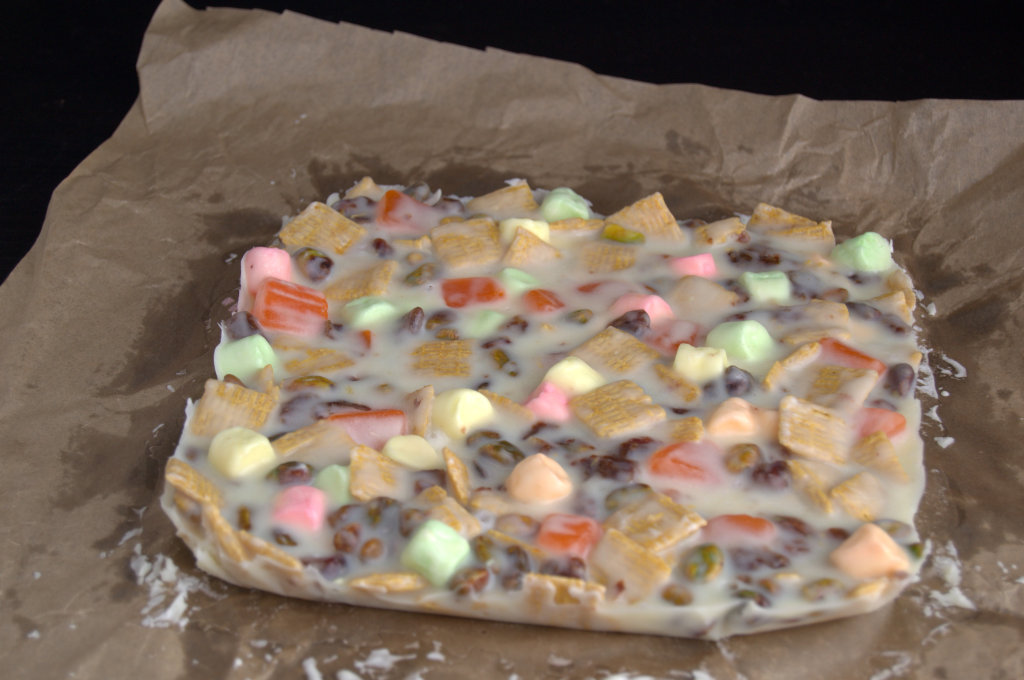 Directions
Grease the pan and cover it inside with parchment paper, leaving a couple of inches of paper up, in order to easily remove the bar when ready.
Cut the chocolate into pieces if , and place it in a medium saucepan over medium heat. When it begins to melt, stir with a spatula. It will be ready in about 7 or 8 minutes. You can also melt it in the microwave in 30 second intervals, stirring each time you stop.
Once the chocolate melted, add yogurt and stir constantly with the spatula to avoid lumps. In 1 minute you will have a homogeneous mixture. Add the remaining ingredients. Mix well. Pour into the mold give it e a few punches to the mold against the countertop to avoid air holes in the middle of the bar.
Put the mold in the refrigerator for at least 2 hours or overnight. Once the bar is solidified, remove the paper along with the bar from the mold, and cut into bars the size you prefer. I got 12 bars.
Place in a covered container and store in the refrigerator. They last up to 1 week.
¿Y tú qué sueles merendar? / Which are your favorite snacks?