This post is part of a compensated campaign in collaboration with Latina Bloggers Connect and Cacique, but the recipe and the opinions are mine. / Este post es parte de una campaña en colaboración con Latina Bloggers Connect y Cacique, pero todas las opinions y la receta son mías.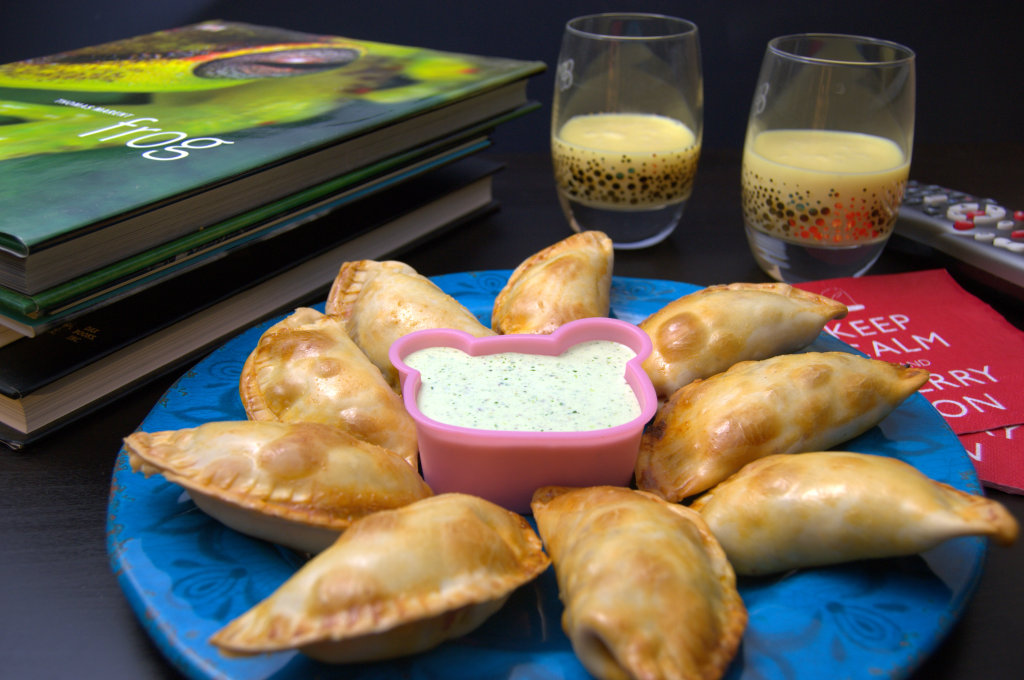 Una de mis combinaciones favoritas de toda la vida es chorizo y queso, ya sea simplemente cortándolos sobre una tabla para comerlos en pedazos o cocinados juntos en recetas como queso fundido, pizza, tortilla, tamales, o en estas empanadas mexicanas. Aunque existen empanadas así en mucho países, aclaro lo de mexicanas porque el sabor de chorizo Cacique junto a su queso manchego estilo mexicano, le dieron a estas empanadas el sabor inconfundible de esa tierra y a ella nos trasladaron al darle la primera mordida, mientras disfrutábamos de nuestra noche de cine en casa.
No se asusten por la cantidad de ingredientes de esta receta, porque es muy fácil de hacer cuando compras las masas de empanadas congeladas. Es sólo hacer un sofrito, cocinar en este el chorizo unos minutos, cortar el queso y colocarle un poquito de cada cosa a las empanadas dentro. El horno se ocupa del resto mientras decides si hacer o no la salsa o vas ultimando los detalles para la peli.
Puedes freír las empanadas si prefieres y si no le gusta el picante a tu familia, puedes eliminar el chile en polvo. Se vale prepararlas con antelación y calentarlas luego en el horno unos minutos antes de sentarte a ver la peli o comerlas a temperatura ambiente, que también saben divino. Se conservan bien de un día para otro guardadas en un recipiente con tapa una vez que se enfrían.
Salen 20 empanadas, llevan 30 minutos de preparación y una hora en total de principio a fin.
Pero antes de darles la primera mordida y de prender la tele, prueba tu suerte en este sorteo para ganar un viaje muy especial a Los Ángeles con toda la familia.
Ingredientes y preparación
Para el chorizo:
1 chorizo Cacique de 9oz (255g)
½ cebolla blanca, picadita
½ ají pimiento rojo, picadito
3 dientes de ajo medianos, machacados
½ cdta de comino en polvo
½ cdta de orégano seco
1 pizca de chile ancho en polvo (opcional)
2 cdas de salsa de tomate
1 cda de aceite
Sal
3 cds de pasas
Lo primero es poner a descongelar los discos para empanadas mexicanas de chorizo y queso.
Caleinta el aceite en una sartén a fuego medio y agrega la cebolla y el ají pimiento. Sofríe durante 5 minutos e incorpora el ajo. Sigue sofriendo otros dos minutos y añade la salsa de tomate, el comino, el orégano y el chile. Remueve bien. Agrega el chorizo y las pasas. Rectifica la sal. Baja el fuego al mínimo y sigue cocinando unos 10 minutos, para que se fundan los sabores. Retira del fuego y deja que se refresque.
Para las empanadas:
20 discos para empanadas congelados
1 queso Manchego estilo mexicano Cacique de 10 oz (283g)
1 cda de mantequilla sin sal
1 huevo
Corta el queso en cubitos pequeños. Unta una bandeja con la mantequilla. Precalienta el horno a 350⁰F (180⁰C).
Una vez descongeladas las masas y ligeramente fresco el chorizo, llegó el momento de armar las empanadas. Si tienes un molde, perfecto y si no, puedes hacerlas con la mano y sellar bien los bordes con un tenedor o dándole la vuelta hacia adentro a la masa. Coloca una cucharada de chorizo y otra de queso en medio de la masa. Pon un poco de agua en la mitad del borde con la yema del dedo y ciérrala bien y colócala sobre la bandeja untada de mantequilla. Has lo mismo con las masas restantes. Bate el huevo y pinta con este la parte superior de las empanadas usando una brochita de cocina. Hornea 25-30 minutos. Déjalas refrescar sobre una rejilla unos 5-10 minutos antes de servirlas.
Para la salsa (opcional):
1/3 de taza de almendras fileteadas tostadas
1 taza de hojas de cilantro fresco
1 diente de ajo
1/3 de taza de crema mexicana Cacique
Tritura los primeros tres ingredientes en la batidora o el procesador de alimentos. Agrega la crema mexicana. Ponla a enfriar mientras se cocinan las empanadas.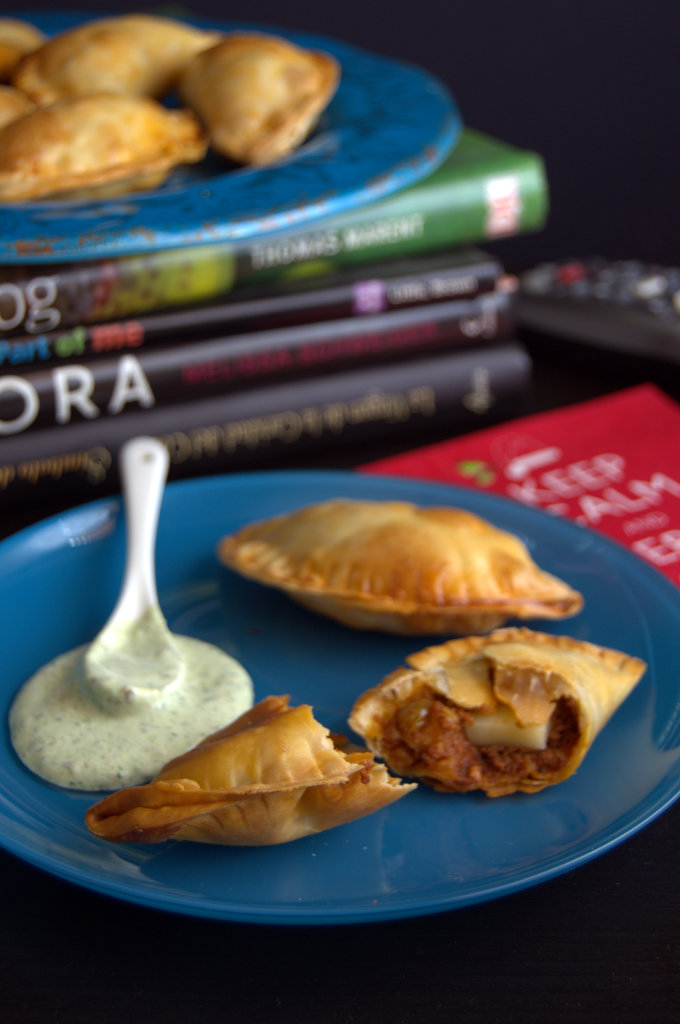 One of my favorite combinations of all times is chorizo and cheese. Although there are a lot of flavors attached to these ingredients on almost every culture, I call these empanadas Mexican because the taste of the Cacique chorizo with their Mexican Manchego cheese gave this dish the unmistakable flavors of Mexico, and they brought us a lot of memories from there since the first bite, while enjoying our movie night at home the last weekend.
Do not be shocked by the amount of ingredients in this recipe. It is very easy to prepare if you buy the frozen dough disks for the empanadas. Just make the sofrito, cook the chorizo on it for a few minutes, cut the cheese, and put a little bit of everything in the middle of the each dough. The oven does the rest while you decide whether to make the extra sauce for dipping, and put together the rest of the details for the movie event.
You can fry the empanadas if you like, and if you do not like them spicy don't add the chili powder.
It is worth preparing this recipe in advance, to be reheated in the oven a few minutes before sitting down to watch the movie. They are also delightful at room temperature.
You can make 20 empanadas. They will take 30 minutes of elaboration and one hour from start to finish.
But before giving the first bite and turn on the TV, try your luck in this sweepstakes to win a very special trip to Los Angeles with the whole family.
Before you start, be sure to let the empanada dough discs outside the fridge, so they will be thawed once the chorizo is ready.
For the chorizo:
1 9oz (255g) Cacique chorizo
½ white onion, chopped
½ red pepper, chopped
3 garlic cloves, crushed
½ teaspoon ground cumin
½ teaspoon dried oregano
1 dash ground chile ancho (optional)
2 tablespoon tomato sauce
1 tablespoon de aceite
Sal
3 tablespoon raisins
Add the oil to a pan over medium heat. Sauteé the chopped onion and pepper for 5 minutes. Add the garlic and cook for another minute. Add the tomato sauce, cumin, oregano, and chile. Mix everything well. Add the chorizo and the raisins. Check the salt. Bring to simmer for 10 minutes. Let it refresh a little bit before you assemble the empanadas.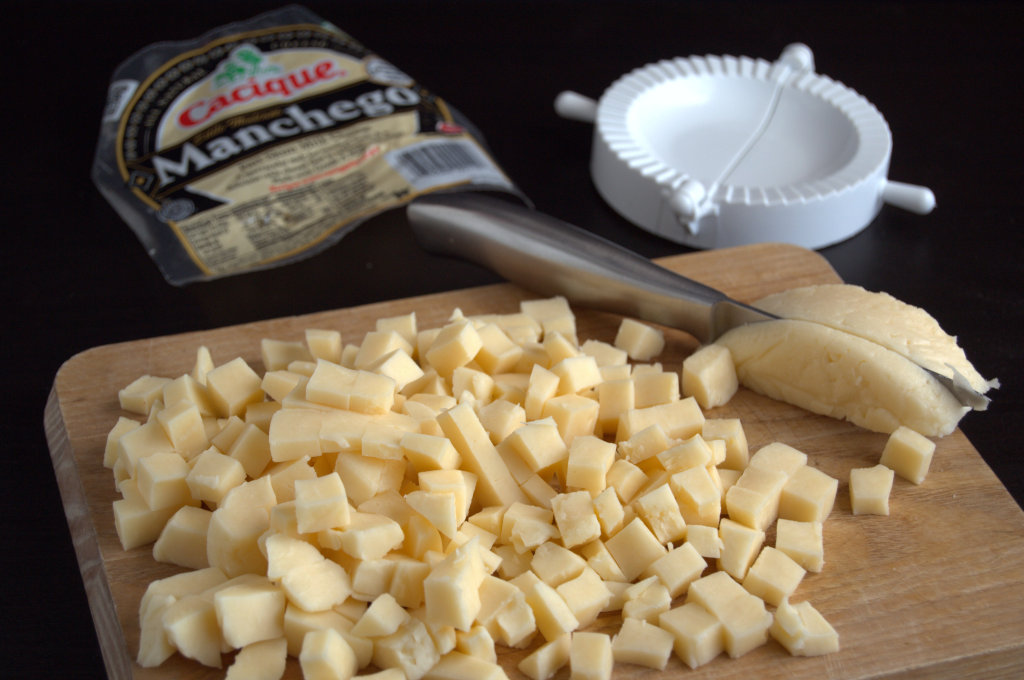 Fort he empanadas:
20 frozen empanadas dough disks
1 10 oz (283g) Cacique Manchego Mexican cheese
1 tablesppon of unsalted butter
1 egg
Cut the cheese in small cubes. Butter a tray. Preheat the oven to 350⁰F.
Once the empanada dough disks are thawed and the chorizo is refreshed, is time to ensemble the empanadas. If you have a mold it will make it easier, but it is not too hard to make them, believe me. Just put one tablespoon of chorizo and another of cheese in the middle of each disk, wet half of the edges of the dough with your fingertips and a little water. Seal well each empanada. Place them on the buttered tray. Wisk the egg and brush with it the empanadas. Bake for 25-30 minutes, and once ready put them over a grill tray for 5-10 minutes before serving.
For the sauce (optional):
1/3 cup of toasted almonds
1 cup fresh cilantro leaves
1 garlic clove
1/3 cup crema mexicana Cacique
Chop the first three ingredients in a blender or food processor. Add the Mexican cream. Cool in the fridge while empanadas are cooked.