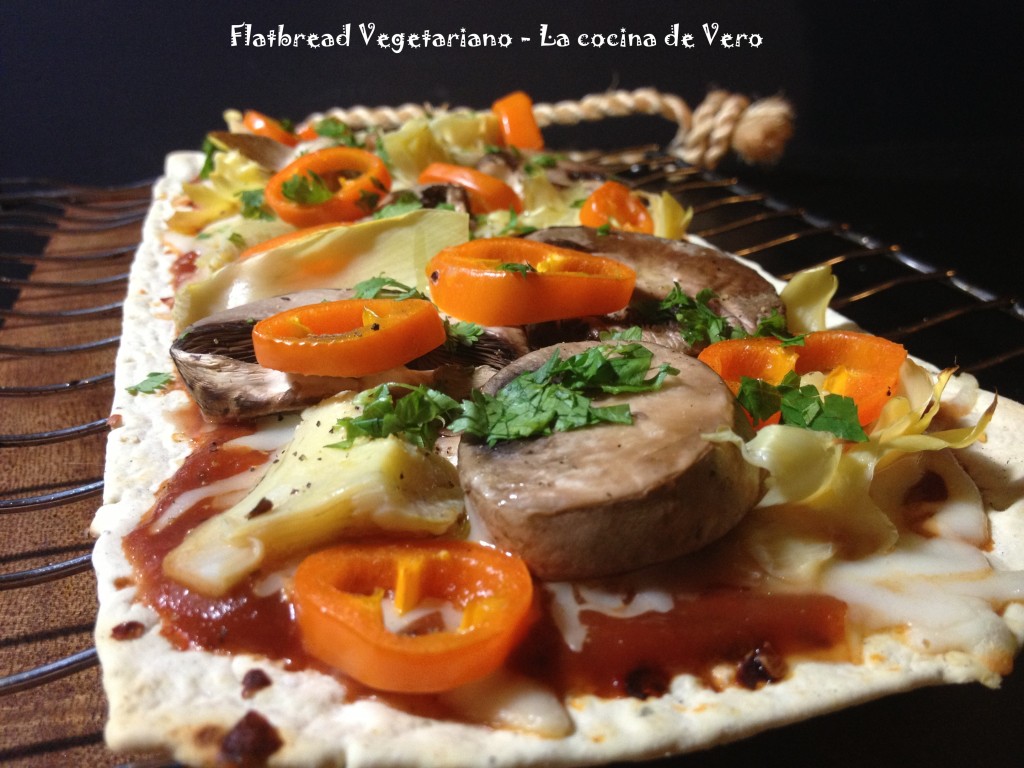 Los flatbreads están muy de moda en todos los restaurantes y hay muchísimas versiones por ahí, con o sin carne. Viniendo de Guadalajara hice escala en Dallas y me comí uno delicioso en el Hyatt del aeropuerto. Tenía una combinación deliciosa de salsa BBQ con root beer, queso Gorgonzola y carne de cerdo. Pronto pienso recrear la receta en casa, pero en estos días hice una vegetariana que nos encantó. Ya saben, una de esas limpiezas de refri que acostumbro a hacer. De poquitos y poquitos que me habían quedado de salsas, queso y vegetales, preparé este plato que disfrutamos muchísimo.
Es una opción rápida si tienes ganas de comer pizza pero no tienes más de 10 minutos. Además, como la masa es tan fina, contiene menos calorías y carbohidratos que una masa de pizza regular. Fíjate siempre en las etiquetas para ver el contenido de fibra y grasas saturadas, muchos tienen alto contenido de la primera y cero las segundas, que es lo ideal.
Una por persona es más que suficiente para una comida y si tienen niños, para ellos con media basta. Está lista en pocos minutos y puede acomodar los sabores favoritos de cada integrante de la familia.
Ingredientes
1 pieza de flatbread
2 cdas de salsa de tomate casera
2 cdas de queso rallado (yo usé mozarella seco)
1 ají pimiento de la Florida o 1/4 de pimiento del color que prefieras, cortado en rueditas
2 champiñones, cortados en rueditas
Alcachofa en conserva, escurrida y cortada en pedazos pequeños
Aceite de oliva
1 cda de perejil, picadito
Preparación
Yo seguí las instrucciones del paquete, que pedían precalentar el horno a 350°F (180°F) y hornear el pan solito unos 3 minutos. Luego le puse aceite de oliva con una brochita, la salsa, el queso y los vegetales. Lo horneé por otros 4 minutos. Luego dejé que se refrescara un sobre una rejilla y le espolvoreé el cilantro.
Es una receta muy económica y por eso la incluyo en el carnaval de #VRE de esta semana. Los detalles al final del post.
Listo ¿Y a ti qué ingredientes te gustaría usar en tu flatbread?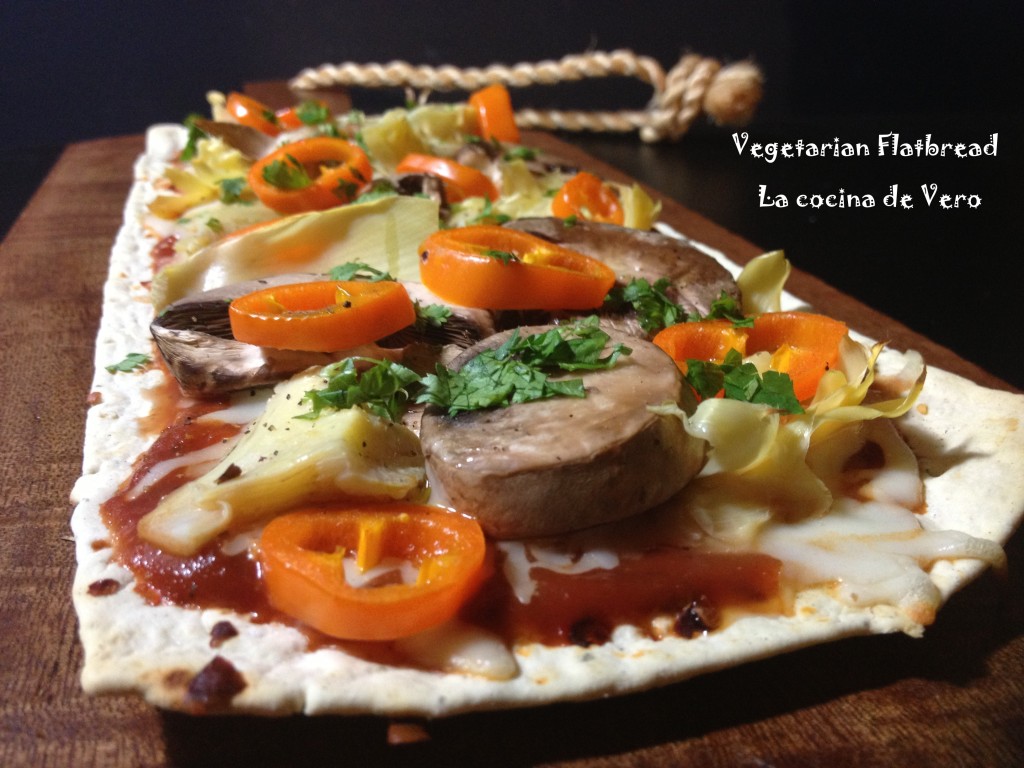 Nowadays, you can find flatbreads on every menu at almost every restaurant out there, with or without meat. Coming from Guadalajara I made a 6 hours stop at the Dallas – Fort Worth Airport, and had a relaxed delicious lunch in a restaurant located inside the Hyatt Hotel. It involves a scrumptious flatbread topped with root beer BBQ sauce, Gorgonzola cheese, and slow cooked pork belly.
Back at home, I made a very different vegetarian version, using whatever I had on my fridge. It was delicious too. I was very tired, and this happened to be a quick option for a late dinner. I felt like eating pizza but didn't want to spend more than 10 minutes cooking. It was ready so fast, and as the dough is so thin, it contained less calories and carbohydrates than regular pizza dough.
If you are looking for flatbread dough to make you version at home, always look at the labels for fiber and saturated fat contents. The ideal flatbread will be high in proteins and zero Trans-fat. One per person is more than enough for an adult meal, and if you have kids, they can just eat a half. Is ready in minutes, and it can be done with the favorite flavors of each family member.
Ingredients
1 piece of flatbread
2 tbsp. homemade tomato sauce
2 tbsp. grated cheese (I used dry mozzarella)
1 chili pepper Florida or ¼ yellow, orange or red peppers, cut into rings or chopped
2 mushrooms cut into slices
Canned artichokes, drained and cut into small pieces
Olive oil
1 tbsp. parsley, chopped
Method
Following the package directions, I preheated oven to 350°F (180°F), baked the bread alone about 3 minutes. Then, I brush it with the olive oil, spread the salsa all over, added the cheese and vegetables, and baked for another 4 minutes. When ready, I cooled in a grid for a couple of minutes, before serving with some chopped cilantro.
¿Have you prepared flatbread at home? ¿Which ingredients you liked on it?