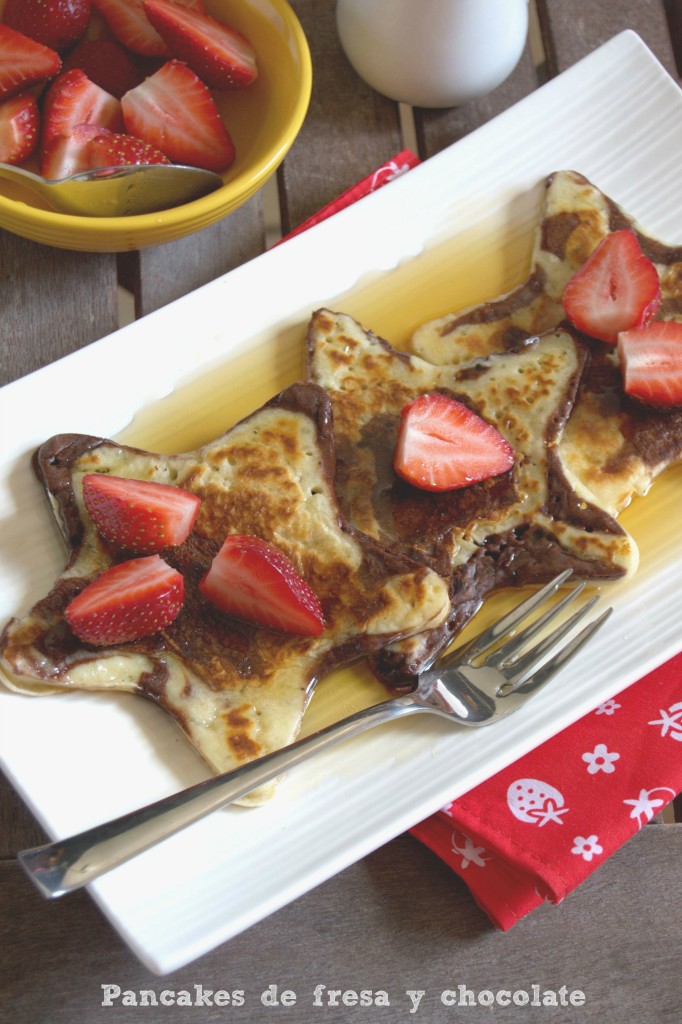 Unos pancakes divinos para el desayuno del 14 de febrero o para cualquier día en que tengan a mano fresas frescas. Aquí en la Florida estamos en plena estación y como todavía me queda sirope de Arce del que me trajo Isbel de Canadá, sigo haciendo pancakes los fines de semana. Tal vez debería llamarlos pancakes de chocolate con fresas, pero mientras me los comía, no he podido evitar pensar en la película cubana Fresa y chocolate, que fue nominada a los premios Oscar en 1994. Te invito a disfrutar de estos pancakes esponjosos, hechos de dos sabores que combinan a la perfección.
Ingredientes
1 taza de harina multiuso
1/2 cdta de polvos para hornear
1 pizca de sal
1 huevo grande
3/4 de taza de leche entera
2 cdas de mantequilla derretida + otras 2 cdas para el sartén
2 cdas de chocolate en polvo con azúcar
Preparación
Cierne la harina con la sal y los polvos para hornear. Bátela con la leche, el huevo y la mantequilla.
Divide la masa a la mitad y mezcla una de las mitades con el chocolate y la otra con la vainilla. Si te queda muy espesa la masa con chocolate, adiciona 2 cucharadas de leche.
Calienta un sartén o comal y úntalo con mantequilla. Pon un poco de cada masa de pancake dentro del molde y cocina los pancakes 2-3 minutos por cada lado, a fuego medio. Yo usé un molde en forma de estrella, pero puedes simplemente poner una cucharada de cada mezcla en el sartén, en dos partes cada una, alternando para que te queden veteados. A mí me salieron 5 pancakes.
Sírvelos con sirope y fresas frescas cortadas a la mitad. Llévaselos a tu amor a la cama.
¡Feliz San Valentín! ¡Qué disfruten mucho estos pancakes!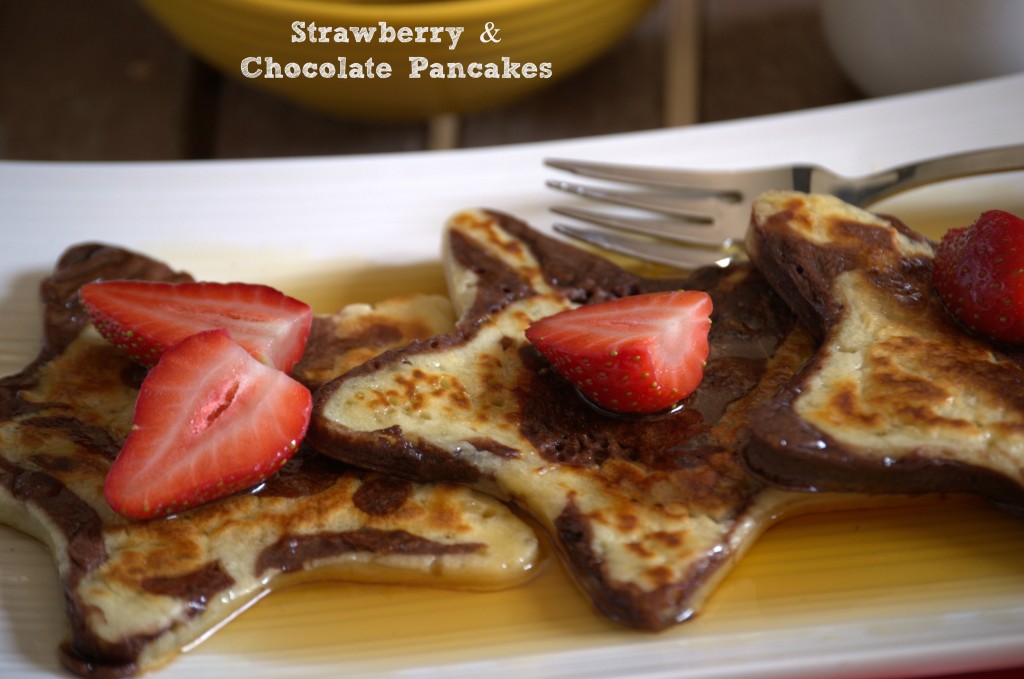 A heavenly breakfast for February 14th or any day you have fresh strawberry on hand. Here in Florida we are in full season, and I still have some of the maple syrup that Isbel brought me from Canada, so I keep making pancakes on weekends.
Maybe I should call this recipe "Chocolate Pancakes with Strawberries", but I couldn't escape of thinking about the Cuban film Strawberry & Chocolate, while I was having these fluffy pancakes, made with two flavors that blend perfectly .
Ingredients
1 cup all-purpose flour
1/2 tsp baking powder
1 pinch of salt
1 large egg
3/4 cup whole milk
2 tbsp. melted butter 2 tbsp. + for the other pan
2 tbsp. cocoa powder with sugar
½ tsp. vanilla
Method
Sift flour with salt and baking powder. Whisk it with milk, egg and butter.
Divide the dough in half and mix one half with chocolate, and the other half with vanilla. If the one with chocolate is too thick, add 2 extra tablespoons of milk.
Heat a skillet or griddle and rub it with some butter. Put a little of each pancake dough into the pan and cook the pancakes 2-3 minutes on each side over medium heat. I used a star-shaped mold, but you can just add a tablespoon of each mixture in the pan, two parts of each, alternating so the pancakes get somehow swirl. I Got 5 pancakes.
Serve with syrup and fresh strawberries cut in half. Wake up your love ones with a plate of them delivered straight to their bed.
Happy Valentine's Day! I hope you enjoy this recipe.