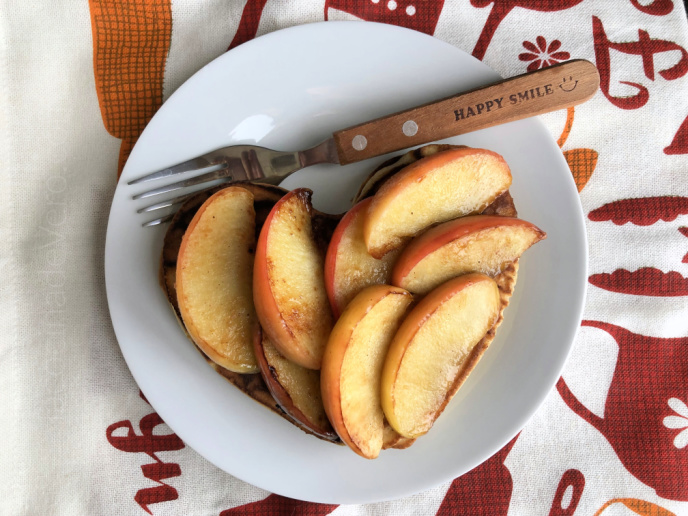 Con el frío que está haciendo en el hemisferio Norte y las quedadas en casa por la nieve, nada como que te traigan estos pancakes de manzana y jengibre a la cama. Si no tienes ni frío ni nieve, incluso, si no tienes tiempo, guarda la receta para el fin de semana o para hacerla el 14 de febrero para tu familia. También puedes imprimirla y pasársela a tu pareja para que te la haga; pues te van a gustar tanto que querrás hacerlos seguidito.
La manzana salteada le da a estos pancakes un toque muy especial que a los cubanos de mi generación les recordará la compota búlgara que comíamos cuando éramos pequeños.
Mi molde de corazón es bastante grande y salieron sólo 5 pancakes, pero puedes hacerlos con el molde que tengas o incluso, vertiendo dos cucharadas de la mezcla en el sartén ya untado de mantequilla.
Ingredientes
Para las manzanas:
1 manzana grande
Jugo de medio limón
2 cdas de mantequilla
1 cdta de azúcar blanca
Para los pancakes:
3/4 de taza de harina
1 cda de azúcar blanca o 1 1/2 de azúcar moreno
1 cdta de polvos para hornear
1/4 cdta de sal
1/4 cdta de jengibre molido
1/4 cdta de canela molida
1/2 taza de leche
1 huevo grande
1 cdta de extracto de vainilla
3 cdas de mantequilla derretida + 2 cdas para el sartén
Canela molida extra para espolvorear los pancakes (opcional)
Preparación
Pela la manzana, retira el centro y córtala en gajos de 1/2 pulgada (1.3 cm). Rocíalas con el jugo de limón para que no se pongan oscuras. Pon a derretir la mantequilla en un sartén y agrega la manzana. Saltéala 3 minutos por un lado y 2 por el otro. Espolvoréalas con el azúcar. Retira el sartén del fuego y tápalo para que la manzana se mantenga caliente.
Mezcla los ingredientes secos (los 6 primeros) en un cuenco y tamízalos, pasándolo todo por el colador. Bate el resto de los ingredientes en otro cuenco y vierte sobre los ingredientes secos. Bate otra vez hasta formar una masa homogénea.
Calienta un sartén o un comal a fuego medio y agrega media cucharada de mantequilla. Unta todo el fondo con ella usando una brochita. Cuando esté derretida y un poco caliente, echa la masa para pancakes formando torticas o acomodándola dentro del molde. Cocínalos en varias tantas, no muy cerca uno del otro para que no se peguen, 2-3 minutos por cada lado, hasta que estén dorados. Si usas un molde, retíralo cuando vires los pancakes.
Sírvelos con un poco de la manzana salteada por encima y sirope tibio. Espolvoréalos con canela en polvo a gusto.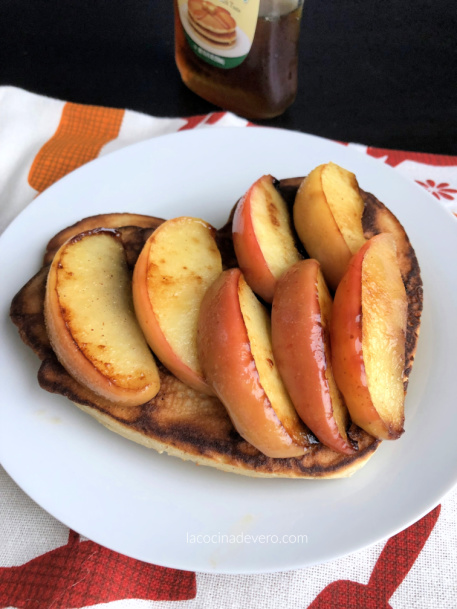 If you are staying at home because of the snow, nothing like these pancakes bring straight to your to bed. If you have neither cold nor snow, even if you have no time, save the recipe for the weekend or to make it on February 14 for your family. Of course, you can also print it and pass it to your partner, or just prepare them for yourself.
The sautéed apples give these pancakes a special touch that will make Cubans of my generation remember the Bulgarian compote we ate in the 80's.
My heart-shaped mold is quite large and I got 5 big pancakes, but you can make them with any mold you have or even pouring two tablespoons of the mixture into the buttered pan.
Ingredients
For apples:
1 large apple
Juice of half a lemon
2 tbsps. butter
1 tsp white sugar
For the pancakes:
3/4 cup flour
1 tbsp. white sugar or 1 1/2 tbsp. brown sugar
1 tsp baking powder
1/4 tsp salt
1/4 tsp ground ginger
1/4 tsp ground cinnamon
1/2 cup milk
1 large egg
1 tsp vanilla extract
3 tbsps. + 2 tbsps. melted butter for the pan
Extra ground cinnamon to sprinkle the pancakes
Method
Peel and core the apple. Cut it into 1/2 inch wedges. Drizzle with lemon juice.
Put melted butter in a pan and add the apple. Cook for 3 minutes on one side and 2 minutes on the other. Sprinkle with sugar. Remove the pan from the heat. Cover and keep warm.
Combine the dry ingredients (first 6) in a bowl and sift them. Whisk the remaining ingredients in another bowl and pour over dry ingredients. Whisk again to form a batter.
Heat a skillet over medium heat and brush it with half a tablespoon of butter. When melted and slightly warm, pour 2 tablespoon of the batter to form small pancakes or the amount necessary for the mold. Cook in badges, keeping them separate, 2-3 minutes per side, until golden. If using a mold, remove it from the pancakes when you flip them.
Serve with the sautéed apples on top, some warm syrup, and ground cinnamon to taste.