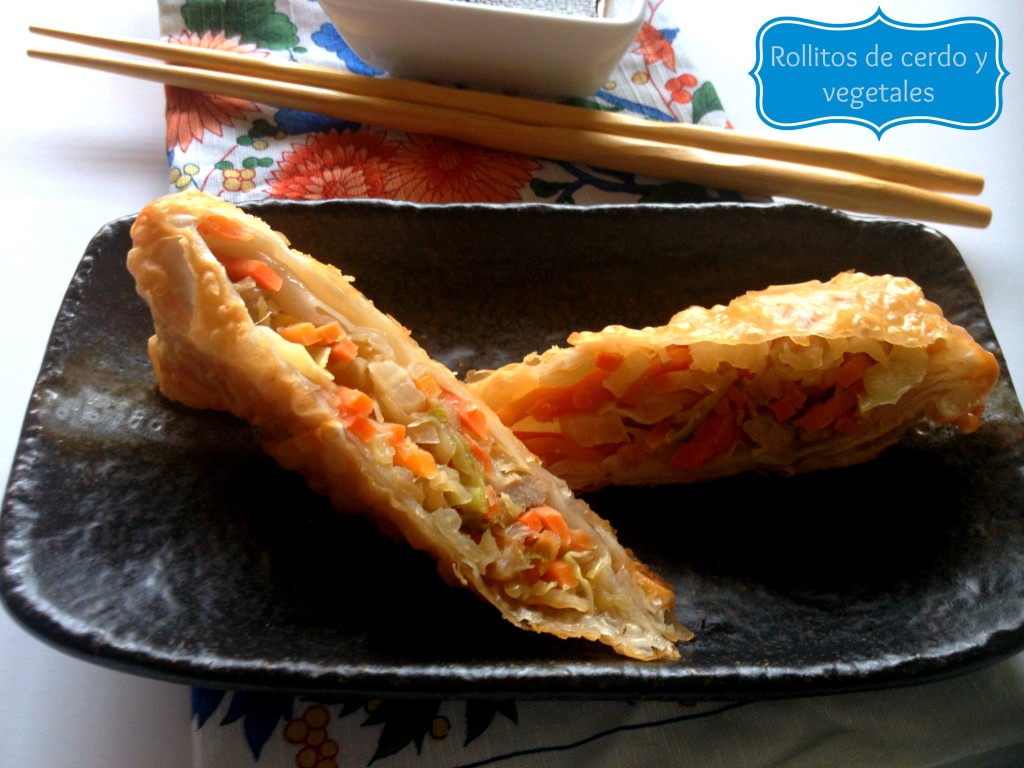 Me he pasado el fin de semana cocinando y tirando fotos de comida cubana, pero con un pedacito de carne que me quedó, aproveché para hacer estos rollitos de lomo de cerdo (pork egg rolls) con una masa que tenía comprada hace días y ya casi se iba a vencer.  Pensé en hacer una receta china y publicarlo con motivo del Año Nuevo Chino, pero la verdad que me salieron más tailandeses y la salsa que puse para mojarlos quedó bastante japonesa. Una mezcla tremenda, pero estaban riquísimos. Para el Super Bowl están buenísimos.
Salen 14. Puede parecer medio complicado hacer esta receta en casa, por lo de hacer los rollitos, pero no lo es para nada. Una vez cierras el primero, harás los otros con tremenda facilidad y enseguida estarán todos cerrados y listos para freirlos.
Ingredientes
14 cuadros de pasta para rollitos chinos
4 chuletas de cerdo finitas picadas en pedazos chiquitos o el equivalente en tiritas de lomo de cerdo
1 taza de zanahoria picada en palitos finitos
1 taza de col picada en tiritas finitas
3 cebollinos (lo verde) bien picados
3 cdas. de cilantro bien picado
2 cdas. de jengibre rallado
1 cdta. de aceite de sésamo
1 cdta. de aceite de cebollinos
1/4 cdta. de aceite de chiles (opcional)
2 cdas. de salsa soya
1 cdta. de salsa de pescado tailandesa
Aceite para freír
Sal
Pimienta
Para la salsa:
1/4 cdta de mostaza japonesa
1 cda de salsa soya
1/2 cdta de mirin
Unas goticas de aceite de sésamo
Preparación
Pica la carne y salpimiéntala.
Corta la col, la zanahoria, los cebollinos y el cilantro.
Calienta un sartén o wok a fuego medio, agrega los aceites, caliéntalos e incorpora la carne. Dórala. Adiciona el jengibre, la soya y la salsa de pescado, sofríe durante un minuto, mientras mezclas. Agrega el resto de los ingredientes que habías picado, mezcla bien todo y cocina unos 2 o 3 minutos, para que se pongan tiernos, pero no dejes que la zanahoria y la col pierdan toda su dureza. Retira del fuego y coloca en un colador, sobre un cuenco, para que se refresque y escurra los líquidos, por al menos 5 minutos.
Pon al lado de tu puesto de trabajo, un pequeño cuenco con agua. Puedes ser un salserito chiquito.
Pon la pasta en forma de diamante y echa dos cucharadas de la carne con vegetales en el centro. Dobla la parte más cercana a ti, de modo que cubras el relleno, apretando un poquito para que no quede suelto. Luego dobla los laterales de la pasta y enrolla, deteniéndote un momento para untar con un poquito de agua (con la yema del dedo mojada en el agua que pusiste en el salserito) el triángulo con que lo cerrarás a modo de sobre. Repite con el resto de la pasta y el relleno.
Pon a calentar el aceite y fríelos hasta que se doren.
Cortálos en diagonal y sírvelos con la salsa.
Tips
Si prefieres hornear los rollitos, precalienta el horno a 400⁰F, úntalos un poco de aceite y cocínalos por 10-12 minutos, hasta que se doren.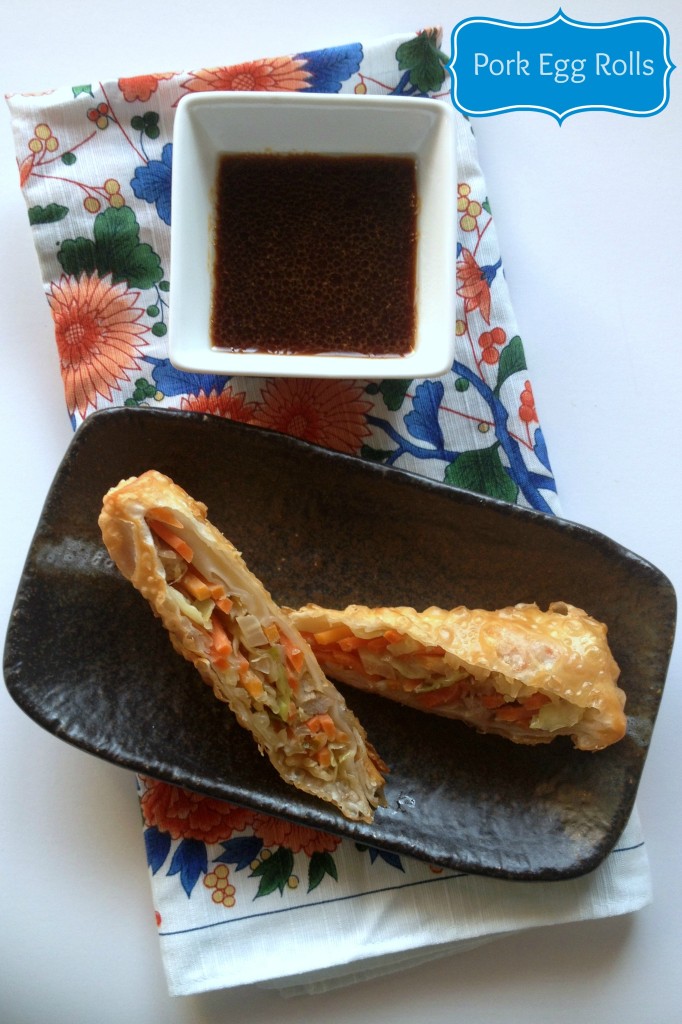 I wanted to make a Chinese recipe for the Chinese New Year, but in the middle of a crazy weekend, cooking and photographing Cuban food, I came out with these Thai rolls and a Japanese like sauce to dip them. Anyhow, they were delicious. If they don't fit for the Chinese Celebrations, at least they will be great for the Super Bowl.
It may seem kind of complicated to make this recipe at home, because of wrapping the rolls, but once you close the first one, the others will be sealed fast, and they will be ready to fry in a few minutes.
Ingredients
14 squared egg rolls wraps
4 pork chops cut into small pieces or the equivalent in strips of pork loin
1 cup carrot sticks
1 cup chopped cabbage
3 minced scallions (the green part)
3 tbsp. finely chopped cilantro
2 tbsp. grated ginger
1 tsp. sesame oil
1 tsp. chive oil
1/4 tsp. chili oil (optional)
2 tbsp. soy sauce
1 tsp. Thai fish sauce
Oil for frying
Salt
Pepper
For the sauce:
1/4 tsp Japanese mustard
1 tbsp soy sauce
1/2 tsp mirin
Few drops of sesame oil
Method
Mince the meat, add salt and pepper to taste.
Cut the cabbage, carrots, scallions and cilantro.
Heat a skillet or wok over medium heat, add oils, and brown the meat. Add ginger, soy and fish sauce, stir-fry for a minute. Add remaining ingredients, mix everything well and cook 2 or 3 minutes. Don't let the carrots and the cabbage lose its crunchiness. Remove from heat and place in a colander, over a bowl, for it to cool and drain, for at least 5 minutes.
Put some water in a little all bowl.
Use two tablespoons of meat with vegetables to fill each egg roll. Place the wrap in diamond shape in front of you; add the meat and vegetables in the center. Fold the side closest to you so that it covers the filling, pressing slightly. Then fold the sides of the wrap and roll it tightly, stopping a moment to spread a little water (with your fingertips dipped in the water you put at the little bowl) in the triangle that will close the wrap as an envelope. Repeat with remaining dough and filling.
Fry the egg rolls in hot oil until golden, 2-3 minutes. Drain on paper towels. If you use a fryer, its temperature should be 350°F.
Cut them diagonally and serve with the sauce aside.
Tips
If you prefer to bake the rolls, preheat oven to 400⁰F, brush them lightly with oil, and bake for 10-12 minutes, until golden.