El pollo preparado de esta forma, suele servirse con salsa de maní, pero cuando estaba preparando la salsa me di cuenta que el frasco en el que estaba el maní se había quedado medio abierto. Ya no estaba tostado y el olor no era el mismo, por lo que me puse a buscar una solución en la despensa y se me ocurrió usar tahini, que para los que no la conocen, es una pasta de sésamo que se usa sobre todo para hacer humus. Quedé tan satisfecha con el resultado, que he decidido compartirlo con ustedes.
Este plato lo pueden preparar este domingo para el Superbowl o para cualquier fiesta en el futuro. Es divino para picar. También para la cena cualquier día, acompañada de ensalada. A los niños les encanta, pero si son muy chiquitos mejor que retires el palillo en el momento de servirlo.
Importante, pon a remojar los palillos para brochetas media hora antes de usarlos, para que no se te quemen cuando estés cocinando el pollo. Ese mismo tiempo debe pasar (como mínimo) el pollo en el adobo.
Ingredientes
Para el pollo:
2 pechugas de pollo sin hueso, cortadas en tiras finitas
20 palillos de brocheta
2 dientes de ajo, machacado
1 cda de jengibre fresco rallado
1 cda de salsa tailandesa de pescado
2 cdas de salsa soya
1 cda de miel
Para la salsa:
2 cdas de pasta de sésamo (tahini)
4 cdas de leche de coco
1 cda de jugo de limón
Unas gotas de aceite de maní
Unas gotas de aceite de chile (opcional)
Sal
Preparación
Ya cortado el pollo y remojados los palitos, mezcla el resto de los ingredientes para el pollo en un bowl y viértelo sobre la carne. Tápalo con un plástico y déjalo reposar en el refrigerador al menos media hora. Puedes hacerlo también el día anterior.
Pasa los ingredientes de la salsa por un procesador de alimentos o por la batidora y también tápala con un plástico y resérvala.
Cuando el pollo esté adobado, escúrrelo y atraviesa la carne con los palillos.
El pollo lo puedes cocinar en la parrilla o al horno. En la parrilla unos 4-5 minutos por cada lado es suficiente si has cortado el pollo en tiras bien finas. Si lo cocinas al horno, usa el broil y cocina un total de 15 minutos. De cualquiera de las dos formas, el pollo estará listo cuando esté doradito y debes voltearlo en mitad de la cocción.
Sírvelos calientes, con la salsa de sésamo a un lado.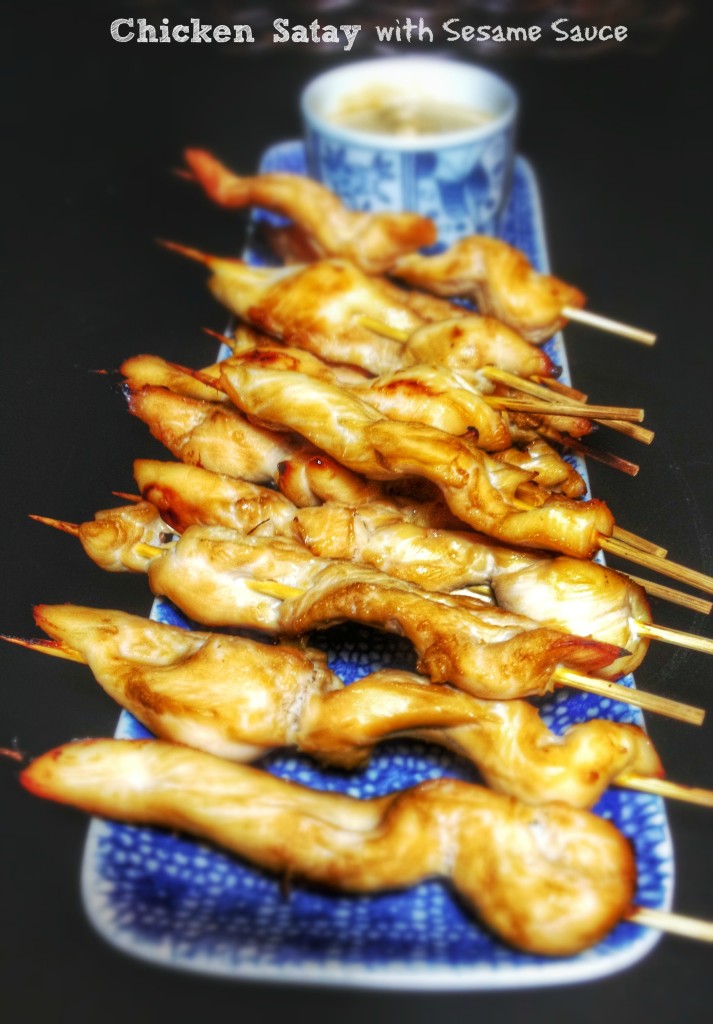 The chicken prepared in this way is usually served with peanut sauce, but inspired by an accident in my kitchen; I ended up reinventing my sauce using whatever I have on my pantry. And there comes the tahini sauce to save our meal. I'm so pleased with the result; I decided to share it with you.
This dish is perfect for the Big game this Sunday or for any party. It's also great as a light dinner, served with a salad. Kids love it, but for the little ones retire stick better when serving.
Important: soak skewers sticks in water for half an hour before using them, to prevent them from burning when you're cooking the chicken. That's the same time the chicken need to marinade.
Ingredients
For chicken:
2 boneless chicken breasts cut into thin strips
20 skewer sticks
2 cloves garlic, crushed
1 tbsp. grated fresh ginger
1 tbsp. Thai fish sauce
2 tbsp. soy sauce
1 tbsp. honey
For the sauce:
2 tbsp. tahini
4 tbsp. coconut milk
1 tbsp. lemon juice
A few drops of peanut oil
A few drops of chili oil (optional)
Salt
Method
Mix the marinade ingredients for the chicken in a bowl and pour over the meat. Cover with plastic wrap, and let sit in refrigerator at least a half an hour. You can also do it the day before.
Blend the sauce ingredients in a food processor and cover with plastic wrap too. Reserve it.
When the chicken is marinated, drain it and thread the strips with the skewers.
You can cook the chicken on the grill or in the oven. On the grill, 4-5 minutes per side is enough if you cut the chicken into very thin strips. If you cook it in the oven, use the broil and cook about 15 minutes. In either form, the chicken is ready when golden brown and you must flip the skewers in the middle of the cooking.
Serve hot with the sauce on the side.