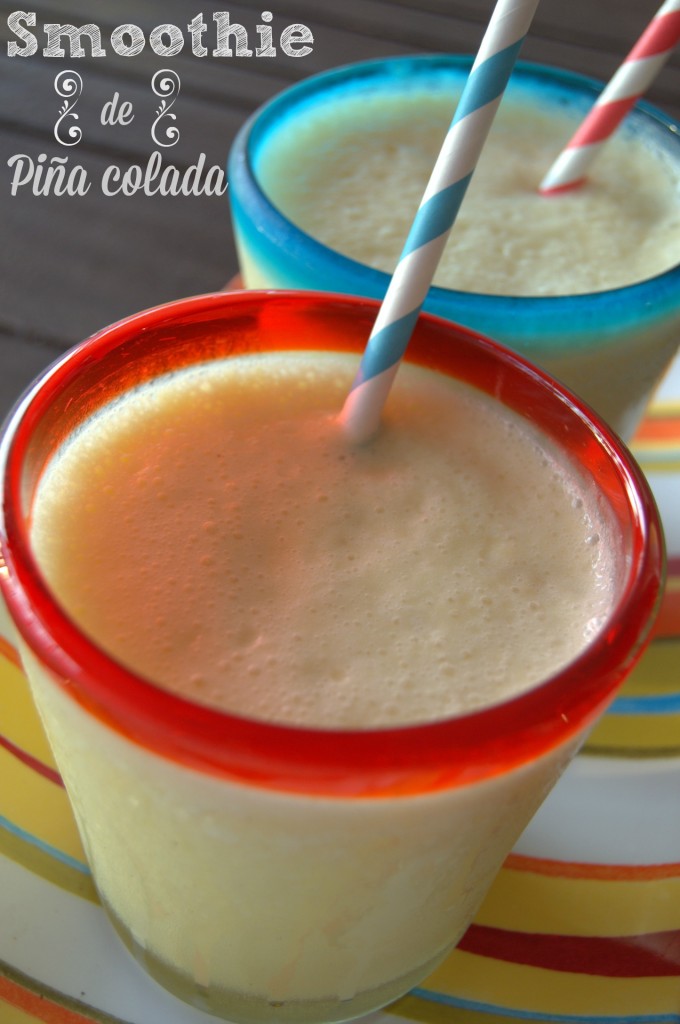 Esta semana he estado con el catarro ese horrible que anda por ahí y hasta he perdido dos días de trabajo. Una amiga me dio un remedio para la tos hecho con piña y jengibre, así que aproveché para preparar este smoothie que es uno de los favoritos en casa.
La cama me llama, así que hoy el post es corto.
La piña colada es la bebida oficial de Puerto Rico, un coctel que se prepara con jugo de piña, crema de coco y ron. Yo he querido recrear el trago en una bebida saludable y sin alcohol. He cambiado la crema por leche de coco, como la que usas para hacer un curry tailandés; y en lugar de ron, le he puesto jengibre. Ojo, que la piña colada original me encanta y sé que hay mucho frío por ahí, pero aquí en Miami apenas hizo frío un día y hace muy bien tomarse este smoothie tan refrescante. Es ideal para las mañanas pues te da mucha energía, pero igual va bien de merienda o lo puedes preparar en una fiesta para los que no tomen bebidas alcohólicas.
Ingredientes (para 4)
1 piña grande, pelada y sin el centro
3/4 de taza de leche de coco
1 cubito de 1 pulgada (2.2 cm) de jengibre
1 cda de miel
1 taza de cubitos de hielo
Preparación
Corta la piña en trozos y pásala por la batidora con la leche de coco y el jengibre. Cuélalo y regrésalo a la batidora. Agrega la miel y cuando esta se disuelva completamente, añade el hielo y deja que se triture bien.
Esta es mi receta económica de esta semana, en la que Viernes de recetas económicas reanuda sus rondas de cada viernes.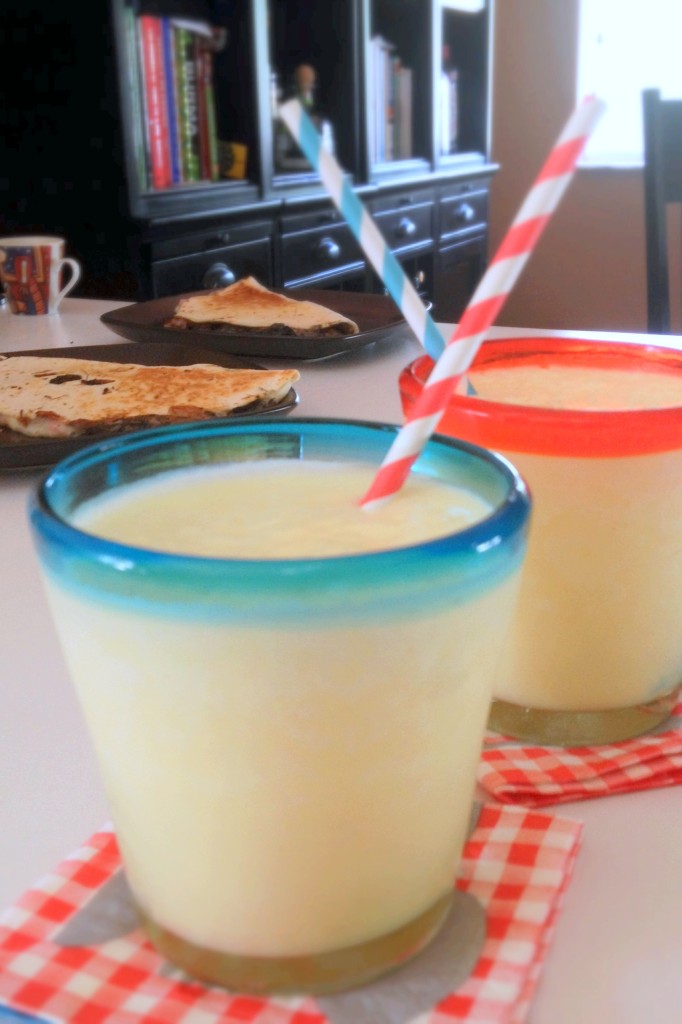 I've been sick the whole week, with that terrible cold. I hope you don't get it. I've even lost two days of work, and spend them sleeping. A friend gave me a cough remedy made with pineapple and ginger, so I took the opportunity to prepare one of my favorites smoothies, my healthy low calorie piña colada.
The bed is calling me, so I'll be brief today.
The Piña Colada is the official drink of Puerto Rico, a cocktail prepared with pineapple juice, coconut cream and rum. I wanted to recreate the drink in a healthy way and without alcohol, so I changed the cream of coconut for coconut milk (the one you use to make a Thai curry), and instead of rum I added ginger to give it a twist.
I must say I love the original drink at it is, and I know is very cold out there in a lot of cities, but here in Miami we barely had 40°F one night to be back on the 80°F today. This is a very refreshing smoothie, ideal to wake you up in the mornings or even for your parties if there is someone who does not drink alcohol.
Ingredients (serves 4)
1 large, peeled and cored pineapple
3/4 cup coconut milk
1 cube of 1 inch of ginger
1 tbsp. honey
1 cup of ice cubes
Method
Cut the pineapple in chunks and blend it with the coconut milk and ginger. Strain and return it to the blender. Add honey and when it is completely dissolved, add ice and let it crush well.