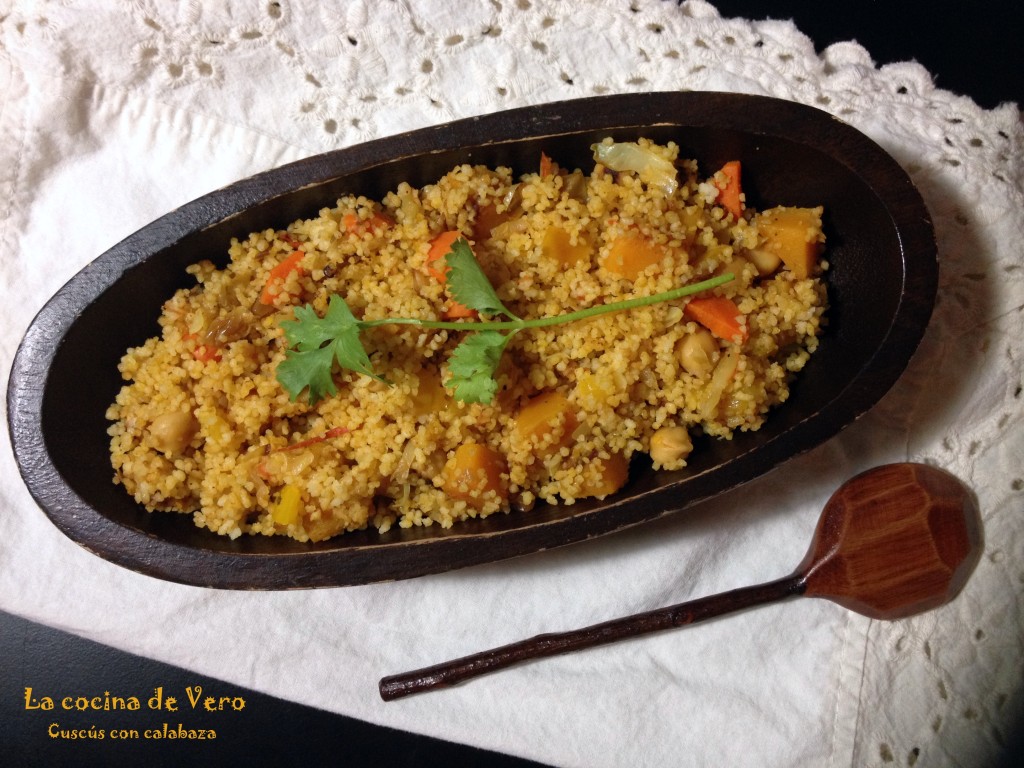 Ayer cuando salí de casa estaba fresquito. Miré el teléfono y teníamos 75°F (23°C) y me dije: ¡Por fin llegó el otoño a Miami! Mi ánimo ya está en esta estación del año hace días y he estado preparando cremas y arroces con calabaza y con boniato, pero seguía haciendo mucho calor. Entre los platos que he preparado está este cuscús vegetariano muy otoñal.
El cuscús es uno de los alimentos principales de la comida árabe y no es más que granitos pequeñitos de sémola de trigo.
Aprovecho para siempre contarles que ya tengo un Tajín, pero el día que preparé este plato llegué un poco tarde y preferí hacerlo como siempre para ni tener que pensar. Ya pronto estrenaré ese nuevo cacharro de mi cocina y les contaré qué tal me va.
Esta receta es facilísima. Ya estoy pensando en unas cuantas amigas mías que la van a adorar. Está lista en 20 minutos aproximadamente y da para 4.
Es mi propuesta para Viernes de recetas económicas esta semana.
Yesterday when I left home, the temperature outside was 75°F (23°C). That means Fall already arrived to Miami. I have been in fall mood for a while already, preparing dishes that include pumpkin and sweet potato, but South Florida was still very hot. Among the dishes I have prepared is this vegetarian couscous. Can you see it has the colors of the season?
Couscous is one of the most popular meals in North Africa, and it is nothing more than tiny grains of semolina.
This recipe is very easy and delicious. Serves 4 and it's ready in less than 20 minutes -some of my friends are already coming to my mind.
It is my proposal for Viernes de recetas económicas (Recipes for less than $10) this week.
Ingredientes
1 taza de calabaza butternut cortada en cuadritos de 3/4 de pulgada (1.5 cm)
1 1/2 taza de col picadita finita y luego en cuadritos
1 lata de 15 oz de garbanzos, enjuagados y escurridos
1/2 ají pimiento amarillo, picadito
1 zanahoria mediana, en rueditas de 1/4 de pulgada (0.6 cm)
2 cdas de pasas amarillas
1 tomate grande, cortado en cuadritos y sin semillas
1 caja de 10 oz (284 g) de cuscús (Usé Near East)
2 cdas de aceite de oliva
1 cda de mantequilla
Sal
Pimienta
Preparación
Prepara el cuscús según las instrucciones de la caja. Básicamente es hervir agua, retirarla del fuego, agregar el cuscús, regarlo con un tenedor y tapar la cazuela para que se absorba el agua y quede cocinada la sémola.
Mientras, calienta el aceite a fuego medio en un sartén grande o una cazuela bajita y agrega la col, la calabaza y la zanahoria. Saltéalos unos 5 minutos. Añade entonces los garbanzos, el ají, las pasas y el tomate. Salpimienta a gusto. Tápalo y sigue cocinando otros 7-8 minutos, hasta que esté tierno. Una vez listo, agrégale la mantequilla y el cuscús, mezcla bien todo y sirve inmediatamente.
También puedes servir las verduras sobre el cuscús. Si vas a hacerlo así, separa los granos de sémola con un tenedor antes de servirlo.
Ingredients
1 cup diced butternut squash 3/ 4 inch (1.5 cm)
1 1/ 2 cup chopped cabbage
1 15 oz. can of chickpeas, rinsed and drained
1/2 yellow bell pepper, chopped
1 medium carrot, sliced in 1/ 4 inch (0.6 cm)
2 tbsp. golden raisins
1 large tomato, diced and seeded
1 10 oz. (284 g) of couscous (I used Near East)
2 tbsp. olive oil
1 tbsp. butter
Salt
Pepper
Method
Prepare the couscous according to package directions. Basically, you need to boil some water, remove the pot from heat, combine with the couscous, and cover it.
Meanwhile, heat the oil over medium heat in a large skillet or pot. Add the cabbage, pumpkin and carrot. Sauté about 5 minutes. Add the chickpeas, pepper, raisins and tomatoes. Salt and pepper to taste. Cover and continue cooking another 7-8 minutes, until tender. Once ready, add the butter and couscous, mix well all and serve immediately.
You can also serve the vegetables over the couscous. For this option, fluff couscous lightly with a fork before serving.