Scroll down for the English version.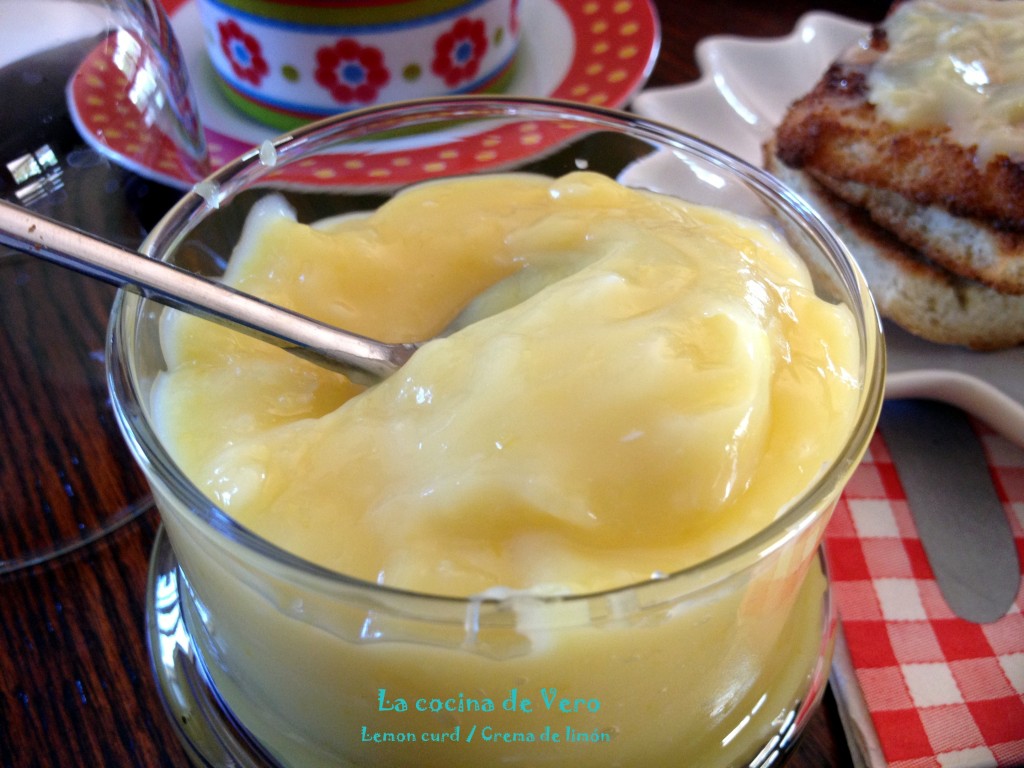 Amo el lemon curd y la verdad que después que uno lo hace en casa, cuesta comerse los que venden por ahí. Me parecen demasiado dulces. Mis preferidos son el de limón y el de piña, pero puedes hacerlo de mandarina, lima, naranja o frutos del bosque y quedan también deliciosos.
No tengo tantos dulces en mi blog y como me lo piden tanto, estoy tratando de superarlo. Eso sí, no de comérmelos. Casi siempre terminan en la oficina, en casa de mis padres o en los pozuelos de mis amigos.
Entre los que ya forman parte de mi recetario está el cheesecake de limón y kiwi que no lleva horno. Es de los preferidos de los seguidores de Facebook y en casa también. Es que queda tan lindo y tan rico. Uno de sus ingredientes principales es la cuajada o crema de limón (lemon curd), que es lo endulza y le da el sabor a limón.
Aunque es algo muy común en los mercados de Estados Unidos, en muchos países no lo venden y hace rato andaba buscando una receta casera para compartir con ustedes. Ha quedado tan sabroso que me va a ser difícil volver a comprar la de conserva.
Estas cremas quedan más parecidas a una natilla que a una mermelada y aunque generalmente se comen con tostadas o galletas, son ideales para rellenar bizcochos, para poner sobre un cheesecake o para acompañar el yogurt haciendo un parfait. Con esta receta obtendrás 2 tazas y está lista en media hora.
Ingredientes
1 taza de azúcar blanca
2 limones amarillos (lemon), su ralladura  y su jugo (1/3 de taza de jugo aproximadamente)
7 cdas de mantequilla (casi la barrita entera)
4 huevos medianos
Preparación
Echa el azúcar, la ralladura de limón y el jugo de limón en un cuenco resistente al fuego o en una cazuelita pequeña (yo usé lo segundo y la puse dentro de un sartén) y ponlo a cocinar al baño María a fuego medio, hasta que se disuelva el azúcar, unos 5 minutos. Ve sacando lascas de mantequilla y agrégalas una a una, a medida que se van derritiendo, mientras no paras de remover con una cuchara de madera, otros 5 minutos. Retira el cuenco o cazuelita del fuego.
Bate los huevos e incorpóralos a la mezcla. Vuelve a poner la cazuelita al baño María a fuego medio-bajo y sigue cocinando otros 15-18 minutos, removiendo constantemente con la cuchara de madera, hasta que cuaje, como si fuera una natilla.
Vierte la crema de frutas en un cuenco fresco y tápalo con papel film (nylon) para que no se haga una capa dura encima mientras se refresca. Una vez se le vaya el calor, puedes ponerla en otro envase y guardarla en el refrigerador. Yo la hice hace dos semanas y está superfresca. Debe durar al menos un mes.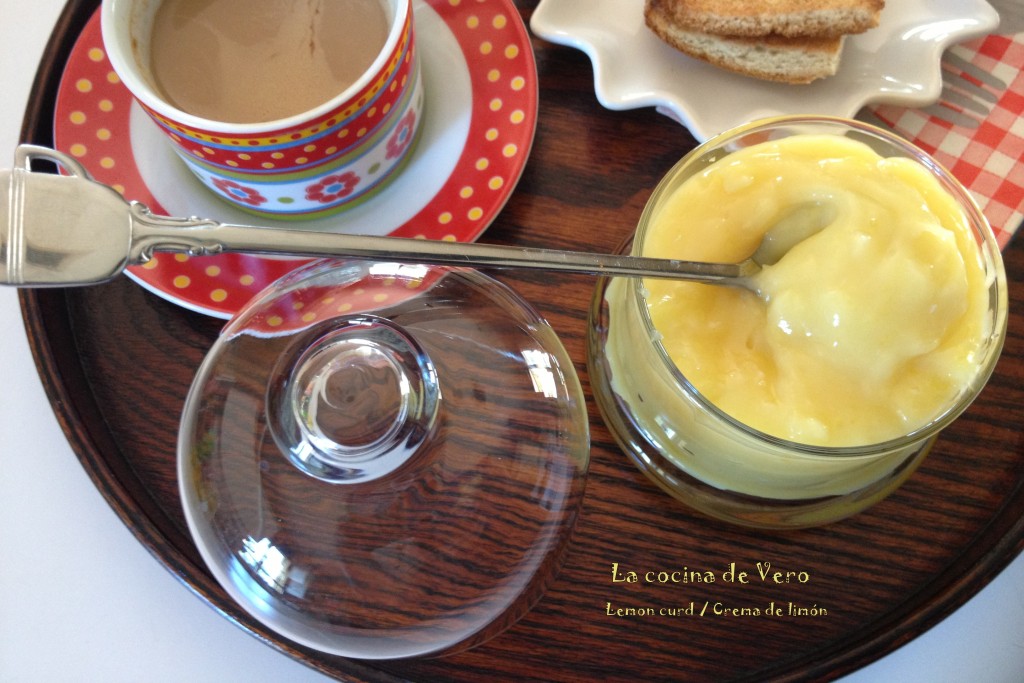 Once you try homemade lemon curd, you hardly will buy it at the supermarket ever again. It tastes so different, so fresh and so "real".
You can also prepare curds with orange, lime, and tangerines. Their juice and zest, is usually mixed with sugar and later with eggs. But, when I was trying to choose my way of doing it, I read curds can be creamier if you incorporate butter to the ingredients, so I decided to give it a try. It works fantastically.
Curds can be consumed like jams, but their texture is more like custard. You can enjoy them by just spreading some over a toast or on top of yogurt, but they can also be part of cakes and ice creams.
This recipe is ready in a half of hour, and you get 2 cups of it
Ingredients
1 cup white sugar
2 lemons, its zest and juice (1/ 3 cup juice approximately)
7 tbsp butter (almost the entire stick)
4 medium eggs
Method
Mix sugar, lemon zest and lemon juice in a fireproof bowl or small casserole, and double boil (bain marie) over medium heat until sugar dissolves, about 5 minutes. Cut the butter in small pieces and add them one by one, as they melt. Keep stirring all the time with a wooden spoon, for another 5 minutes. Remove the bowl or casserole from heat.
Wisk eggs and stir into the mixture. Double boil again over medium- low heat for 15 to 18 minutes, still constantly stirring with wooden spoon, until set like custard.
Pour the curd into a fresh bowl and cover it with plastic wrap, so it doesn't get a hard layer on top while cooling. Once fresh, you can transfer it into another container and store in the refrigerator. It last for a month, if you don't eat it first.
Esta es mi propuesta de la semana para Viernes de recetas económicas. Los invito a leer las propuestas de mis compañeras, listadas abajo.