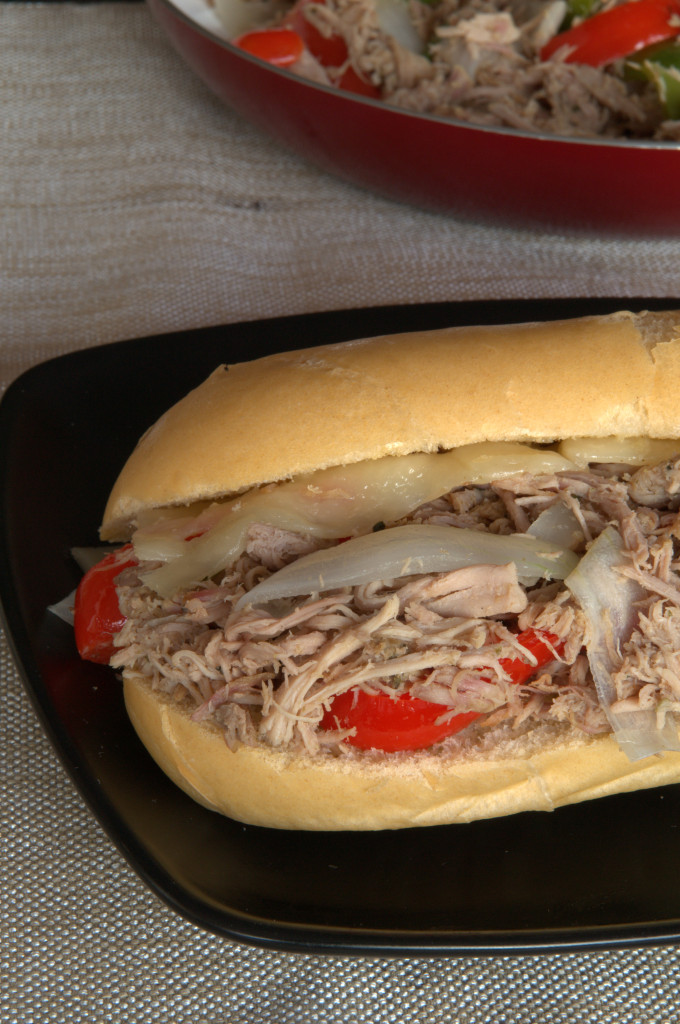 Llegó el 2014 y tengo las mejores intenciones de comer ensaladas, pero no voy a tirar las sobras de la carne de puerco que nos dejaron las fiestas decembrinas. Vamos con el pan con lechón de Vero / Vero's Cuban Pulled Pork Sandwich.
Esta Navidad no cociné pernil porque me invitó mi amiga Leo a pasarla con su familia y el 31 la pasamos en casa de otra amiga, Vicky; pero algo de lo que quedó terminó en casa. Los cubanos no soportamos botar comida. Con media paleta de cerdo que me llevé a casa, preparé primero tacos para mis amigos y luego, con un poquito que sobró, hice un par de sándwiches para mi esposo y para mí. Yo pensaba que el mejor pan con lechón era el que me preparaba Tomasito, un amigo de mi padre, en los carnavales de mi pueblo, pero este me gustó tanto que creo le quitó el primer lugar. Ojalá les quede algo de carne de puerco asada por ahí para que lo prueben. Y si no, guarden bien la receta para cuando les quede algo de la próxima fiesta.
En el campo en Cuba se preparan las sobras de carne de cerdo muy parecido y le decimos montería. Este podría ser un pan con montería a la Vero. Espero les guste tanto como a nosotros.
Ingredientes
Pan baguette
Jamón York
Queso Cedar
Sobras de pernil o paleta de cerdo asado (aquí tienen una receta) a la cubana
1/2 Ají pimiento rojo
1/2 Ají pimiento verde
1/2 Ají pimiento amarillo
1 Cebolla blanca
1/2 taza de vino seco o vino blanco seco para cocinar
1/2 cdta de comino en polvo
1/2 cdta de orégano en polvo
1/2 cdta de laurel en polvo
Sal
Preparación
Desmenuza bien la carne y elimina la grasa. Aunque ya tenga muy buen sabor, adóbala con el comino, el orégano y el laurel. Corta los ajíes y la cebolla en tiras de 1/2 pulgada de ancho (8 cm).
Calienta un sartén grande y echa en este la carne. Cuando se caliente la carne (unos 2-3 minutos), agrega el vino y cuando el vino se haya reducido casi en su totalidad, añade los ajíes y la cebolla. Rectifica la sal y sigue cocinando hasta que esté bien seco, removiendo constantemente.
Abre el baguette, ponle una lasca de queso, 2 lascas (o más) de jamón y un poco de la carne de cerdo a la tapa de abajo del pan. Coloca la otra tapa y caliéntalo al grill.
Tips
En lugar de baguette, puedes comerlo con tortillas mexicanas, queso fresco, salsa picante y cilantro picadito. En este caso, puedes agregar al adobo de la carne ya cocinada chile en polvo a gusto.
¿Usas las sobras de tus fiestas para preparar otras recetas?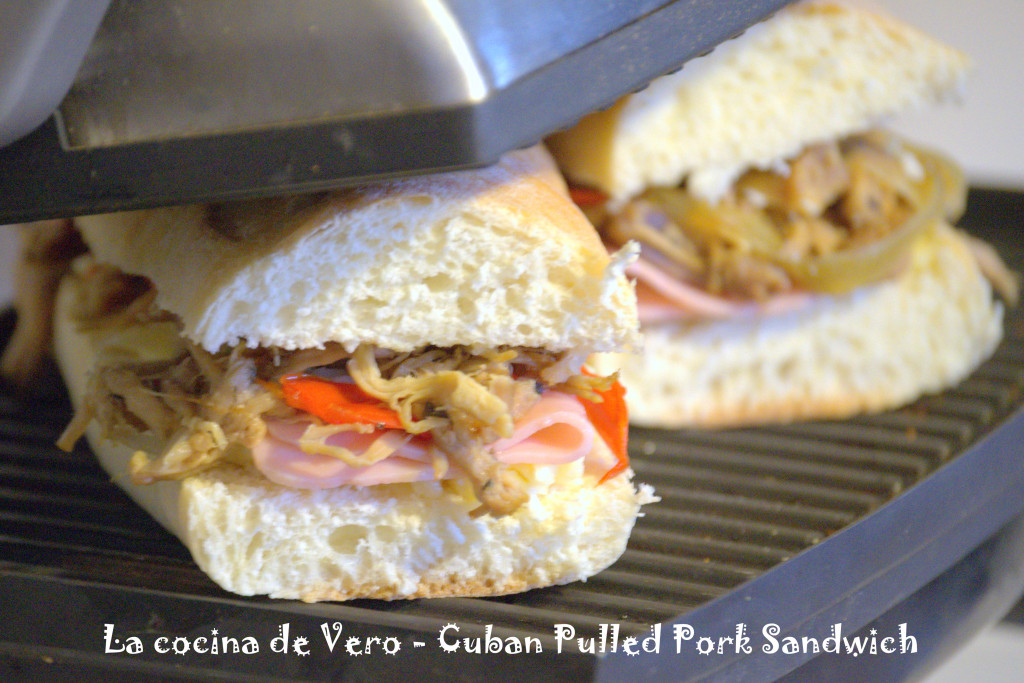 2014 arrived and I have the best intentions to eat salads, but not yet. You already know me; I will never throw away edible food, and if we're talking about leftover pork from the Holidays, forget it, I have to use it somehow.
I didn't cook pork on Christmas neither on New Year Eve, because I was invited by some of my friends to celebrate with their families. But I did bring some leftovers home. With a half a pork shoulder that Leo gave me, I prepared some tacos for my friends one day, and the day before, I made a couple of sandwiches for my husband and me.
I thought the best pulled pork sandwiches I ever had were made by Tomasito, a friend of my father, in the carnavales of my hometown when I was little, but I liked the one I'm sharing with you today so much, that it became my favorite pan con lechón, from the first bite. Hopefully you still have some roast pork left to try it out. If not, mark this recipe and save some roasted pork in your next party.
In the countryside in Cuba leftover pork meat prepared much like this one is called "montería" (hunting). We can name it Vero's Pulled Pork Sandwich for now. I hope you enjoy it as we did.
Ingredients
Baguette
Boiled ham
Cedar cheese
Leftover of shoulder roast pork (I used half of one) Cuban Style
1/2 red pepper
1/2 green pepper
1/2 yellow pepper
1 white onion
1/2 cup dry white wine or dry cooking wine
1/2 tsp ground cumin
1/2 tsp ground oregano
½ tsp ground bay leaf
Salt
Method
Shred the meat and remove fat. Although it will already be tasty, marinate with cumin, oregano and bay leaf. Cut peppers and onions into strips 1 /2 inch wide.
Heat a large skillet, and add the meat. Cook until hot, 2 to 3 minutes. Add the wine, and when it is reduced almost entirely, add the peppers and onions. Add some salt if necessary and saute for another 5 minutes.
Open the baguette, put inside a slice of cheese, 2 slices (or more) of ham and some pork. Grill it.
Tips
Instead of baguette, you can eat the meat with tortillas, cheese of choice, hot sauce and chopped cilantro. In this case, you can add some chili powder to the spices.