Scroll down for the English version.
Los tacos de pescados y mariscos son mis favoritos desde que los probé en Veracruz hace unos cuantos años. Allá vivía mi esposo al principio de conocernos. También vivió en Japón mucho tiempo, así que estos tacos con pescado a la japonesa están especialmente preparados para él, por el amor que siente hacia esos sitios en los que pasó parte de su vida. Y por supuesto, a ti, que podrás probar un nuevo y delicioso modo de comer tacos.
Para estos tacos, en lugar de salsa, he usado un aliño con mentaiko que suelo usar para acompañar ensaladas o soba con furikake. La combinación de mentaiko y furikake es fabulosa. El mentaiko es un ingrediente muy frecuente en la comida japonesa. Son las huevas marinadas del abadejo, un pescado muy parecido al bacalao y al que muchos simplemente llaman también bacalao. Pueden ver una imagen del frasco de aliño de mentaiko aquí.
También he usado mayonesa con wasabi, pero si no la encuentras, puedes simplemente mezclar tu mayonesa preferida con un poco de wasabi de los tubitos que venden el mercado.
Esta receta es muy fácil de preparar y está lista en media hora.
Ingredientes
2 filetes de atún o de algún pescado blanco
1 cda de mayonesa con wasabi
2/3 de taza de panko
Aceite vegetal (para untar la bandeja)
Aliño de mentaiko, a gusto
Furikake, tanto el sabor como la cantidad a gusto
Encurtido de col morada (la receta aquí)
Tortillas de maíz (usé amarillas)
Sal (opcional)
Preparación
Precalienta el horno a 450°F (230°C).
Corta el pescado en cubitos de 1 pulgada (2.3 cm), sálalos a gusto y úntalos con la mayonesa de wasabi. Pásalos por panko.
Engrasa una bandeja resistente al horno y coloca en ella el pescado. Hornéalo durante 15 minutos. También puedes freír los pedacitos de pescado en aceite vegetal caliente.
Mientras tanto, calienta las tortillas en un comal o un sartén.
Sirve los tacos poniendo en el centro de las tortillas calientes unos 3-4 cubitos de pescado, ponles aliño de mentaiko, encurtido de col bien escurrido y espolvoréalos con furikake a gusto.
¡Itadakimasu!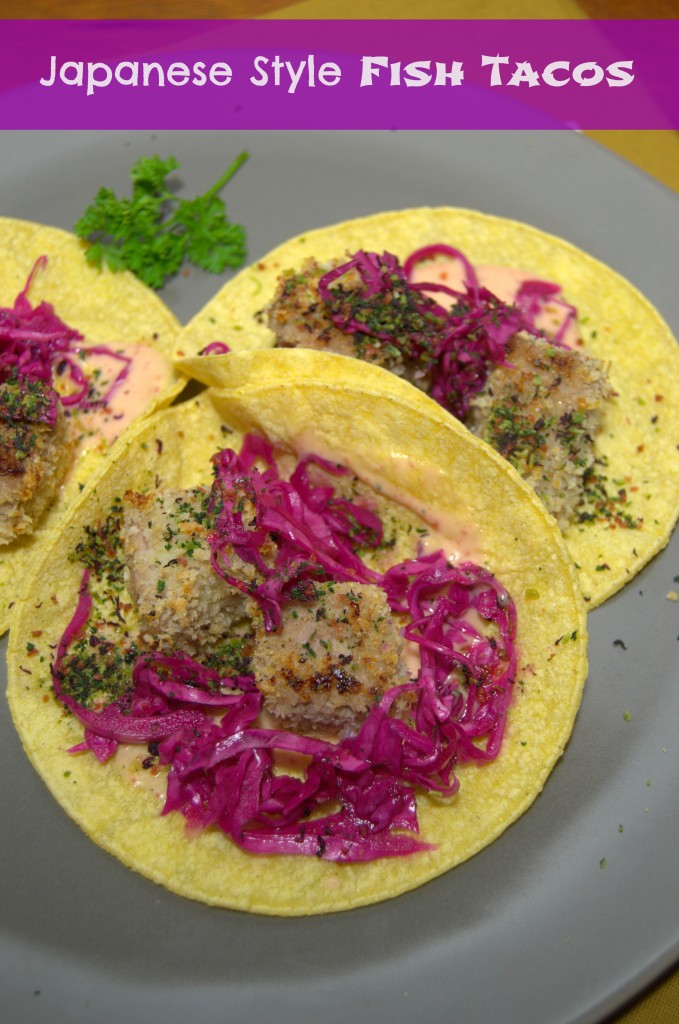 Seafood tacos are my favorites, since I had them for the first time in Mexico a few years ago. My husband lived there when we met. He also lived in Japan, and loves both places, so these tacos are specially prepared for him, and of course, for you to enjoy the conjunction of these great flavors.
For these tacos, instead of salsa, I used mentaiko dressing, which I usually pair with salads or soba with furikake. Mentaiko is the marinated roe of pollock, a fish so similar to cod that many people simply called cod too. It's a very common in Japanese cuisine, with a strong and fabulous flavor you can't miss. You can see a picture of the bottle mentaiko dressing here.
I have also used wasabi mayonnaise, but if you don't find it, just mix your favorite mayonnaise with a little wasabi from the tubes that usually sells at your supermarket.
This recipe is very easy to prepare and is ready in half an hour.
Ingredients
2 fillets of tuna or some white fish
1 tbsp wasabi mayonnaise
2/3 cup panko
Vegetable oil (to grease the pan)
Mentaiko dressing to taste
Furikake, both the flavors and the amount to taste
Pickled Red Cabbage (recipe here)
Corn tortillas (I used yellow)
Salt (optional)
Method
Preheat oven to 450°F.
Cut the fish into 1-inch cubes. Add salt to taste, cover with wasabi mayonnaise, and toss them with the panko.
Grease an ovenproof pan and place the fish on it. Bake for 15 minutes. You can also fry it in hot vegetable oil.
Heat the tortillas on a griddle or skillet.
Serve the tacos by placing 3-4 cubes of fish in the center of hot tortillas. Add mentaiko dressing, drained pickled red cabbage, and sprinkle with furikake.
Itadakimasu!