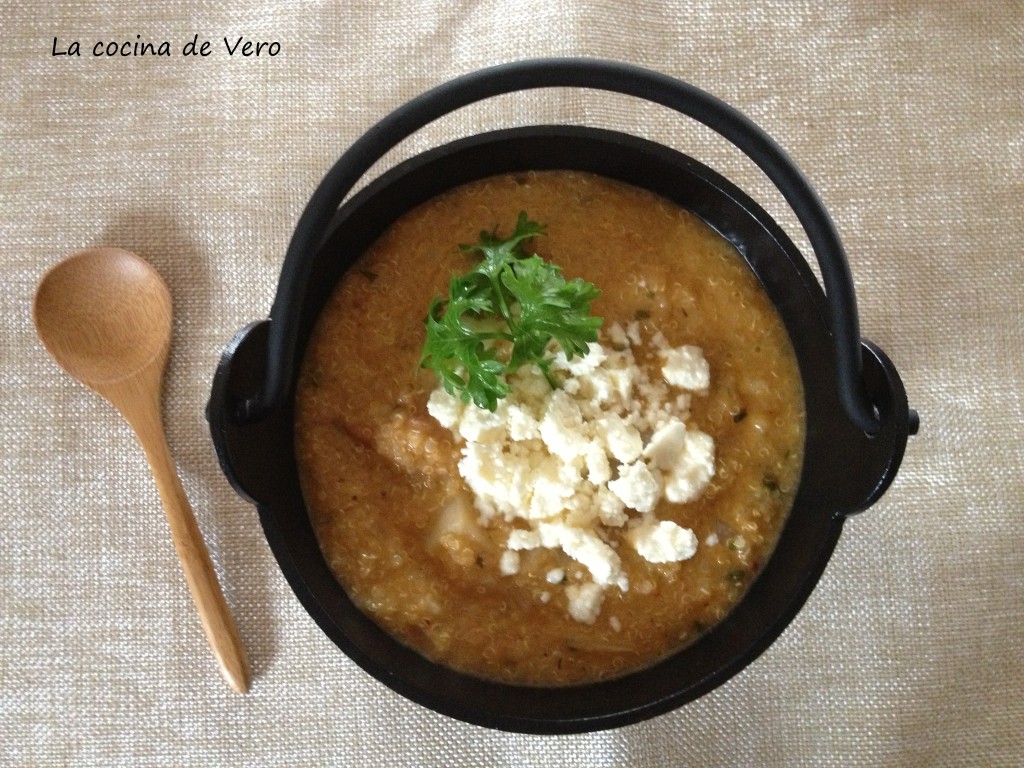 La Organización de Naciones Unidas ha declarado 2013 Año Internacional de la Quinoa, este cereal sudamericano que se ha vuelto tan popular últimamente en las dietas vegetarianas por su alto contenido de proteínas. Así que cuando mi excolega Marla, editora de Travel Curious Often, me pidió una receta ecuatoriana para su más reciente Featured Destination, no dudé en cocinar una que incluyera la quinoa. La aprendí con uno otro colega del trabajo, que es ecuatoriano. La oficina, como la ciudad donde vivo, es multicultural.
La palabra quinoa, viene de la traducción al español del quechua kinwa. Los Incas la llamaban "la madre de todos los granos" y era una de sus principales fuentes de alimentación, junto a la papa, que como ya vieron en el título, forma parte también de este delicioso plato, tan común en el menú de la sierra ecuatoriana. Suele comerse en los días fríos, pero con un par de tajadas de aguacate viene bien en cualquier momento. Se prepara en media hora y da para 5-6.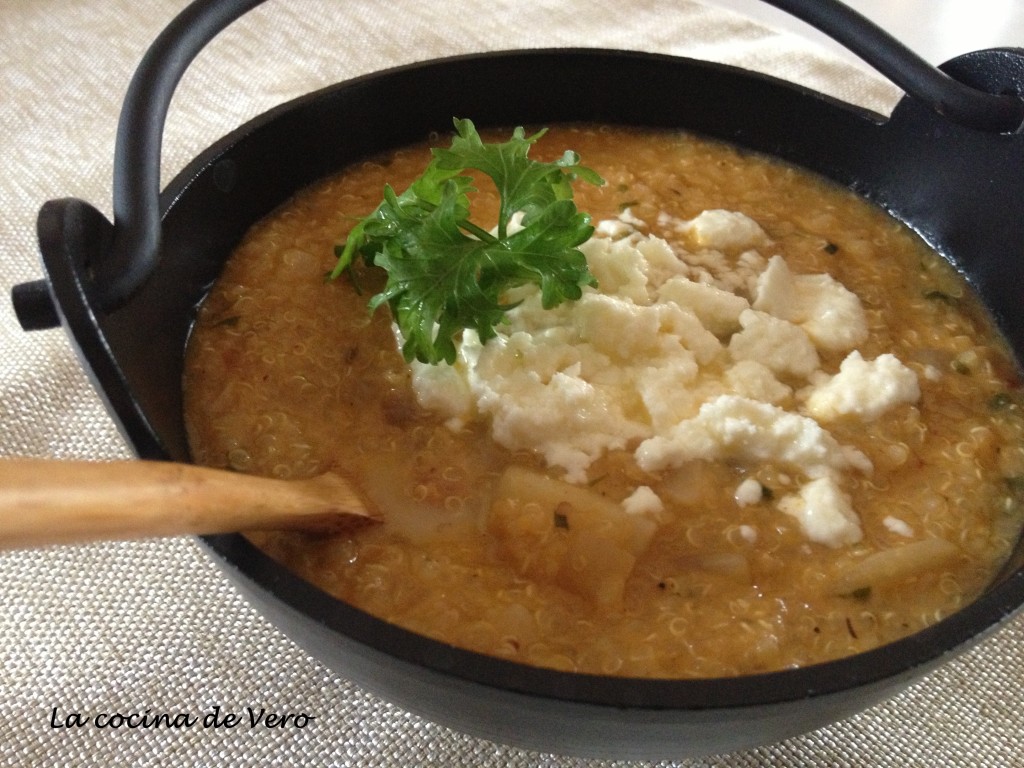 2013 has been declared International Year of Quinoa by the United Nations. This is a cereal that grows in South America's Andes Mountains and has been gaining popularity lately as a great source of protein for vegetarians. It's also a great substitute for rice.
The name quinoa comes from the Spanish translation of the Quechua kinwa (pronounced QIN-wah). Some people say it is as good as breast milk. Incas called quinoa "the mother of all grains. Both potatoes and quinoa have been consumed since approximately 5000 B.C. So, with this recipe, you have a meal that has been eaten for thousands of years on a single plate.
Most of the quinoa you find on the markets has been rinsed, but it's important to check the instructions before you start cooking. If the quinoa has not been rinsed, you will have to wash it thoroughly for several minutes and drain it using either a strainer or cheesecloth.
I used yellow potatoes for this recipe, but you can use a potato that is starchier if you prefer.
This recipe is more common in La Sierra (the mountains) and is a great comfort food when the weather turns chilly. But it also works well for warmer days. Just add a few avocado slices to garnish. Preparation time is 30 minutes and serves 5-6.
Ingredientes
2 cdas de aceite de oliva
1 cebolla blanca grande, picadita
4 dientes de ajo, machacados
1 tomate, pelado, sin semillas y cortado en pequeños cuadros
1/2 cdta de comino molido
1/4 cdta de achiote en polvo
1 de cdta de orégano molido
5-6 papas medianas, peladas y cortadas en cubos de 1 pulgada (2.5 cm)
1 taza de quinoa prelavada
8 tazas (2 l) de agua
1 taza (1/4 de l) de leche
1 cda de mantequilla de maní (peanut butter)
2 tazas de queso fresco, desmenuzado
4 cdas de cilantro, finamente picado
Ramitas de perejil, para adornar
Sal
Pimienta
Aguacate (opcional)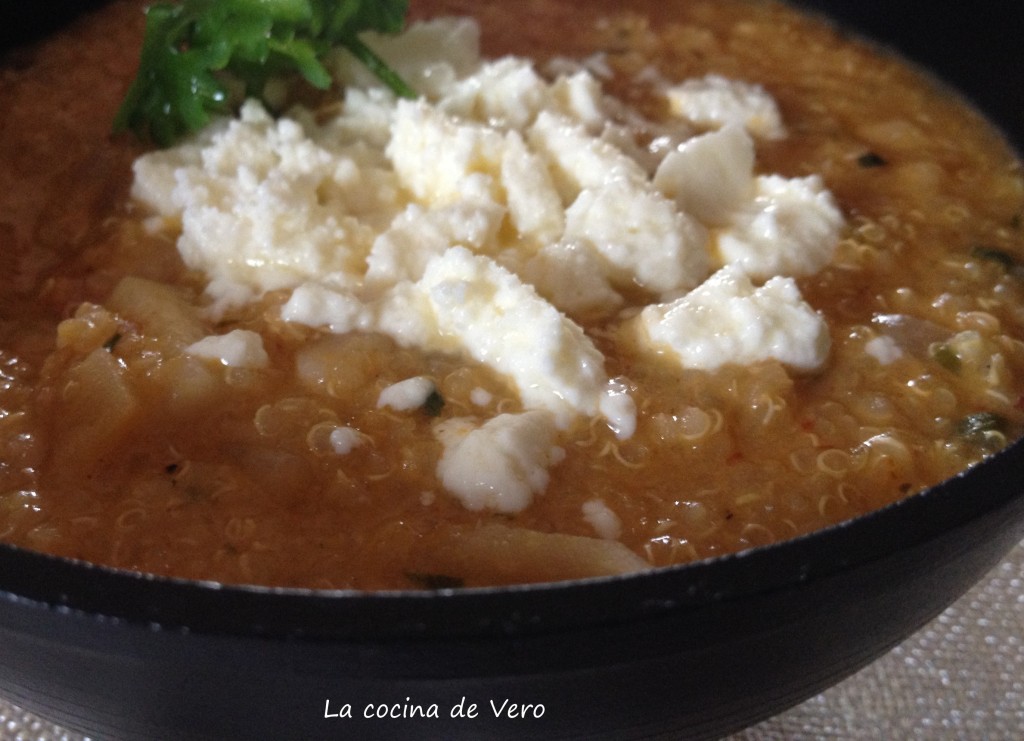 Preparación
Calienta el aceite en una cazuela grande y agrega la cebolla, el ajo, el tomate y las especias en polvo. Cocina a fuego medio este sofrito hasta que la cebolla esté tierna, unos 5 minutos.
Añade las papas, la quinoa y el agua. Cocina unos 20 minutos, hasta que las papas estén blanditas, pero sin que se desbaraten.
Adiciona el cilantro, la leche y el maní. Salpimienta. Sigue cocinando otros 5 minutos para que se mezcle bien todo. Si se pone muy espesa, agrégale un chorro de leche y remueve bien otra vez.
Sirve con el queso fresco por encima. Adorna con el perejil y si tienes aguacate, mucho mejor.
Tips
La mayor parte de las veces la quinoa que venden en el mercado ha sido previamente lavada, pero fíjate bien en la etiqueta antes de comenzar a cocinar. Si no está lavada, enjuágala varias veces (cambiando el agua) y escúrrela bien al final.
Ingredients
1 cup of quinoa, rewashed
1 large onion, chopped
4 garlic cloves, crushed
1 peeled and seedless tomato, chopped
½ teaspoon of powdered cumin
¼ teaspoon powdered annatto
1 teaspoon powdered oregano
5-6 medium potatoes, peeled and cut in 1' cubes
8 cups of water
1 cup of milk
1 tbsp of creamy peanut butter
2 cups of queso fresco, shredded
4 tbsp of fresh, well chopped coriander
Springs of parsley to garnish
2 tbsp olive oil or vegetable oil
Salt and Pepper
Method
Heat the oil in a pot on medium; add onions, garlic, tomatoes, cumin, annatto, and oregano. Mix well and cook 5-6 minutes until the onions are tender.
Add potatoes, quinoa and the 8 cups of water, cook around 20 minutes, until potatoes are tender and quinoa translucent.
Add coriander, milk, and peanut butter, mix well, add salt and pepper, and cook another 5 minutes. If the mixture is thicker than you prefer, add more milk.
Serve hot with 2 tablespoons of queso fresco and 1 parsley sprig per plate.