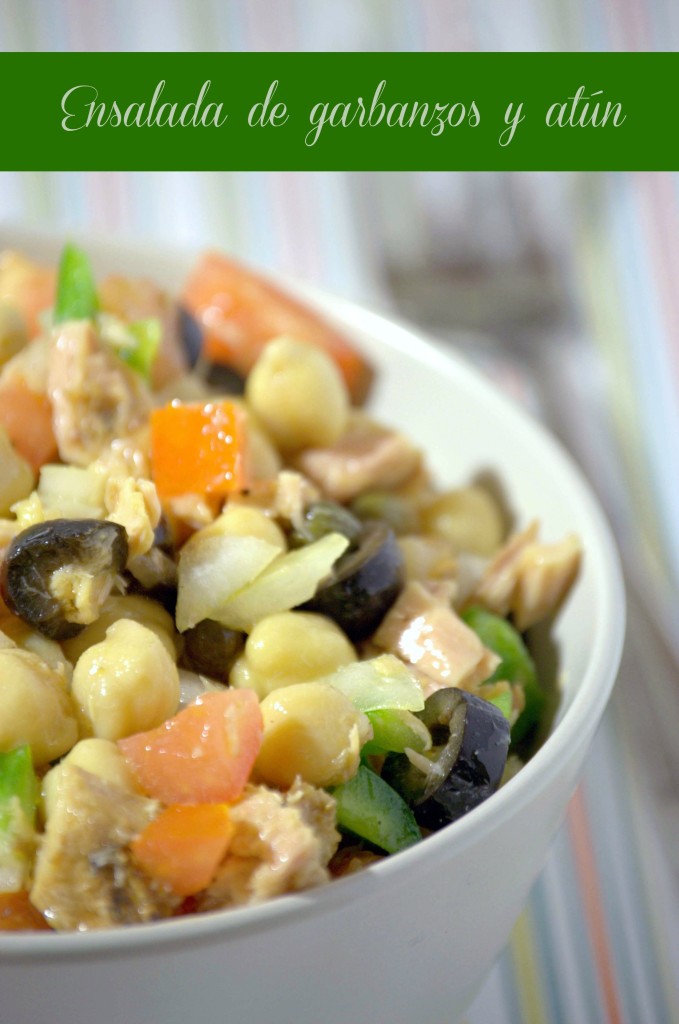 Las ensaladas con legumbres me encantan y se las recomiendo mucho para llevar a la oficina o para comidas ligeras y rapiditas de hacer en las noches entre semana. Además, son buenísimas para usar lo que va quedando en el refrigerador, saludables, nutritivas y económicas. Yo suelo hacerlas seguido, con frijoles blancos, negros, lentejas o con garbanzos, como esta, y algún toque exótico.
Esta receta está lista en 15 minutos y si quieres puedes dejarla reposar una media hora para acentuar los sabores. Da para 2 o 3, dependiendo si la comen como entrante o como plato principal.
Ingredientes
1 lata de 15 oz de garbanzos, enjuagados y escurridos
1 lata de 4 oz (111 g) de atún, escurrido
10 aceitunas negras, en rueditas
1 cda de alcaparras
1/2 cebolla mediana, bien picadita
1/2 pimiento verde mediano, cortado en cuadritos
1 tomate perita, cortado en cuadritos
2 cdas de aceite de oliva virgen extra
1 cdta de vinagre de Jerez
Sal
Pimienta blanca recién molida
Preparación
Pon las alcaparras en un cuenco pequeño con agua.
Escurre y corta los ingredientes según indica la lista y ve colocando todo en un bowl mediano. Escurre las alcaparras y adiciónalas también. Ponle el aceite y el vinagre. Salpimienta a gusto. Remueve bien.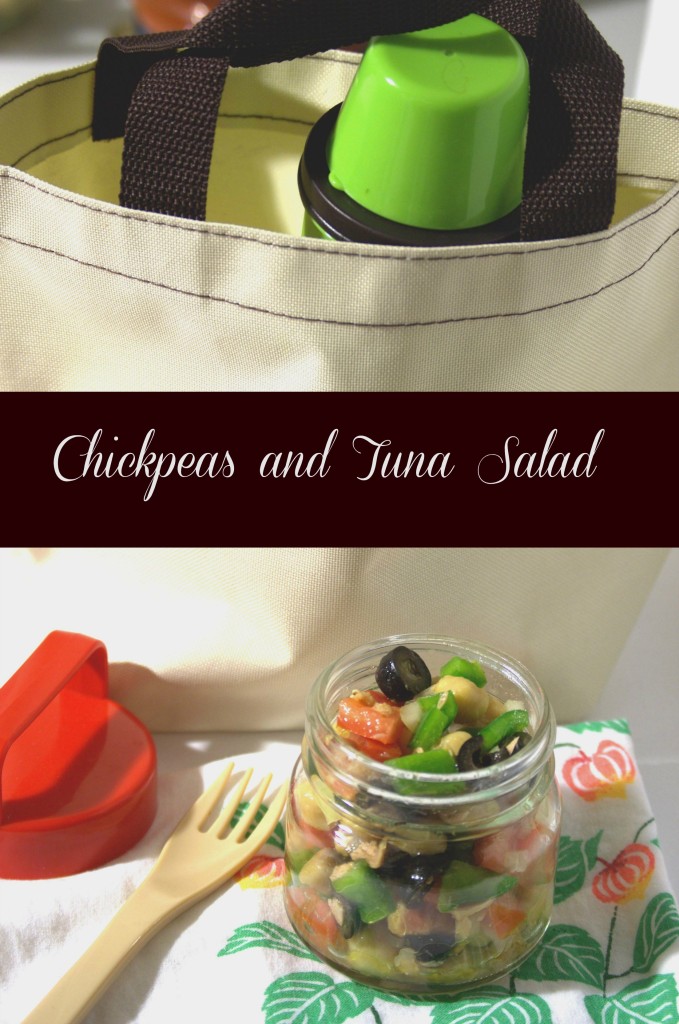 I love salads with legumes, they are a great source of proteins, very healthy, easy and fast to prepare, and great for weekday's dinners, and to take to the office. They are also a good opportunity to use leftovers.
This recipe is ready in 15 minutes. It is optional to let it rest for a half an hour to bring out the flavors. It serves 2 or 3, depending if eaten as a starter or as a main dish.
Ingredients
1 15 oz canned chickpeas, rinsed and drained
1 4 oz canned tuna, drained
10 black olives, sliced
1 tbsp capers
1/2 medium onion, finely chopped
1/2 medium green pepper, diced
1 perita tomato, diced
2 tbsp extra virgin olive oil
1 tsp Sherry vinegar
Salt
Freshly ground white pepper
Method
Put the capers in a small bowl with water.
Drain and cut the ingredients as indicated in the list of ingredients, and place them in a medium bowl. Drain the capers and add them to the bowl. Pour the oil and vinegar. Add salt and pepper to taste. Stir well.
A great option for this #MeatLessMonday!