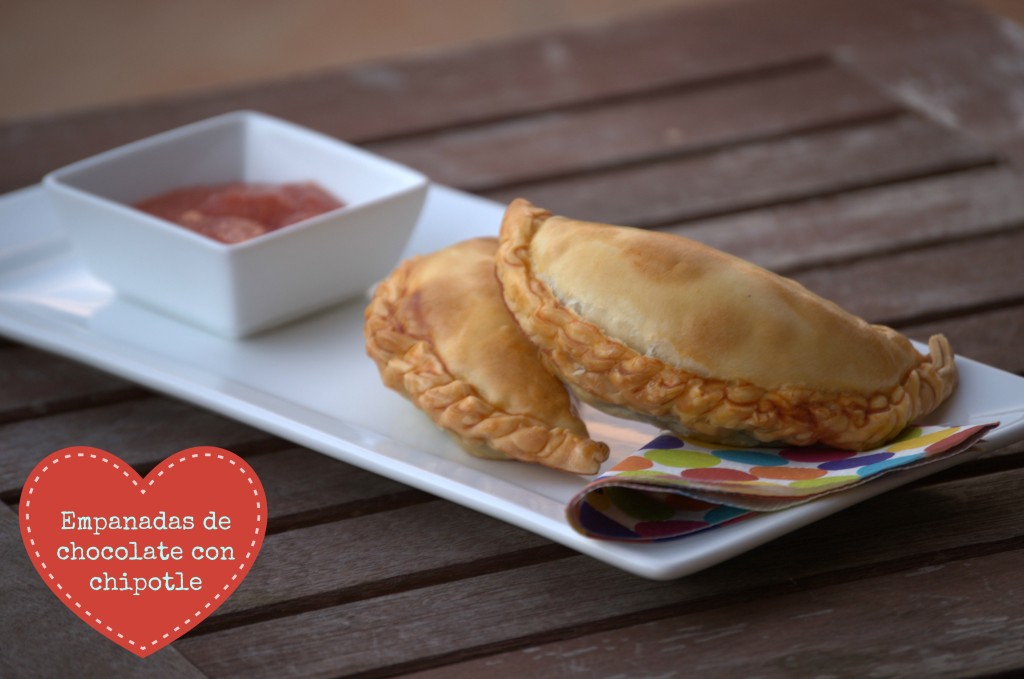 ¿Has probado dulces con chocolate y picante? ¿Has visto que de hace un tiempo para acá muchas marcas venden chocolates que combinan ambos ingredientes. A mí me encantan juntos. Es una combinación muy exótica y sexy. El primer 14 de febrero del blog preparé un fudge que llevaba ambos ingredientes, pero ya hace tiempo que no hacía nada con ellos juntos. Con estas empanadas he vuelto a triunfar en casa. A mi marido le han encantado.
Si no aguantas el picante, puedes eliminarlo de la receta y obtendrás de todos modos unas empanadas riquísimas, que tal vez te recuerden la tarta de chocolate – si ya la probaste. Son ideales para acompañar un café con leche y es mi propuesta para el Viernes de recetas económicas esta semana. Vienen bien para el Día de San Valentín, ya sea para desayunar con tu pareja o para compartir un café con los amigos.
Esta receta da para 6 empanadas. Llevan poco tiempo de preparación, pero al menos dos horas de espera para enfriar el chocolate, entre que lo preparas y que alcanza la textura necesaria para montar las empanadas. Recomiendo preparar el chocolate la noche anterior.
Ingredientes
6 masas de empanadas congeladas
1/2 taza de leche
4 oz (113g) de chocolate semidulce (yo usé Baker's)
1 pizca de hojuelas de chipotle o del chile seco que tengas a mano
1 huevo + 1 cdta de agua, para vestir las empanadas
1/2 cda de mantequilla sin sal, para untar la bandeja
Preparación
Corta el chocolate en pedazos pequeños, ya sea con la mano o con un cuchillo y ponlo en una cazuela pequeña con la leche y el chile. Cocínalo a fuego medio hasta que esté bien disuelto, removiendo seguido, unos 5-7 minutos. Te puede parecer que está un poco líquido para empanadas, pero confía en mí. Viértelo en un cuenco y deja que se refresque un rato antes de ponerlo en el refrigerador al menos dos horas. Se va a poner durito.
Precalienta el horno a 350°F (180°C) y unta una bandeja con mantequilla.
Divide el chocolate en 6 porciones iguales y rellena con ellas las empanadas, sellándolas con tu repulgue preferido, y si es preciso, humedeciendo un poco el borde para cerrarlas. Bate el huevo con el agua y pinta las empanadas con esta mezcla para que te queden doraditas. Hornéalas 20-25 minutos, según las instrucciones del paquete de masas para empanadas. Cuando estén listas, ponlas a refrescar unos 15 minutos sobre una parrilla antes de morderlas, que el chocolate se pone bien caliente. Son ricas también al tiempo de un día para otro.
Pueden servirlas solas, con sirope de chocolate o con una salsa de guayaba o de fresa.
Tips
Si quieres puedes ponerle sal marina gruesa en lugar de chile. Es una combinación muy sabrosa que también está de moda.
Usé masas de Salteña que compro en un mercado argentino, pero en casi todos los mercados en Miami y seguramente en los mercados de tu ciudad también, venden masas de empanadas de varias marcas.
No se me ocurrió hacerlas en formas de corazón con este catarro que ya va mejorando y me tenía el cerebro trabajando al 20%, pero ayer mientras chismeaba en Pinterest me di cuenta que deben quedad preciosas así. Miren aquí.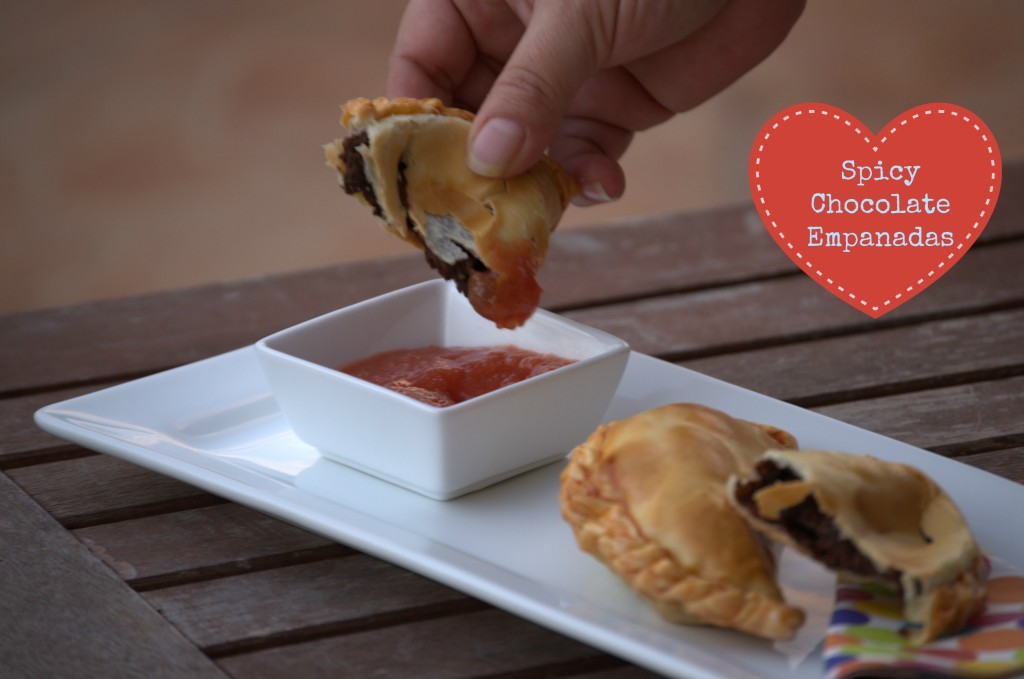 Have you tried chocolates with chili? Have you seen that many brands are now selling chocolates bars that combine both ingredients? I do love them together. It is a very exotic and sexy combination.
If you cannot stand spicy, just remove the chipotle from this recipe. Still, you will get some delicious empanadas. They are ideal to celebrate Valentine's Day, either to have breakfast with your sweetie, or to share love with your friends or coworkers having an afternoon cafecito.
This recipe serves 6 empanadas. I recommend preparing the chocolate the night before, since you have to wait at least two hours for the chocolate to cool enough, so it reaches the right texture to assemble the empanadas.
Ingredients
6 frozen empanada doughs
1/2 cup milk
4 oz semisweet chocolate (I used Baker's)
1 pinch of chipotle pepper flakes or any dry chili you have on hand
1 egg + 1 tsp water
1/2 tbsp. unsalted butter to grease the tray
Method
Cut the chocolate into small pieces, and place it in a small saucepan with the milk and chili. Cook over medium heat until thoroughly dissolved, stirring often, about 5-7 minutes. It may seem that it is a little melted to fill the empanadas. But trust me. Pour into a bowl and let it cool for a while before putting it in the refrigerator at least two hours.
Preheat oven to 350°F and grease the tray with butter.
Divide the chocolate into 6 equal portions and fill empanadas with them, sealing the dough in your favorite shape. If necessary, moistening the edge a little to close them.
Beat egg with water and brush the empanadas with this mix so they get a nice color at the oven. Bake 20-25 minutes, according to package directions. When ready, place them in a rack for about 15 minutes before taking a bite. The chocolate gets very hot. You can also enjoy them at room temperature the next day.
Serve them with chocolate syrup, or a fruity sauce. I served them with guava sauce.
Tips
You can substitute the chipotle with coarse sea salt. It is a very savory combination that is also fashionable nowadays.
After we eat all the empanadas, I found this great idea in Pinterest. The will be so lovely heart-shaped! Look at here.